Following selling out three of its five legs, with Canberra adding sell out signs over the weekend, the Groovin' The Moo festival kicked off in Maitland this past Sunday.
Following the first date of the regional music festival, Police and festival organisers were very pleased with most of the 16,500 plus punters who went along to enjoy the likes of The Kooks, Tame Impala, They Might Be Giants, and Flume at the one-day event.
Inspector Brian Tracey of the Maitland Police, told the ABC that it was great to see "most people were there to enjoy the music and have a great time."
"We were very pleased with the behaviour of all the young people who attended Groovin the Moo," he added. "There was something around upwards of 17,000 people there and only a very few minor incidents."
With drug buses and 70 police officers with sniffer dogs on site at the Maitland Showgrounds, police made 52 drug detections. The worst of the offenders was an 18-year-old man from Woy Woy, who allegedly had 40 ecstasy tablets on him. He, along with the other offenders, were issued with Court attendance notices. "We were very pleased with the behaviour of all the young people who attended Groovin the Moo… [with] only a very few minor incidents." – Inspector Brain Tracey, Maitland Police
Inspector for the Central Hunter region, Tony Joyce, said that sniffer dogs stopped around 100 people in total. He explained that "around 10 per cent were found to be in possession of prohibited drugs so that is a vast improvement on last year." The efforts of officer Joyce and his team were putting in were to make it clear "to patrons that drugs and intoxication won't be tolerated."
The Maitland Mercury confirmed this tough stance with Detective Inspector John Zdrilic, who explained that some festival-goers had to be turned away before they even got into GTM.
"There were people who tried to bring ­illicit drugs – mainly pills – into the festival, and those people will be appearing in court soon," he said. "There are no excuses for taking drugs or bringing them into a festival environment – it is unacceptable behaviour."
Though the detective did not that, "considering it was a sell out with 16,500 tickets sold the vast majority came to have a good time and enjoy the music and they did that."
The first aid tent treated a number of injuries and illnesses throughout the day, including dislocated knees and suspected spinal injuries, as well as taking care of drunk or drug-affected revelers.
Inspector Joyce noted that the amount of drunk people, particularly those underage, put a strain on resources at the festival. He warned against the attitude of 'pre-charging', or getting wasted before turning up to the event.
The whole situation raises a lot of questions on the festival drug culture within young people in Australia. Tickets can be expensive, and waiting in line all day to buy overpriced alcoholic drinks is never ideal, perhaps leading to many turning to the cheaper alternatives of 'pre-charging' either through alcohol or drug use. "There were people who tried to bring ­illicit drugs – mainly pills – into the festival, and those people will be appearing in court soon," – Detective Inspector John Zdrilic, Hunter Police
Groovin' The Moo has nothing on the amount of drug busts that say, Future Music Festival had – where 71 people were arrested for drugs offences at the Melbourne leg this year. Even Big Day Out has its fair share of drug incidents, with over 100 people nabbed at the Sydney leg of the festival this pst January.
Drugs at festivals is obviously an ongoing issue and a wider point of concern – a point of discussion worth exploring, as Tone Deaf did with the strong presence of sniffer dogs at festivals in the last few years. Drugs and festivals do not need to go hand in hand, as the crowds at Groovin The Moo proved last weekend, with police around the country urging it's all about being safe and enjoying some killer live music.
There have been calls from police to have it be a condition of entry that drug offenders can be turned away all together, rather than just confiscating the illegal substances and letting punters through. It may seem like a harsh measure that punishes the individual and not the suppliers of illicit substances, but is designed to deter people from trying to smuggle in drugs.
For example, with the Groovin' The Moo lineup, who would risk bringing in a pill or two if it meant missing international acts like Tegan and Sara, The Bronx, The Kooks, Example, and Matt & Kim? And would offenders think twice before risking the chance to see homegrown wonders Tame Impala, Flume, Seth Sentry, Regurgitator, and Last Dinosaurs? Never mind losing the cost of the ticket.
Aside from the small amount of people overindulging in chemical substances, Groovin The Moo is off to a cracking start. Shortly after the Bendigo leg sold out in less than 48 hours, the opening Maitland date and the Bunbury leg followed suit. While tickets for the Canberra leg were exhausted just before its kick-off on Sunday, so the only chance to get along now, if you don't already have tickets, is at Townsville on Sunday 5th May.
It's easy to see why the regional music festival is doing so well. The high calibre of acts, paired with the low ticket prices, and regional locations is a great combination. You can view the set times, which are thankfully low on clashes, for the remaining Groovin' The Moo dates below.
Groovin The Moo 2013 Set Times
TOWNSVILLE
Click image to enlarge

Groovin The Moo 2013 Lineup
Alison Wonderland / Alpine / The Amity Affliction / The Bronx (USA) / DZ Deathrays (DJ Set) / Example (UK) / Flume / Frightened Rabbit (UK) / Hungry Kids Of Hungary / The Kooks (UK) / Last Dinosaurs / Matt And Kim (USA) / Midnight Juggernauts / Pez / Regurgitator / Seth Sentry / Shockone / Tame Impala / Tegan And Sara (Canada) / The Temper Trap / They Might Be Giants (USA) / Tuka with Ellesquire / Urthboy / DJ Woody's Big Phat 90s Mixtape (UK) / Yacht (USA) / Yolanda Be Cool
Groovin The Moo 2013 Dates
Saturday 27 April 2013 – Maitland NSW – SOLD OUT
Maitland Showground
Blomfield St, Maitland NSW 2320
Sunday 28 April 2013 – Canberra ACT – SOLD OUT
University of Canberra
Kirinari St Bruce ACT 2617
Saturday 4 May 2013 – Bendigo VIC – SOLD OUT
Bendigo's Prince of Wales Showground
42 – 72 Holmes Rd, Bendigo VIC 3550
Sunday 5 May 2013 – Townsville QLD
Murray Sports Complex – Townsville Cricket Grounds
Mervyn Crossman Dr & Murray Lyons Cres, Idalia QLD 4811
Saturday 11 May 2013 – Bunbury WA – SOLD OUT
Hay Park
(off) Parade Rd Bunbury WA 6230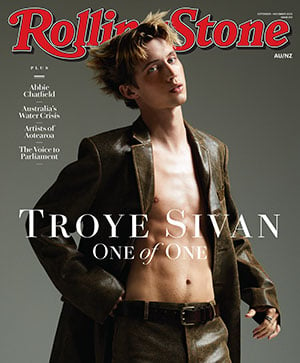 Get unlimited access to the coverage that shapes our culture.
Subscribe
to
Rolling Stone magazine
Subscribe
to
Rolling Stone magazine