London based Aussie Brightly aka Charlie Gleason is gearing up to release his stunning new LP, One For Sorrow, Two For Joy (out this coming Friday, June 17).
Recorded in an isolated cabin in the depths of an Icelandic winter and completed in London, One For Sorrow, Two For Joy is incredibly dynamic, both intimate and vast, equally icy and cosy. Featuring masterfully crafted indie rock tracks filled to the brim with rolling crescendos and skittering rhythms it's truly a triumph from the talented (now) solo songwriter.
Gleason explains how the album's sonic palette all came about, "I was training for the London marathon at the time (never again) and ended up running in snowstorms on beaches with black sand, surrounded by glaciers. It was pretty wild, pretty inspiring, and one time when I got a bit turned around, pretty terrifying."
To celebrate the release of One For Sorrow, Two For Joy, Gleeson has kindly penned a track by track run down of the record which you can check out below along with the album stream. Give it a listen and if you like what you're hearing stay locked to Brightly's Facebook page for more info.
Atoms (Prologue)
One For Sorrow, Two For Joy is, loosely, a concept record. If the previous LP, Oh, Infinity (I clearly have an affinity for a dramatic comma) was about coming out and finding your place in the universe, this one is about dying, leaving, moving on.
Atoms is an overture — little particles of the record dancing around one another. I spend a lot of time reading about astrophysics, and I'd just finished Carlo Rovelli's gorgeous book Seven Brief Lessons on Physics when I was putting it together. If you haven't read it, you should.
Rugby
Rugby was the last song I wrote for the album, and it had been a tough year. It was late and I was drunk, and the lyrics spilled out in that way that only the best ones do.
It's purely autobiographical, and definitely the most honest thing I've put my name to. It's about sex, and death, and privilege, and shame. And rugby, funnily enough, a game I never thought I'd play before I joined the King's Cross Steelers, an inclusive team in east London. I still don't think my Mum has heard it, so that's going to be one hell of a phone call.
Nic, who previously was one third of Brightly but now performs as DX Heaven, was in London at the time and made everything sound more awesome. He's a champion. The secret to everything is to surround yourself with people who are cleverer than you are.
Oh, and there's a fancy GIF-powered video, if you're into that sort of thing.
Lost
I originally wanted to open the record with this, because of the lyric "Let's start again". This is the first album I've made without Nic and Josh, who were two-thirds of Brightly before we all moved to different countries. It was liberating and terrifying, and I guess, in a way, Lost is about that feeling.
We live in different countries at the moment, but we were all in Melbourne when Andrei Eremin (producer) and I were in the studio, so they featured on a bunch of songs. I had a guitar line in mind for the break, and I'd put in a synth-based example. I told Nic to shred, meaning 'interpret it as you will'. He took it to mean, quite literally, shred. I've never laughed so hard in the studio, and it stayed in.
I Will Never Let You Go
A song about those dangerous, damaging relationships we get stuck in—those ones where it's death by a thousand cuts.
It was the first single, and I worked with Glen Maddern on the film clip, which uses WebGL in the browser to surreptitiously take photos of viewers and add them to the video. People watching people watching people, like a hall of mirrors. It was surprisingly challenging, for how simple it looks. I'm secretly quite proud of it.
One For Sorrow, Two For Joy (Beginnings & Endings)
When I was 21 my best mate died while we were camping at the first Golden Plains festival in Meredith. I wrote this just after, and it has taken me close to ten years to get it right. I guess the record, as a whole, feels like drawing a line in the sand, about the profound impact that had on me, and about moving on.
The lyric "I know that I am a space and I am abbreviated then erased / Where are you now mate? / Where are you waiting?" is a pretty good summary of how I felt, for years after. I still wish I knew.
Bury Us In Fruit Jars
On June 24, 1973, an arsonist set fire to a gay bar, UpStairs Lounge, in New Orleans. 32 people died. It was the deadliest attack on LGBT people in America's history, and the response from the city and from media was largely indifferent.
Families wouldn't claim the bodies. Churches wouldn't bury them, and those that held memorial services received hate mail. The following day, a radio host sneered on air "What do we bury them in? Fruit jars".
This song is about identifying these men and their stuggles, their loss. Sorrow and joy. Grief and celebration.
Note: Between writing the track-by-track and now it's no longer the largest attack on LGBT people. We've come a long way, but we have so far to go.
Between Oblivion (Interlude)
I read the book Staring At The Sun, by Irvin D. Yalom, about overcoming the fear of death. He talked about pre and post oblivion, about how we only fear the bit after we die, not the bit before we were born.
'Between Oblivion' is instrumental, and the sound was largely inspired by those old videos of rocket launches and space exploration, so glamorous and new. We ran the song through the space echo twice, to create warbling, wobbly stereo, and we had a blast with it. Beer and audio equipment make for happy bedfellows.
Untitled (ft. Tom Lanyon)
I adore Tom Lanyon, and his band, Ceres. After he featured on the last track of Oh, Infinity, the previous LP, we started working on a side project together, him in Melbourne and me in London. 'Untitled' which he wrote, was the first song we got off the ground before we both got busy with our respective records.
I'm so chuffed it made it on. I love the lyric "Skinny legs / They weigh a ton on my chest". He's a genius, and genuinely one of the best guys in music. Hands down.
The Garden
I remember when I was young, how much my Mum loved the rain. She would stand by the window and look to the backyard, renewed. "Don't you love it? The sound of the rain?". When she got sick, I felt like the rain would never stop. I wrote The Garden one day after we spoke, her in the hospital, me on the other side of the world, in London. I felt powerless.
Alice Walker said "In search of my Mother's garden, I found my own." In the end, my Mum and I both did. I am so proud of her.
After The Storm
One of the first songs I wrote for the record, 'After The Storm' is about accepting the inevitability of things. It's about keeping the important bits, and shedding the stuff that holds you down.
Sometimes you have to walk away, move on, leave it all behind. Let the cliffs keep watch.
Oceans
My coach yelled the opening line at me during a rugby game. "Oy, Gleason, are you puddle or an ocean?" It really stuck with me, and 'Oceans' came from that. At its heart it's about liberation—a a fight song, really. "Do not go gentle into that good night" and all that.
Josh added percussion to this one, too. Because he's also a champion.
Plans (Epilogue)
The closing track, 'Plans', is about facing your mortality. It's about wanting to know where all the threads lead to, but realising you never will. Embracing the inevitability of your mortality might be terrifying but what other choice do you have?
It's also the companion piece to 'Atoms' and 'Between Oblivion'. They're the three merry sisters that hold the whole thing together.
The record closes with the line "I guess I'm afraid", floating up, pulling away. I suppose, after all the rationalisations, I still am.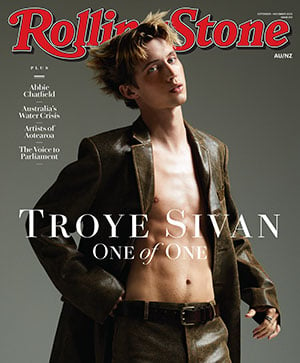 Get unlimited access to the coverage that shapes our culture.
Subscribe
to
Rolling Stone magazine
Subscribe
to
Rolling Stone magazine