Between selling out countless shows around the world, putting out a new album, and now an additional single, Psychedelic Porn Crumpets have been endlessly busy this year.
Only out since May, their newest album And Now For The Whatchamacallit has over three million streams. Even though these numbers are impressive on their own, these Perth rockers have shown that there's no stopping them by releasing yet more music with a new single.
With heaps of their psych-rock signature sound, the latest track 'Mundungus' has been featured on triple j, BBC Radio 1 with Annie Mac, and NPR, receiving bounties of praise.
Now, in the midst of their tour, lead singer Jack McEwan regales us with tales of constantly being on tour, the recording of 'Mundungus', and what is to come.
Check out 'Mundungus' by Psychedelic Porn Crumpets:
Currently in the middle of their headlining U.K. tour, Psychedelic Porn Crumpets just performed their biggest headlining show ever, playing to a crowd of 1250 at Electric Ballroom in London.
"It was insane! It was nuts!"Jack exclaims ecstatically. "It's mad how we played literally a year ago to fifty people at a small pub called Blondie's and in the space of the year it just went to an extra 1200 people. It's just amazing."
"The English crowds really love to chant riffs which is completely a bit different — it's more like a football-type crowd, if you know what I mean? I think in the way that you've got the chanting and sort-of football songs, and whatever, they just go ham humming riffs. So, yeah, I think that's been good."
Love Classic Rock?
Get the latest Classic Rock news, features, updates and giveaways straight to your inbox Learn more
With their American tour just having wrapped up, Jack recalls their experience being one of the only Australian acts on California festival Desert Daze."We actually had to drive from Nashville which was literally a twenty-seven hour drive that we managed to do in three days."
When the band finally arrived, ready to explore, they were down to see some of the bands that they'd waited years to see. As Jack explains, "there was every band that we'd wanted to see for so long… The Black Angels, Flying Lotus, Temples, Connan Mockasin, Crumb," just to name a few, and "everyone was offering you all sorts of different bits and pieces like, 'have some mushrooms, have some acid,' or whatever. Like, we were in a desert next to this beautiful lake, having an absolute time."
Playing between legends like America's own Devo and Ween to seeing Tony Hawk backstage, Jack and the band has done a lot of reminiscing about performing with and to some of their idols: "Devo came over to us saying, 'this might be our last gig that we're going to play, so we brought some of our wine down that we made in the Napa Valley, if you'd like to have some,' and we were like, 'yeah, mate, of course!' We went back to their little area, and Tony Hawk was there! [Laughs]. We just made a bee-line for him…he was so friendly."
After striking conversation with the skating icon, and letting on that they played as Psychedelic Porn Crumpets only moments ago, Jack and the band were astonished to know that Tony Hawk knew of them, and was a fan: "He was like, 'Ah, no way! Me and my wife were just talking about you!' And apparently, he was watching side-stage which is absolutely mind-blowing!"
"We were fans of everyone at the festival, and then to bump into Tony Hawk… it was just like, 'what?!' In the space of a minute, I shook Flying Lotus' hand, and then shook Tony Hawk's hand, and then I was just like, 'I'm just going to chop my hand off. That's my music career down the drain!'"
Check out 'Keen For Kick Ons?':
Jack admits that with the new album, they've hit an entirely new level of musicianship: "I think it's got us more into an audience that I didn't think we would ever be tailored to. Psych-rock as just entered this new phase of getting very mainstream radio play. I think when we started off, it was like, 'we never want to be on radio… we never want to part of this whole scene,' and then all of a sudden, in the space of five years… it's flipped on its head now."
"The bands have been heavily played on the radio now and there's Spotify playlists and things. I suppose everyone is finding different music, but it's also like the vinyl resurgence has really helped  that scene evolve and grow. For us it was like, 'yeah, you guys are now [BBC] Radio 1's track of the week… you're on with Annie Mac.' It's just mind-blowing."
"I suppose, at the moment, it's getting to the point where it's unbelievable. We're just like, 'when's the bubble going to pop?' [laughs]. We're still convinced that it's still some sick joke my dad has put together, and he's just going to come out at one of the concerts and say, 'jokes on you!' Then it's like we're back to Perth, flipping pizzas."
Between Psychedelic Porn Crumpets' hectic schedule, Jack reflects on the process of getting their single 'Mundungus' ready for the world to hear: "It was a bit of a shit show trying to get that one together. We were back in England, and our label was like, 'alright, we need a single, Jack.'"
"I was like, 'dude, I have like ten days at home…' Pretty much, we've had ten days at home since June, and we're obviously not back until Spilt Milk Festival in Australia. We had bits and pieces recorded, so we just went home and smashed a single."
"We worked with Sam Ford who works at Tone City… and he's friends with Michael Jelinek. From the very first album, we've done a lot of stuff with Michael. Basically, a guy came along and was like, 'why don't you come and do some guitars in the studio?' which we had never done before."
Check out 'Cornflake':
With the band recording most of their works in their bedroom studio, Jack recalls realising how much of a difference the recording process was when it came to the finished track. "It was the first track I've ever recorded in the studio with vocals, so I think that added a little bit more of an 'oomph' to the clarity of the track. So, it's not like, 'what's he talking about? Why is there so much delay on his vocals?'"
"I think the song has a lyrical passage — there was quite a narrative to the song that felt like we needed to make it more clear, so he was just like, 'alright, we're going to go through this, we're going to go through that.' When it came back to us after the mastering, we were just so happy. It felt like it pushed us into a different spectrum from where we were relying on a low-fi sound before, and now it feels like we're getting into that hi-fi mix."
After getting their mastered recording back, the band was elated. "It sounded perfect… there wasn't even tweaks needed. Usually when you get a master back, you're like, 'alright, we need to drop this snare down, or bring the vocals up, or change this guitar part, or something,' but but it was one of those rare occasions where it all just came together so perfectly, and everyone we were working with thought it came out perfectly."
Playing the new tune on tour, Jack stated that it's been a bit of a game changer for the live shows. "It seems to be the track that ignites the set, and then everything after that really flows from that point. I think we're going to put it earlier in the set, because it seems like everyone is catching a like to it, which is really nice. It's a good sign, I suppose."
As for what's to come for Psychedelic Porn Crumpets, Jack teased a bit of their future plans. "We've got an album, sort of, ready to go but not recorded, so it's all just bedroom recordings that I've done. We really just want to work on new material, and basically get this next record down. I think next year we're going to try to stay in Australia a bit longer and try to play some more shows at home."
With their upcoming Australian tour, Jack hinted towards potential surprises: "Ah, well, we might have a really big surprise that we're trying to work on at the moment," but as to what it is, we're left waiting to see.
New single 'Mundungus' is out now, and you can catch Psychedelic Porn Crumpets on tour throughout the U.K., Europe, and Australia in the coming months. Check out all the details below!
Check out 'Bill's Mandolin':
Psychedelic Porn Crumpets Tour Dates 2019
UK & European Tour Dates
Remaining Dates:
Friday, October 25th
Band On The Wall, Manchester, UK
Saturday, October 26th
The Mash House, Edinburgh, UK
Monday, October 28th
Plug, Sheffield, UK
Tuesday, October 29th
The Haunt, Brighton, UK
Thursday, October 31st
Bitterzoet, Amsterdam, NL
Friday, November 1st
Kavka, Antwerp, BE
Saturday, November 2nd
Tower Musikclub, Bremen, DE
Tuesday, November 5th
Hafenklang, Hamburg, DE
Wednesday, November 6th
Cassiopeia, Berlin, DE
Friday, November 8th
MeetFactory, Prague, CZ
Saturday, November 9th
Exit, Zurich, CH
Tuesday, November 12th
Sala Razzmatazz 3, Barcelona, ES
Wednesday, November 13th
Wurlitzer Ballroom, Madrid, ES
Friday, November 15th
Le Pingouin Alternatif, FR
Saturday, November 16th
Le Point Ephemere, Paris, FR
Australian Tour Dates
Appearing at Spilt Milk Festival:
Saturday, November 23rd
Commonwealth Park, Canberra, ACT
Saturday, November 30th
Victoria Park, Ballarat, VIC
Appearing at Falls Festival:
Saturday, December 28th — Tuesday, December 31st
Lorne, Victoria
Sunday, December 29th — Monday, December 30th
Marion Bay, Tasmania
Tuesday, December 31st — Thursday, January 2nd, 2020
Byron Bay, New South Wales
Saturday, January 4th, 2020 — Sunday, January 5th, 2020
Fremantle, Western Australia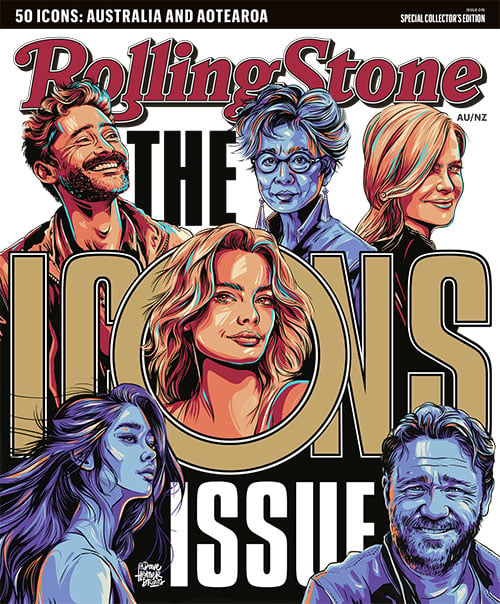 Get unlimited access to the coverage that shapes our culture.
Subscribe
to
Rolling Stone magazine
Subscribe
to
Rolling Stone magazine