There's not long to go now until QOTSA hit us with their anticipated seventh album Villains, which drops next Friday, but they've still got time to hit us with one more clip before we get to sink our teeth into the whole thing.
The band have just dropped the swagger-filled clip for second single 'The Way You Used To Do' on Apple Music, joining new single 'The Evil Has Landed' which hit last week, and it gives us the chance to see Josh Homme busting out the dance moves he so desperately wanted to bring to the table with the new Mark Ronson-produced record.
"Dancing and headbanging are truly individualistic expressions of losing oneself fully in appreciation of music," Josh says of the clip's director Jonas Akerlund. "Who better to combine these things into a singular vision than someone who's directed Madonna and Lady Gaga videos – and also happens to have been a member of Bathory?"
Fair point, and that Swedish extreme metal influence seems apparent from the sinister imagery that pops up after the video's impressive false-start, as the veneer falls away to reveal pentagrams and an evil ritual.
QOTSA want to bring back the dance on Villains
It seems that with Villains, QOTSA are really trying to get people out of the head-nodding in the mosh pit, and back to the footloose days of old when people used to turn it into a dance floor.
"It's our way of paying tribute to Cab Calloway and the film Hellzapoppin'," Homme says. "I fully realise that may be a little more than some are open to, and that's perfectly fine with me. There's the door.
"If some of the more close-minded are gently pruned, that just leaves more room on the dance floor for the open-minded ones to get loose. That's been the spirit of Queens Of The Stone Age and the space we've worked to create from day one."
QOTSA's new album Villains goes on sale next Friday August 25, and you can pre-order your copy here. The new clip can be previewed below, or watched in full on Apple Music.
QOTSA drop their new clip for 'The Way You Used To Do', taken from new album Villains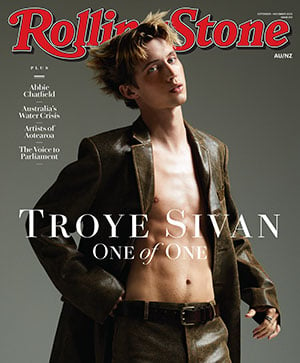 Get unlimited access to the coverage that shapes our culture.
Subscribe
to
Rolling Stone magazine
Subscribe
to
Rolling Stone magazine