It's that time of year, folks; Record Store Day. The time when music fans and vinyl-lovers descend upon their local music store for their annual day of exclusive releases.
Having first kicked off back in 2008, Record Store Day has fast become something of an international holiday on the music-lover's calendar.
With plenty of special releases hitting the shelves, vinyl fans and collectors come together to hit up independent stores around the world in hopes of finding this year's most sought-after record.
Of course, we've already seen the annual list of special releases coming out on April 13th, so the question remains; what are Aussie retailers doing this year?
With Record Store Day just around the corner, we've spoken to record store owners all across the country, and in this edition, we're chatting to Pat Monaghan of Rocksteady Records in Melbourne to find out more about the store, and what's on offer this year.
Check out this year's Record Store Day ambassadors:
Getting to know you: Who are you? What's your store?
My name's Pat, and this is Rocksteady Records.
How long has your store been around for? 
Rocksteady's been going for almost three years. I've worked in record stores, or in music since about 1983.
Love The Beatles?
Get the latest The Beatles news, features, updates and giveaways straight to your inbox Learn more
Are there any certain genres you cater to at your store?
There's things I really feel passionate about, which is Australian independent music, particularly Melbourne independent music.
Outside of that, I'm kind of really into classic reggae sounds, soul, R&B, hip-hop, electronic music, and independent, I guess, rock.
But the two things I really kinda get into are Australian independent music, Melbourne independent music of all sorts, and reggae.
What has been the most memorable moment in the store's history?
When Jen Cloher launched her last solo album in here the day after it came out. That was pretty exciting. It was a full house and with a full band, so that was kind of cool. I'd say probably that, but all the Record Store Days in here have been fun, lots of fun in fact.
There was the first in-store in here was pretty much almost a private gig by, it wasn't a private gig, but almost.
One of my favourite bands of all time's a band originally from Brisbane called The Apartments. The main individual in that band is a guy called Peter Milton Walsh, who was a contemporary of The Go-Betweens, was in The Go-Betweens briefly, and played bass in The Laughing Clowns – for two of their biggest and most important albums.
And then he went back to The Apartments and made a series of really wonderful albums. While they registered in Australia, they were really kind of culturally significant in Europe and England throughout the '80s and into the '90s.
And because we'd been friends for quite some time, he played his only Melbourne gig in here about three years ago. His records kind of gently squeeze your heart, if you know what I mean. They're very, very moving songs, and very moving records – one in particular.
Anyway, he played in here on a Friday evening, and as the sun went down behind him he went into this absolutely heartbreaking song about the early death of he and his partner, Kate's, son, and there were people weeping in here and it was just something really amazing to witness.
That was a very long answer to a very short question.
How did your love of music first begin? 
Probably hearing what would have been considered AM radio in the late '60s. Things like hearing The Beatles, and Creedence Clearwater Revival, and bands like that.
Then moving into things like Bowie, and then punk, whether it be The Sex Pistols, or The Clash, or Talking Heads, hearing things like that on community radio kind of widened my world.
That would, I think, that's probably how I gained a love for music and also a desire to find music I only knew a little bit about and wanted to explore further. That's probably the best answer I could give.
How did you get into the world of selling records? 
In Perth, which is where I grew up. I worked booking bands for a university, I've worked with various bands, and I'd done long stints of community radio.
I was between jobs, and I was doing a part-time job, I was offered a part-time job, at a record store – Dada Records in Perth – and they gave me a full-time job, and that was in 1985.
I continued to work with bands and in public radio, but selling records and engaging with people who either wanted to buy records or just know more about records, that's where it started.
It sounds stupid, but, I think the more significant parts of my education came from either in front of the counter or behind the counter in record stores or bookshops. I learned as much as I did in university, if not more.
Thinking time: What's your all-time favourite record?
Today, I would say The Triffids' The Black Swan, The Avalanches' Wildflower, and Jen Cloher's In Blood Memory. Today.
Check out The Triffids' 'Goodbye Little Boy':
Do you also dabble in the world of record collecting? Any 'white whales' you're still trying to track down? 
Only to a degree. I collect records I like as opposed to records that are rare or sought-after. But that's kind of my gig.
Like, you would look at my record collection and go, "there's nothing really there." You'd probably look at some of them, and go, "oh my God, he's got one of those," but by the same token, they're records that mean something to you.
I engage with them emotionally rather than "I've got this, and there's only twenty in the world." That's kind of not my thing.
In all honesty, it's just things that I like. Generally, when it comes to secondhand records that come through here… I trained myself a long time ago to put the customer first.
What have you got planned for Record Store Day this year?
We've got five bands playing in the shop which is Cool Explosions, Cookin' On 3 Burners, BATTS, Go Get Mum, and Jess Rebeiro.
I've also got two DJs, lots of Record Store Day releases, all the bands that are playing in the shop will have records out either now or that week. Jess's record will be out the day before and BATTS will have their debut album out the day before.
Cookin' On 3 Burners will have some special releases for the day. Cool Explosions' record has only just come as well.
Are there any releases you're particularly excited for?
Personally, the Courtney Barnett single ['Everybody Here Hates You'], the re-issue of The Loved Ones' Magic Box which has been out of print for, you know, thirty years or so. That's a great great historically important Australian record. That's really exciting.
To be honest, I'm actually more excited for the independent Australian artists that are releasing records on that day. And the fact that Courtney Barnett has put out something special for the day.
As much as I like buying whole records, et cetera, et cetera, even whole reissues, there's a lot of stuff that's been in vaults for a very long time, and just releasing a coloured vinyl version doesn't exactly make me jump up and down with joy.
Check out The Loved Ones' 'The Loved One':
Record Store Day 2019
Saturday, April 13th, 2019
BATTS
Jess Ribeiro
Cookin' On 3 Burners
Go Get Mum
Cool Explosions
Rocksteady Records
Level 1, Mitchell House, 358 Lonsdale Street, Melbourne, VIC
(Open from 9:30am – 6pm)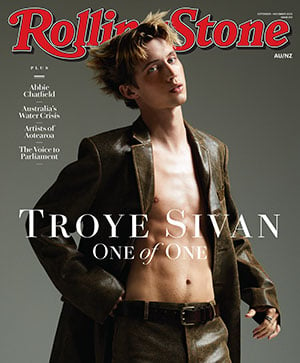 Get unlimited access to the coverage that shapes our culture.
Subscribe
to
Rolling Stone magazine
Subscribe
to
Rolling Stone magazine