If you were asked to rank the worst music-makers of the 90s, who would make the list?
Rolling Stone put that same question to their readers in a recent poll, and in putting together the list of the worst acts of the decade, there were some predictable winners. Creed topped the list, followed by Nickelback at #2 (no arguments here), while Limp Bizkit and Hanson came in at #3 and #4 respectively.
But among the least favourite bands of the 90s, sitting alongside Hootie and The Blowfish and Bush is the surprising inclusion of a band usually reserved for 'best of' lists: Nirvana.
Controversial, right? The band's influence, cut tragically short by Kurt Cobain's suicide, left behind four great studio albums, and a hell of a legacy.
'Smells Like Teen Spirit' is consistently voted into 'Greatest Songs of All Time' lists, including Triple J's 2011 Hottest 100 poll. And Nevermind was named in the Top 20 for Rolling Stone's own list of the 'Best Albums of All Time'.
So why the backlash against the grunge trio? It would seem the readers of Rolling Stone are tired of the blind love that people seem to fixate on the band, and consider Nirvana to be a tad overrated. But as Rolling Stone put it pretty well themselves: "We're sorry, but everyone who voted for them in this poll is wrong."
Noting that the Worst Bands of the 90s list was still an expression of public opinion, Rolling Stone admitted that "these results are sure to anger many people, but remember that this is a readers' poll. We had nothing to do with the results."
The lack of Nirvana love can be seen in some of the poll's interesting comments, demonstrating that some might just be a little bored with grunge, noting that after 20 years, it's time to move on. But as Rolling Stone put it pretty well themselves: "We're sorry, but everyone who voted for them in this poll is wrong."
"Just because an artist kills himself doesn't guarantee his/her immortality," comments one 'Joey Jenna'. "Stop putting these clowns on a pedestal. Cobain sucked, Nirvana sucked and your magazine continues to suck."
In rebuttal 'Johnny A Grunge Fan' offered: "This anger's [sic] me so much! Grunge may have been hated but it was not meant to be in the worst 10… Nirvana way not the worst it was the best!"
One 'guest' wrote: "Nirvana didn't deserve to be here, but they are hugely overrated. It's all just whiny, i-hate-the-world grunge sludge-rock that produced some truly amazing songs, but as far as I'm concerned the fact that Nevermind is in the top 15 albums of all time on this site and that smells like teen spirit is one of the ten greatest songs ever it shows the love for them has gone WAAAAY overboard."
It's a case of extreme love being coupled with extreme disdain, with the affect of popularity on music always dividing people. While the bile seems to pretty unanimous towards the bands that beat Nirvana, which came in at #5, on the list – such as Hanson, Limp Bizkit, Nickelback, and Creed.
Bands that can be understandably accused of making some of the worst music of the 90s. Or at least making music that was not necessarily bad, but definitely annoying, overplayed and aged poorly.
Some of the band members themselves even admitted they don't like their music much anymore. Rolling Stone quoted Limp Bizkit's Fred Durst, as saying: "For years I looked into the crowd and saw a bunch of bullies and assholes who tortured me and ruined my life… I love jazz music and sad music. I'm a sentimental guy. I'm a romantic guy."

Durst even admitted last August that the reformed Limp Bizkit were 'done' in the wider eyes of credible music popularity. "We were a moment in time and it's over," say Durst. Seems everyone's been telling him that for years – including the band's label who dropped them in time for Christmas last year –  but it's only now that it's sinking in that Limp Bizkit's glory days of soundtracking Mission: Impossible and inciting Big Day Out riots are well and truly behind them.
Dave Matthews, from The Dave Matthews Band who came in at #10 on the list, likewise has lots the zeal for his music – well if you believe the satirical (and entirely artificial) interview with The Onion. 'Telling' the paper (parody alert), "me and my band are still okay, but I feel like I've grown out of us… Back when I was in the college charts, we were about all I listened to, but I guess I'm at the point in my life where my music just doesn't speak to me."
Despite the humorous aspect of lauding 'Two Princes' hit-makers Spin Doctors and Ace Of Base as the worst of the decade, Nirvana's inclusion looms over the list, potentially sapping its credibility. But this is the democratic world of online voting and you cannot argue when the people have spoken. Once again, Rolling Stone's own reaction to the voters sums it up nicely: "What the fuck happened here?"
They go as far as suggesting that "Warrant, Mötley Crüe, Poison and Bang Tango [must have] come together to stuff the ballot boxes."
Rolling Stone's Top 10 Worst Bands Of The '90s
Creed
Nickelback
Limp Bizkit
Hanson
Nirvana
Hootie and the Blowfish
Bush
Spin Doctors
Ace Of Base
Dave Matthews Band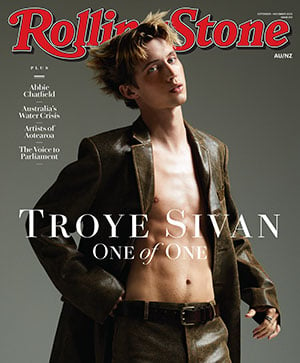 Get unlimited access to the coverage that shapes our culture.
Subscribe
to
Rolling Stone magazine
Subscribe
to
Rolling Stone magazine