Today is a very good day. Short Stack, who toured around reeking of the pheromones of the pre-pubescent girls, have finally done us all a favour and broken up.
The 'sad' news was delivered by the band via their official Facebook wall and judging by the reaction in comments by fans you'd swear we've found proof that the Mayans were right about 2012 and that the armageddon is well and truly here.
The band have had varying success over their career. Their debut 'Stack Is the New Black' went #1 on the ARIA Charts and along with their sophomore effort 'This Is Bat Country' was certified gold.
But their time in the top 10 was short lived and their last three singles have failed to make much of an impact in the charts. They also won the Channel [V] Australian Artist Of The Year twice, further eroding any credibility the music video station had left.
What little credibility was left was then left severly damaged after the station was outed using plagiarised reviews on their website that credited Short Stack bassist Andy Clemmensen as the writer.
This year they failed to take home the honours after a public spat with fellow nominee 360 who said he'd rather 'chop off his own cock' than listen to the band.
"As you may or may not know, Short Stack has decided to call it a day," read the group's statement. "Thank you so much for your support over the years, we really cannot express how much it means that you have let our music be a part of your lives and we thank you from the bottom of our hearts."
"Also a big thanks to all our crew and management / label; and even though we are no longer making music, we still remain the closest friends."
"The band started when we were 15 and never imagined in a million years it would achieve what it has, and we are proud to say that after 8 years we are ending on top. "
"This was by no means an easy decision, but at the end of the day it was obvious each of us are moving on to much bigger things and are ready for the next chapter."
"Once again, thank you for giving us the greatest adventure, your support means the world to us."
We can hardly hold back our tears.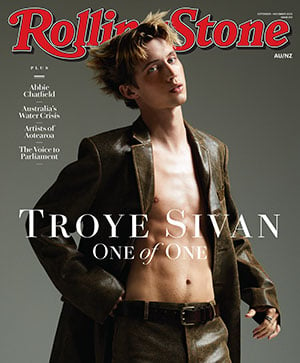 Get unlimited access to the coverage that shapes our culture.
Subscribe
to
Rolling Stone magazine
Subscribe
to
Rolling Stone magazine