New York-based, Australian producer and songwriter Sir Winston returns today with his driving new beat 'Hollywood Hills', and has also revealed five facts about himself.
Filled with kicking beats, bright bass, and a fair amount of crave-able distortion, Sir Winston has charmed us into a groove with his new tune 'Hollywood Hills'.
With charging beats, Sir Winston's new tune serves as a follow-up to his 2019 single 'Everybody Must Dance', which simply proves how well he can get all of us quickly on our feet and dancing.
"This track was written about a real experience that occurred in the Hollywood Hills," Sir Winston reveals, "however the track was recorded at Transmitter Studios in Greenpoint Brooklyn New York."
Noting that the sessions in creation were "crazy," Sir Winston recalls the "hours went into tracking the simple organic sounds like the tambourine and the kick drum. You can also hear my boot banging on the floor of the studio in time with the kick drum.
"We tried so many different things – I wanted to hear the room in the track. Doing the vocal was like an out-of-body experience! We also messed around with so many different synths and spent hours and hours on guitar tones – trying so many fuzz pedals and vintage amps."
With such an immensely kickin' new song, Sir Winston has revealed a bit more about the man behind the track, dropping five facts about himself.
Love Electronic?
Get the latest Electronic news, features, updates and giveaways straight to your inbox Learn more
Check out 'Hollywood Hills' by Sir Winston:
1. I have a twin brother. We are fraternal twins.
I am one hour older. He barracks for Collingwood and I barrack for Carlton – we have had some interesting days at the footy!
2. The first present I ever got in my life was from the Queen of England.
The day my twin brother and I were born, Queen Elizabeth sent us each a silver spoon – for being born on Australia Day.
3. Winston is my real name and people often think I'm named after Winston Churchill.
But not many people know that John Lennon's middle name is Winston. He has always been my spirit animal and I often go to his memorial Strawberry Fields in Central Park in New York. It's my favourite place to chill and wonder.
4. I was playing a festival in Texas years ago and Winston cigarettes were doing promotions and they were giving away swag.
They gave me a jacket, towels and T Shirts that said: "nothing tastes better than Winston".
5. When I was a kid I was obsessed with Bob Dylan.
I heard on the radio that he was doing an unannounced show the following night at the Palais Theatre in St Kilda Melbourne. Tickets were only available at the door. I ran down to the venue; I was first in line and I spent the night there until tickets went on sale late the following afternoon.
The Herald Sun came down and took photos and put a photo of me first in line on the front of the paper. Bob's manager saw the paper and he walked out to the front of the venue and came up to me and asked me if I wanted to meet Bob. He took me backstage and I spent an hour chatting with Bob Dylan.
Check out Sir Winston: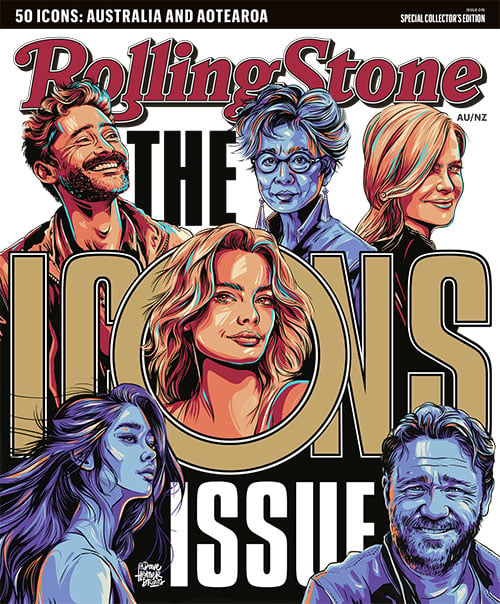 Get unlimited access to the coverage that shapes our culture.
Subscribe
to
Rolling Stone magazine
Subscribe
to
Rolling Stone magazine