It's pretty clear that the Soundwave festival was Australia's choice for summer festival. With over half of the dates selling out (and the other two getting pretty close to it) it was obvious that the overflowing lineup of nearly 100 bands was nothing to sneeze at. I got there fresh and early in the morning to beat the queues, yet when we got there the line was nothing short of two hundred metres long, and it just kept on getting longer and longer as each second went past.
After venturing around, orienting myself with the locations of the 7 different stages, I decided to check out the main stages. One thing worth noting is that the D barrier seemed ridiculously small, and it was easy to predict that there would be some very livid Slipknot and System of a Down fans who wouldn't be allowed in there at the end of the night due to the sheer lack of space.
As I was waiting for Saves the Day's double set, I was being entertained by how much Hyro da Hero was tearing up the neighbouring stage. He barely stopped jumping at all during his set, and he was keeping the crowd alive with his amusing banter. "Hey, all the ugly people in the crowd be quiet!" was followed by confusion and silence to which he responded with "Wow, there must be a lot of ugly people down there."
As the glisteningly sweaty Hyro da Hero walked off Saves the Day walked onto the stage with a massive backdrop that simply said PINKERTON between two lines, said their greetings and started to play Weezer's "Tired of Sex" – the first song off the latter's classic album Pinkerton. It's been said by Soundwave promoter AJ himself that he tries to book Weezer each and every year but frontman Rivers Cuomo always turns him down, so it's no surprise that I had butterflies in my stomach when I heard that Saves the Day was doing a double set at this year's festival – half an hour covering Pinkerton in full, and the other half doing original songs. The band couldn't have done a better job at recreating the album, as they played it from start to finish without stopping. After the last few notes of "Butterfly" finished ringing out, an energetic "one, two, three, four!" came from the drummer as they burst right into their second set. At the same precise moment, the PINKERTON backdrop was released, revealing a second drop with SAVES THE DAY in the same typeset.
I wandered around to the several stages following Saves the Day and managed to catch a few minutes of the Black Dahlia Murder (who must have been in some sort of breakdown because for a good couple of minutes there was a constant pounding of a double kick pedal) and locals Heroes for Hire who seemed to be throwing a party of their own.
As I was walking around, a certain band caught my eye. I looked at my timetable and saw that they were called River City Extension and they seemed to be way too indie to be on this festival. There always seems to be just one band that never pulls a crowd more than 50 due to their complete lack of fitting in. In the past there have been bands such as Jaguar Love and This Town Needs Guns who fill this description, and despite being completely unknown to the Soundwave population, they still manage to get billed. The eight piece played Grouplove style sounds infused with folk which almost certainly turned stomachs of the metalheads walking past. They still played to their hearts content despite a small attendance and were one of the highlights of the day.
Fast forward to later in the day where synth-rock favourites Cobra Starship were playing their hit "Hot Mess" as I sifted through the many teenage girls happily singing along. Frontman Gabe Saporta is well known for his 'stylish dancing' above all else, but still managed to have some good banter. He mentioned to the crowd that "Cobra Starship is your guilty pleasure, and that's why you're all here" before bouncing into the song "Guilty Pleasure". He was right, though, as I felt somewhat wrong being there but was still enjoying it.

After my enjoyment for Cobra Starship wore off I decided to place in a good spot for Circa Survive, where the legendary singer Anthony Green from The Sound of Animals Fighting and Saosin was fronting. This set was undoubtedly the most noteworthy that I had seen yet, as there was no way that Green wasn't on something. During songs he was holding the microphone into his eye while singing as well as caressing the microphone head. Between songs he had this very bizarre smile as if he was completely ecstatic that he was existing, and even more so that people were watching him exist.  There was also a point where he beckoned the crowd into joining him on stage, as he said, "There are so many of you and only a couple of them, what's holding you back from us?" This provoked a few people at once to try and dash past the security guards including the frontman from Letlive, but to no avail. Nonetheless the band still played to near perfection and even though the vocals were a little off, the crowd happily filled in and sang along.
I decided to stroll over and check out Limp Bizkit hoping to find a few redeeming qualities that could put my mind at rest over why they were one of the headliners. In the short 25 minutes that I saw, there seemed to be a lot of silence on stage. For a few minutes there was just a mixture of DJ Lethal messing around on his turntable and guitarist Wes Borland telling cheesy jokes. This was interrupted by Lethal actually playing a full dance song, which girls from the crowd were pulled up on stage to dance to. Following this they played their cover of George Michael's "Faith" as well as a few more classics.
A black cover was used to hide the stage from fans of Marilyn Manson to build excitement, and it most definitely worked. It was nice to see that Manson was fully back into being himself for the tour considering the booing situation that happened at Sydney soundwave. Even though he's a little chubbier than in previous tours, and lacks the energy he used to have, he still managed to put on a really good show. The atmosphere was spot on and the crowd was ecstatic to party alongside Manson and his band.
It was a hard decision between Letlive and Slipknot, but I remain happy with my choice of seeing Letlive's complete set. Frontman Jason Butler, obviously taking inspiration from what happened to him at Circa Survive, walked out on stage exclaiming, "There are 180 of you and 1 security guard, you should all try and get up here," before exploding into song. The energy inside him completely took hold of what he was doing, as he demolished the stage throughout their set. Butler grabbed a fold back speaker, put it on its side and stood on it during a song. As the song finished, he jumped off and pushed it off the stage nearly hitting the security. He then took a cymbal, threw it at another cymbal then decided to throw himself against the side fence three or four times – all while singing his part for the band. The sound technicians decided to turn off their set to avoid more damages, which is when Butler got his bassist's bass, threw it at the stage followed by destroying the drum kit and walking offstage.
The hours were closing in and it was time to admire Slipknot's set. Complete with real fire, explosions and, of course, their amazing costumes, they put on nothing short of a masterpiece. With their dedicated fan base moshing with every song they played, there really were no flaws with their set at all.
Finally the moment had come where I and tens of thousands of others would be witnessing System of a Down. 26 songs were played, and all were undeniable classics. Starting off with the "Prison Song" S.O.A.D got people completely hyped up. One noteworthy thing is that Serj wasn't as active as he has been in the past, yet still managed to belt out bursts of energy in their active songs.
It's always the same feeling every year walking out of Soundwave. There's always an unspoken consensus that everyone just wants to go back in there and do it all again, but instead we face painfully ringing ears, massive amounts of traffic and the intense desire for cold water and all the pizza we can shove into our mouths.
– Tom Gaffney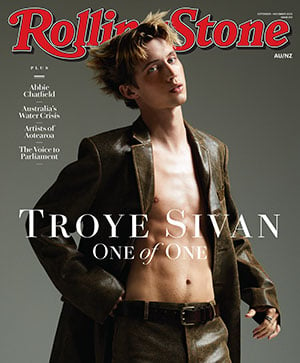 Get unlimited access to the coverage that shapes our culture.
Subscribe
to
Rolling Stone magazine
Subscribe
to
Rolling Stone magazine