If my day is going to be ruined by the knowledge that there's a Tekashi 6ix9ine documentary in the works, y'all are coming down with me.
A new three-part Showtime documentary about the controversial Bushwick rapper is set to be released later this month. Supervillain: The making of Tekashi 6ix9ine is set to explore the rise of hip hops most polarising pop culture figures.
A two-minute trailer for the documentary was unveiled last month. The film will focus on 6ix9ines affiliation with the Nine Trey Bloods gang, and testimony leading to the conviction of two members of the gang, and his arrest and prison sentence for racketeering and firearms charges.
"Superheroes always die, but villains never die," 6ix9ine says in the trailer. "I want to be a villain."
Karam Gill, the director of the forthcoming film, recently sat down with Page Six to discuss the project. Musing that 6ix9ine is a "truly a horrible human being" and a "social media mastermind."
"I think viewers will be shocked to realize how hyper calculated [Tekashi is]" Gill reflected. "Tekashi was someone who never did anything online on accident. Every click, word and action online was designed with care to spark a reaction."
I never really wanted to explore Tekashi's story specifically, and actually was hesitant about the project at first because of how he has been such a toxic individual in our culture," the director admitted.
Love Tekashi 6ix9ine?
Get the latest Tekashi 6ix9ine news, features, updates and giveaways straight to your inbox Learn more
"From a wider scope, I realized it's an extremely important story that shines a light on where we are as a culture. We're living in the era of manufactured celebrity, where people can create inauthentic online personas and rise to fame without any talent or morals. Tekashi's story is exactly that — he's someone who realized the power of having your own platform."
Gill did not meet Tekashi whilst helming the project. Supervillain is drawn from a Rolling Stone feature on the rapper.
"I have never met him nor spoken with him," Gill, explains. "The interview we have in the film is from unreleased post-prison tapes that our larger production team acquired."
"To me this project was an opportunity to capture this time in human history," he said, "a time where we have seen pop culture figures, and even presidents, shape their own realities and manipulate us all through digital media."
Check out the trailer for Karam Gill's forthcoming documentary Supervillain: The making of Tekashi 6ix9ine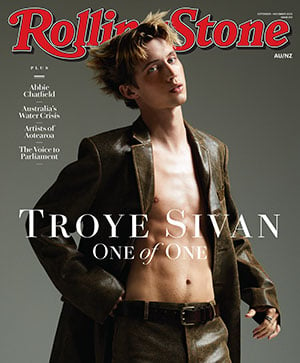 Get unlimited access to the coverage that shapes our culture.
Subscribe
to
Rolling Stone magazine
Subscribe
to
Rolling Stone magazine