Bliss n Eso are truly one of the early pioneers of hip hop in Australia. They broke the glass ceiling for many rappers in country.
Very few casual listeners truly understand how remarkable they are not only as hit song writers but as lyricists and wordsmiths.
Check out our picks for the 15 best Bliss n Eso songs which showcase their lyrical brilliance.
15. What They Say – Mind Over Matter ft. Bliss n Eso
Starting the list where Bliss n Eso feature on a Mind Over Matter single, they really bring the heat here!
Hear those vocals in the chorus? That's Tyrone Lindqvist from Rufus Du Sol.
14. Field of Dreams – Bliss n Eso ft. Paris Wells
How this was not a single I will never know. Eso's verse is inspiring and Paris' hook is unbelievable! This should have been everyone's anthem but instead it became a favourite for the fans who bought the album.
Love Hip Hop?
Get the latest Hip Hop news, features, updates and giveaways straight to your inbox Learn more
13. Dopamine – Bliss n Eso ft. Thief
Released in 2016, this song is a great representation of Bliss n Eso's songwriting. Hit chorus and beautiful introspective lyrics;
You see those dark clouds covering my conscience?
I need help, I'm in love with my own monsters
12. Lights Camera Action (Phazed Out)  – Bliss n Eso
This song became the backdrop for every up and coming rapper in 2006. It embodied everything about a very young and hungry hip hop scene before it really took commercial radio by storm.
11. At Midnight – Bliss n Eso
Flying Colours is one the of the best Hip Hop albums ever to come out of Australia. It danced the line perfectly between accessibility and weird experimentation.
At Midnight is one of the more accessible tracks on the record, the chorus is a banger.
10. It's Working – Bliss n Eso
What a way to open their sophomore album? One of my favourite Bliss verses.
For context, when Bliss n Eso released Flowers in the Pavement, their debut album, it was met with a lot of love, but also a lot of very harsh criticism. Why? Simply, it was experimental and very weird in parts. They had some edgy (strange) songs on there which caused a lot of people who liked their hip hop in a nice neat little box to attack them. This is why I love Bliss' lyrics in the opening verse;
Now don't you try to tell me what hip hop is not
You don't own that motherfucker man, you got it pops?
…..
But us? What we gonna try and do is rock the spot
We hot to trot, it's not our fault we top the lot
And you just can't hack it can you? You lost the plot
So put your wack album out and I'ma watch it flop 
9. Bullet and Target – Bliss n Eso ft. The Connections Zulu Chori
This was a special project.
Bliss n Eso flew to South Africa and worked with the Connections Zulu choir, a 21 piece African Choir from the Valley of A Thousand Hills to rework Citizen Cope's original version of "Bullet and a Target"
100% of the proceeds from "Bullet and a Target" went to The Oaktree Foundation, Australia's only youth-run international aid and development organisation. The money funded projects in developing regions of South Africa in the hope of creating awareness and a brighter future for those in need. Read more about here.
8. Gorilla Milita – Bliss n Eso
I hope Eso doesn't mind me sharing this story;
When Bliss finished writing his verse, he claimed he had come up with all the possible words for the rhyme scheme you hear in the opening verse. Then Eso replied, "I don't know about that mate", and jumped into writing the second verse with the same rhyme scheme.
This track to me is the ultimate sporting event, just two rappers showcasing skills and having a lot of fun with every bar.
7. Watchdog Water Dragons – Bliss n Eso
This is the most popular track from Bliss n Eso's debut album Flowers in the Pavement.
6. Headless Princess – Bliss n Eso
It was a coin toss to decide what order to put Headless Princess and Watchdog Water Dragons, however I put Headless Princess ahead for two reasons;
The seven minute journey is one that doesn't feel long enough, every moment is infatuating
There is something about Eso's delivery on this track that feels both raw, undeveloped and awesome all at the same time. I love his youthful energy in each bar, you can sense he is moments away from mastering his craft. As a listener hearing his raps here, you get the sense you are looking behind the curtain of one of the best Australian lyricists on the way to perfecting his craft.
5. Where the Wild Things Are – Bliss n Eso ft Mind Over Matter
I absolutely love Smiles (Mind Over Matters) verse on this, and when they perform this track live it is a real highlight of their set.
In the search for fame everyone wanna be bigger than Kurt Cobain
After he burst his brain and left his curtain stained
What do you think?
I think it's bad for them to stare at the sun
Save my soul with a flare and a gun
You can find me on tour nightly
I'll be lightnin' up a stick like Hermione. Who?
Excuse me miss if I ransack your handbag
Flow so heavy the damn track needs Tampax
I'm so good I spell M.O.M. with an "X" and a zillion Fs and it's still correct
Trippin' in a theme park with a ski mask
This house is where the wild things are!
4. Woodstock 2008 – Bliss n Eso
Woodstock to me is "It's Working" V 2.0. Opening their Flying Colours album with an absolute grenade!
3. Addicted – Bliss n Eso
One of my favourite Eso verses, and the film clip is very compelling. Check it out below.
2. Off the Grid – Bliss n Eso
One of Bliss n Eso's newer songs and my favourite from their recent album. The back and forth is so seamless, engaging and really takes me back to what I loved about old school boom bap hip hop.
1. House of dreams – Bliss n Eso
If there is one song that defines Bliss n Eso it's House of Dreams. It perfectly sums up their lyrical style, hit writing and absolute uplifting instrumentals.
A clear #1 for me.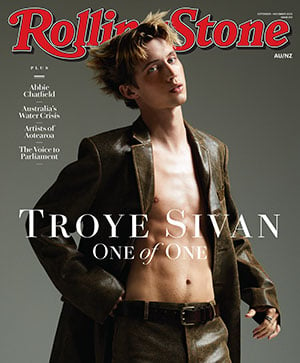 Get unlimited access to the coverage that shapes our culture.
Subscribe
to
Rolling Stone magazine
Subscribe
to
Rolling Stone magazine