We listen to a lot of music here at Tone Deaf HQ, and we're the first to admit we're perhaps a little biased towards sounds of the Australian variety. We do make the best music in the world, after all.
In honouring our favourite Aussies, we've once again compiled a list of the most outstanding local releases you should be listening to right now – whether they're smaller indies acts or big-name essentials, these are the newest Australian records you should be adding to your 'must-listen' list.
Let's get started.
Cool Sounds – Dance Moves

'Shake' has been one of our favourite low-key guitar pop tunes of the year so far, and the band's own label of 'jazz-gaze' is perfectly befitting the satisfying blend of horns and harmonies. Cool Sounds embody a lazy charm that never sounds lethargic, and every drifting guitar line is bolstered by a genuine hook. Expect to see a lot more of this mob.
Gonzo Jones – Misty Dreams EP
An enigma who sprang forth seemingly from nowhere, Gonzo Jones crafts earworms with a slick, cinematic flair. Misty Dreams is the pristinely-curated soundtrack to a sun-drenched run to the border, shotgun in the trunk and pedal to the deck. Playful and lush, it's just the record to carry you through the dreariest winter.
Cleopold – Altitude & Oxygen EP
Having spent quite a while honing his craft in LA, multi-instrumentalist Cleopold first snatched a few gazes when he returned to our shores and released his single 'Down In Flames' through Chet Faker's new record label Detail Co. He has now followed it up with his debut EP Altitude & Oxygen, a tight selection of luscious jams.
Slumberhaze – Rhyme, Rhythm & Romance (Part 3) EP 
This is the third and final release from the Sydney five-piece Slumberhaze's impressive ongoing project, with Part 1 having been released all the way back in 2013. It's heartening to see that sort of commitment to an album-based project, but for an act who view themselves as much as an art collective as a band, we're sure it was the obvious choice.
Ngaiire – Blastoma
Ngaiire has been kicking goal after goal in recent times, which has seen the anticipation for her sophomore release Blastoma shoot through the roof. Thankfully, it more than delivers. The production by the veteran Paul Mac and emerging talent Jack Grace is uniformly brilliant, and her voice grabs you by the guts and the heartstrings all at once.
Marcus Whale – Inland Sea
Marcus Whale has already made waves with his work in Collarbones, BV, Scissor Lock and Tennis Boys, but his latest solo release Inland Sea has made an important splash of its own, touching on issues of modern queer identity and Australian masculinity in stunning fashion.
Brightly – One For Sorrow, Two For Joy
We recently premiered this new one from the London-based Aussie Charlie Gleason, which was recorded in a frosty Icelandic cabin:  "One For Sorrow, Two For Joy is incredibly dynamic, both intimate and vast, equally icy and cosy. Featuring masterfully crafted indie rock tracks filled to the brim with rolling crescendos and skittering rhythms, it's truly a triumph from the talented (now) solo songwriter."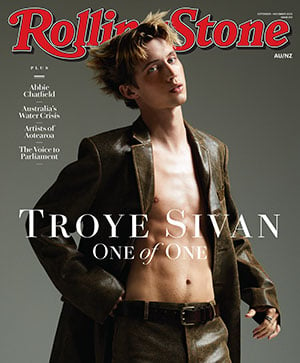 Get unlimited access to the coverage that shapes our culture.
Subscribe
to
Rolling Stone magazine
Subscribe
to
Rolling Stone magazine