The Simpsons are one of the world's greatest and adored cultural icons. The four-fingered yellow family of five are a household name that have stood the test of time ever since their induction to the screen as a short-skit on the Tracey Ullman show in 1987.
The rich tapestry of accolades bestowed upon the animated series is unparalleled. Not only is the Matt Groening creation the longest-running American animated program and sitcom, The Simpsons is also the longest-running American primetime, scripted television series.
There is an obvious question to be raised as to how the television series has survived nearly three decades, especially in the prime time allocation on a worldwide scale. The answer leans quite substantially to Groening and Co.'s ability to keep their finger permanently pressed on the "cultural trend" button.
Outside the obvious obsession with idiotic hero Homer and "this century's Dennis The Menace" Bart, one of The Simpsons' strongest draw cards has been its consistent ability to hook-in the largest pop-cultural figures of the West to make cameo appearances, either as themselves or a simply lending their voice as a fictional character.
No superstar has proven too sizable for the Fox animated series, whether it be actor, sports star or politician – The Simpsons have had no issue bringing in the big guns for 22-minutes of yellow humour.
However, the driving popular-culture force supporting The Simpsons has predominately been weighted by musicians.
The Simpsons have hosted an astonishing number of musical guests, a figure almost exceeding the 100-mark. To lay it in very simple terms, this means almost one in every six episodes arrives a fresh musical guest.
This truly is a spectacle to marvel upon. How many other fictional television series have had three Beatles appear on their programme? How about cramming both Mick Jagger and Keith Richards not to mention Elvis Costello, Lenny Kravitz, Tom Petty and Brian Setzar into an episode? What about the odd juxtaposition of The Red Hot Chili Peppers and Bette Midler?
The myriad of music stars billed by the programme is unmatched and truly exemplifies the profound relationship between The Simpsons and music itself.
Come with us as we take a trip through memory lane, detailing 14 of the best musical stars to have visited Springfield over the past 28-years of the illustrious Simpsons history.
Tony Bennet – 'Dancin' Homer' – Season 2
It's a pretty incredible fete that the first music cameo appearance to be made in The Simpsons arrives in the early days of Season 2 with the jazz superstar, Tony Bennett.
Homer scores a gig as a baseball mascot in "Capitol City". As the family roll into the big smoke, the scene parodies the film New York, New York as Bennett croons the lyrics "there's a swingin' town I know called… Capital City".
Ringo Starr – 'Brush With Greatness' – Season 2
This classic episode witnesses what we believe to be one of the most hilarious original cameos by any musician on the television series.
Starr kills when he attests he will respond to every fan that has ever written him, upon which he discovered a portrait a young stary-eyed Marge has painted of the drummer.
His quote is pure Ringo: "Dear Marge, thanks for the fab painting of yours truly. I hung it on me wall! You're quite an artist! In answer to your question, yes, we do have hamburgers and fries in England, but we call French fries 'chips'! Love, Ringo. P.S forgive the lateness of my reply."
Michael Jackson – 'Stark Raving Dad' – Season 3
Man, if Tony Bennett and Ringo Starr weren't bragging rights for The Simpsons, Season 3 really packed a punch.
"The King of Pop" himself was said to have contacted the creators of the show, professing that he'd love to voice a character on an episode, however was to be credited as 'John Jay Smith'. Jackson plays the character Leon Kompowsky, a man Homer befriends in psychiatric ward.
A fun fact, MJ wrote the famous 'Lisa It's Your Birthday' track, however did not provide vocals, instead opting for Kipp Lennon to record the track. Jackson allegedly wanted to fool his brothers into believing that Lennon was actually him to see if they noticed the difference. Man, that birthday song is such a tune.
Aerosmith – 'Flaming Moes' – Season 3
As mentioned, Season 3 really packs a musical punch.
The notorious episode where Moe The Bartender robs Homer of his home cocktail with the secret ingredient of cough syrup, Moe's bar turns from a dive into a flourishing hotspot.
Hair-rockers Aereosmith perform at the bar, with Moe even jumping onstage to perform 'Walk This Way'. But the absolute show-stealer for the ep? The omission of Joey Kramer as he battles to retrieve his twirling drumsticks from the clutches of Bart's teacher, Mrs. Krabappel, oww!
Barry White – 'Whacking Day' – Season 4
Oh baby, this one is too good. The king of sensual baritone, Mr. Barry White lent his deep suave voice for the "Whacking Day" screening.
In efforts to save the snakes of Springfield from being "whacked", Bart and Lisa recruit White as he casually strolls down Evergreen Terrace murmuring 'Can't Get Enough Of Your Love, Babe'.
White's most memorable quote? "I love the sexy slither of a female snake, ohhh baby!".
Bette Midler, Red Hot Chilli Peppers – 'Krusty Gets Kancelled' – Season 4
When poor old Krusty the Clown is ousted by that annoying prick Gabbo, Lisa and Bart take it upon themselves to get their idol and his show back on its feet.
Leading a star-studded cast of both musician and actors, Bette Midler bats her cartoon eyes as she and Krusty duet 'The Wind Beneath My Wings'.
The Chili Pepper's scene kills it; refusing to perform in anything other than their patented underwear, Krusty schools the gang on their 'Give It Away' lyrics:
Krusty the Clown: "Well, okay, but here where it says, 'What I got you gotta get and put it in ya," how about just, "What I'd like is I'd like to hug and kiss ya'."
Flea: "Wow. That's much better."
Arik Marshall: "Everyone can enjoy that."
George Harrison – 'Homer's Barbershop Quartet' – Season 5
George Harrison was the second Beatle The Simpsons managed to coax into appearing on the show, and it was all too fitting considering the context of 'The B-Sharps', the harmonising quartet comprising of Homer, Barney, Apu and Principal Skinner.
Homer's meet and greet with Harrison is one for the books, as The Beatle holds a brownie, Simpsons' stomach takes control of the conversation as he demands to know where Harrison got his dessert.
The killer punch, as Homer gorges on brownies, George Harrison observes "what a nice fellow!".
James Brown – 'Bart's Inner Child' – Season 5
This has got to be the crème de la crème of guest appearances, it's James Brown!!!
As Brown booms his 1965 hit 'I Feel Good (I Got You)' as apart of Springfield's "Do What You Feel Like Festival" inspired partly through Bart, Brown delivers a hilariously over the top howl "hey, wait a minute, hold on here. This grandstand wasn't double-bottled, hmpf!".
Brown himself quoted on the experience as "good, clean and humorous" – still forever the hardest working man in show-biz.
The Ramones – 'Rosebud' – Season 5
"Go to heell you dirty old bastid" jibes CJ Ramone as the 1993 line-up of punk rock royalists The Ramones shoot Mr. Burns with a birthday message from hell.
If you haven't seen what is rated as one of the best The Simpsons episodes, Smithers throws Mr. Burns a birthday party and hires The Ramones to perform.
As the curtains draw and the band kill it rejoicing "hey, I think they liked us!". However, it's Mr. Burns that steals the scene straight from under the New York boys' noses, commanding Smithers to "have the Rolling Stones killed".
Cypress Hill, Peter Frampton, Smashing Pumpkins, Sonic Youth – 'Homerpalooza' – Season 7
If you're ever feeling a bit of nostalgia for the 90's, this episode is the one for you.
Homer joins "Hullabalooza" a parody the US travelling music festival Lollapalooza, with alternative rock loyalty: Sonic Youth, The Smashing Pumpkins, Cypress Hill – not to mention Peter Frampton too.
A couple of interesting facts, Courtney Love and Hole were asked to join the cast, however they declined. In addition, Perry Farrell of Jane's Addiction/co-founder of Lollapalooza stated he was sorely disappointed he wasn't asked to voice a character.
The list of memorable moments in this episode is endless, however the top-hitter has got to be Homer's first encounter with The Smashing Pumpkins as he drops "Homer Simpson, smiling politely".
Paul and Linda McCartney – 'Lisa The Vegetarian' – Season 7
It took the gang at The Simpsons a mere seven seasons to guest star every living Beatle. How many fictional television series have been crowned with such an accomplishment?
Hilariously pottering around the roof of Apu's Kwik-E-Mart, both Paul and the late Linda McCartney provide counsel for Lisa as she comes to grips with her vegetarianism.
The pair stated they've been long-time fans of the show, but noted their appearance was to spread the word of vegetarianism and that Lisa was to permanently remain a vegetarian – to which she has!
And if you want that recipe that Paul promises when 'Maybe I'm Amazed' is played backward, here it is:

Johnny Cash – 'El Viaje Misterioso de Nuestro Jomer (The Mysterious Voyage of Homer)' – Season 8
One of The Simpsons greatest honours was when 'The Man In Black' played the voice of not himself, but a coyote.
Cash acts as a spiritual guide for Homer as he wigs out on some crazy-burning chilli, which despite its comical context, does emphatically resonate with the millions of hearts this great man has touched. A truly beautiful moment in the history of the programme.
Dolly Parton – 'Sunday, Cruddy Sunday' – Season 10
Hauled-up in a Super Bowl jail cell, the majority of Springfield's men have lost out at the hands of a ticket scalped whom sold Homer and his new best pal Wally tickets mate out of crackers.
It's none other than the Queen of Country to the rescue as the ever-vivacious and equally hilarious leading lady uses some extra strength make-up to burn a hole in the bars of their prisoners cell.
Mick Jagger, Keith Richards, Elvis Costello, Tom Petty, Lenny Kravizt, Brian Seztar – 'How I Spent My Summer Vacation' – Season 14
There is a lot of musical history in this episode, a hullova lot more money. Unquestionably the grandest of artist features since the aforementioned 'Homerpalooza', the crew of Fox Studios had reached their cameo pinnacle.
After drunkenly revealing his 'life-long dream' of being a rock star, Homer is sent to Rock'N'Roll Fantasy Camp, ran by the six rock stars.
No television show could get away with a main character bashing Elvis Costello out of the way for suggesting someone play bass or ridicule Mick Jagger as he incessantly lisps the words "tesssst! tesssst!".
This camp is one fantasy we all wish we could live.
An Everlasting Legacy
The genius writers have pumped-out more than a staggering 540 episodes over 25 seasons in just under just under 30 years. Albeit an undeniable decline in quality, The Simpsons have spread over multiple generations as a #1 favourite. The television series will forever remain one of the best programmes to grace the living room screen.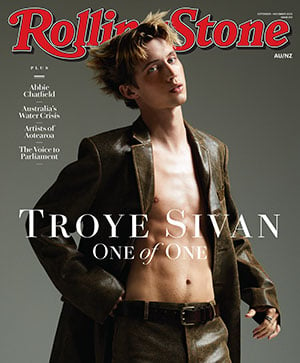 Get unlimited access to the coverage that shapes our culture.
Subscribe
to
Rolling Stone magazine
Subscribe
to
Rolling Stone magazine