Sure, 2013 might not be officially over yet, but as a music fan, you're probably already trawling the torrent of lists that's starting to appear over the inevitable end-of-year celebrations.
So while you might still be catching up on the sounds and bands you might've missed for this year (let us help with our Top 15 Albums Of 2013 You Might Have Missed), some are already turning towards the zeitgeist-capturing bands most likely to capture ears and turn heads for 2014.
To put it in other words, those artists that are likely to 'pull a Lorde' in the next 12 months.
One of the leading tastemakers in that search is the BBC's annual 'Sound Of' list, and the British radio institution has just unveiled its longlist for 2014, naming 15 top musical acts it believes will be flooding the blogs and playlists of discerning music lovers in the next 12 months.
The BBC Sound Of 2014 list was compiled from a panel of "170 tastemakers, who each named their favourite three emerging artists," selected based on the steam they're already building, or in their potential ability to crest the wave of a given that's beginning to swell, with a final Top 5 to be selected from the 15-strong longlist and a winner to be named on 10th January, 2014.
he longlist will be narrowed down to a top five with a winner set to be named on January 10. Past winners include Haim, Michael Kiwanuka, Jessie J, Ellie Goulding, Little Boots, Adele, Mika, Corinne Bailey Rae, The Bravery, Keane, and 50 Cent.
Don't believe that Britian's formative broadcaster has the predictive chops to predict the future's best and brightest? Well the BBC Sound Of 2013 crowned Haim as the top act, and the all-sister Cali-trio seemed to have done pretty well for themselves, along with the likes of AlunaGeorge, Chvrches, Laura Mvula, and Angel Haze. The list has also unearthed (to borrow Triple J's parlance) the likes of Adele, Mika, Jessie J, Keane, and 50 Cent over the course of its 10 year long history.
Love Eminem?
Get the latest Eminem news, features, updates and giveaways straight to your inbox Learn more
So without further ado, here are the Top 15 artist you'll be digging next year, according to the BBC.
Say Lou Lou
The only act on the Sound Of 2014 list that has Aussie ties, with the duo comprising of twin sisters Miranda and Elektra Kilbey, who are the Swedish/Aussie-bred daughters of Steve Kilbey from famed rockers, The Church. Delivering a sophisticated brand of dreamy pop, Say Lou Lou (formerly Saint Lou Lou) describe their music as "organic ethereal music landscapes with flowing instruments and vocals," and have a cult European following after supporting the likes of Foals and Hurts on tour. Currently recording their debut album between London and LA, they also deepen their Down Under links by collaborating with chilltronica star Chet Faker (on the slinky track 'Fool Of Me'), and recording an ABBA-like rendition of Tame Impala's 'Feels Like We Only Go Backwards'.

Sampha
Chances are you've already heard this 24-year-old singer-songwriter's handiwork. The Londoner has lent his soulful vocals and creative keys work to the likes of SBTRKT, Jessie Ware, and on Drake's Nothing Was The Same this year, gaining him massive exposure as well as a coveted late night US TV slot with the Candian hip hop star for his Late Night With Jimmy Fallon performance. Sampha's emotive crooning has invited comparisons to everyone from Michael Jackson to Tracy Chapman (both of him he cites as influences), while his debut EP, Dual – released on hip indie lable Young Turks in July – serves as a brilliant introduction to an artist that's likely to continue his high-profile guest spots alongside his own electronic-dappled brand of neo-RnB.

Banks
Banks, the stage name for 25 year old Los Angelean Jillian Banks, has been described as "the most plainly obvious pop star you're ever likely to see," by VICE magazine. And with the sleek noir pop to match her smouldering looks, it's not hard to disagree. Working with underground UK producers like Jamie Woon, and Totally Extinct Dinosaurs has earned her the much needed cult cred, while her way with a hook and melody will ensure that the mainstream can't risk ignoring her either. Off the back of her London EP, she scored further buzz in supporting The Weeeknd. With a list like that, and with one listen to her ace single 'Warm Water', its clear she's certainly swimming in the right musical circles.
Chance The Rapper
The rapping alias of 20-year-old Chicago native Chancellor Bennett has already made him a bona fide star in the burgeoning hip hop mixtape scene, thanks to his Acid Rap release this year. His rhymes have all the dizzying pop culture references of Childish Gambino (one of many guests on said mixtape), yet delivered in a happy-go-lucky flow that's reminiscent of early Slim Shady (he's toured even with Eminem). Plus he's got some semi-singing chops and an ear for colourful production that recalls Frank Ocean's Channel Orange. There's honesty in his songs as much as outlandish brags, and his unique style has already seen him eyeing work with Mark Ronson, Diplo, and Q-Tip. Expect a fierce bidding war for Chance The Rapper when it comes round to his official label debut. Oh, and the best part? Acid Rap is still totally free to download.

FKA Twigs
"The doe-eyed, doll-esque mastermind behind FKA twigs might still remain enigmatic to the outside world, but this London-based musician is currently at the helm the musical zeitgeist in 2013, and she's pushing it to a new plateau of futurism." So wrote our Tone Deaf reviewer of the 25-year-old's sophomore release, the perfunctory titled EP2. Though already crafting inky moods with startling intimacy, the girl behind the sensual, glitchy pop admits to BBC "I still very much feel like a novice." But she's come an awful long way since being a back-up dancer to Jessie J that's already catapulted her music far outside the confines of Gloucestershire; helped in no small part to her creepy, suggestive music videos.

Jungle
With their innocuous band name and lack of information, this West London twosome took the 'less is more' approach, generating mystery and word-of-mouth before ever revealing their names and faces. Even then, the enigma persisted in only letting on that the members went by the titles of T and J. Drawing inspiration from the seedy underbelly of 1970s New York club culture as they do cutting edge production techniques, Jungle sound as fresh as their non-back story is intriguing. The pair are working on a full length release that will strike hard on the hot iron they've stoked in the last few months.

Royal Blood
You might've thought that it's all electronica, soul, pop, and RnB stylings from the BBC team, but along come Brighton riff-meisters Royal Blood to inject some rock and roll into the Sound of 2014 list. The no-nonsense duo of bassist/vocalist Mike Keer and drummer Ben Thatcher have obviously drawn similes to The White Stripes, but the racket they create is closer to QOTSA. With a to-die-for support slot with Arctic Monkeys already stitched in, they're sure to earn a few more headbangers to their close next year.

Sam Smith
The vocals of the clean-cut 21-year-old Smith should sound familiar. It's his singing that gave UK's Disclosure, one of the most talked about bands of 2013, their first major hit, 'Latch'. From that enviable platform he scored a #1 single in Britain over the summer, fronting Naughty Boy's 'La La La'. Smith then capped his year by returning to work with Disclosure on their own Nile Rodgers team-up, singing over the music legend's springy guitar work on the recently released 'Together'. Playing nice with others seems to have worked wonders for Smith so far, but he's also been working on solo material to showcase his classic vocals – honed by singing along to Aretha Franklin and Whitney Houston in his family's car.

Luke Sital-Singh
Having already released three well-received EPs, Sintal-Singh is at the forefront of the emerging pack. The 25-year-old's single 'Fail For You' has already has major radio airplay in the Uk as well as having appeared  on an episode of Grey's Anatomy.  If that isn't a mark of modern success, what is?

Chlöe Howl
The 18-year-old Maidenhead local brings another touch of soul to the list with her self proclaimed 'steak and kidney pop'.  Remarkably clever in her approach to her music, she's taking her cues from those who have done well before her and embracing the topics of teen-dom without resigning herself to them.  The video for single 'No Strings' has already been blogged and re-blogged to the end of time proving that the internet loves a sassy teen.
Ella Eyre
Another curly haired, teenage Ella? Don't worry she's been around for a while. The Londer is perhaps best known for her gues vocals on Rudimental's sing 'Waiting All Night' melding 60s Motown sentiments with modern beats and twisted melodies, the music industry is already looking out for her debut.
Kelela
Bringing a touch of originality to the list is born to Ethiopean parents in Maryland, American, the singer and beat-maker Kelela. Her mixtape Cut For Me dropped in October of this year an was released by Fade To Mine records. Drawing influences from '90s RnB as well as modern mavericks such as Frank ocean and Kendrick Lamar, the 30-year-old is in fine company.
MNEK
The now-19-year-old started making original music as well as remixes in his bedroom at the tender age of 14 and has since garnered credits on tunes by Rudimenal and Little Mix. Did we mention he's already achieved his first number one hit on 'Need U (100%)'? Oh! And he's professionally remixed tunes for the likes of Jennifer Lopez and Georgia Michael. Just for some perspective, he was born the year Friends started airing and he's already written for Duran Duran. Yep.
Nick Mulvey
Mulvey seems like a relative anomaly to the list considering his use of analogue formats. Coming from a long line of noted musicians, he was one of the members of Mercury-nominated jazz outfit Portico Quartet (listen to their 2011 single ' Ruins' here). Now leaning more towards the Latin-infused side of the music world, the 26-year-old is signed to the label of Mumford & Sons alum Ben Lovett with latest single ' Nitrous' already causing a fuss.
George Ezra
At the tender age of 19, Ezra has already graces Glastonbury's emerging stage as well as supporting the likes of Lianne La Havas and Tom Odell. Described as a teenager with the voice of a 50-year-old, Ezra's acoustic ballads tell the tales of someone far beyond the songwriter's years. The Britstol-native is currently touring Europe to rave reviews and is being compared to a young(er) Jake Bugg.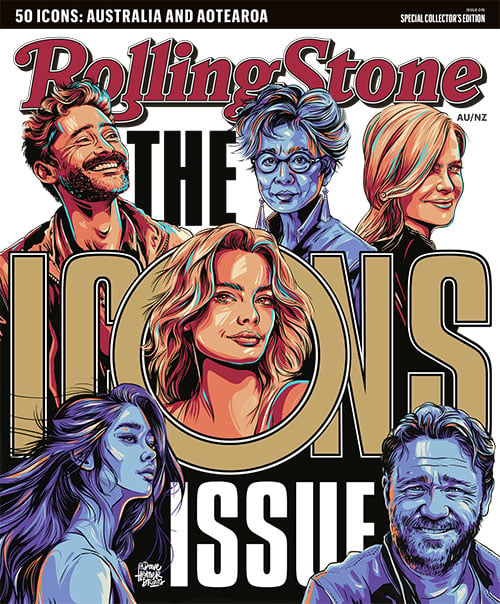 Get unlimited access to the coverage that shapes our culture.
Subscribe
to
Rolling Stone magazine
Subscribe
to
Rolling Stone magazine