The Who guitarist Pete Townshend has reflected on his longtime friendship with David Bowie on the fifth anniversary of his passing.
During a recent radio interview, Townshend offered an insight into the mythological world of the Thin White Duke. Sharing tales of his friendship with the extramundane pop star that span from when Bowie was still David Jones, to when he became the pop culture juggernaut we all adore.
When asked about how he and Bowie first crossed paths, Townshend recalled:
"Well, this is a weird story. I was published from about 1964 onwards by a guy called David Platts who ran a company that published people like Leslie Bricusse, and Anthony Newley, and people like that. And I was one of his first second-generation songwriters. His company was called Essex.
"And one day I was walking, I lived in Ebury Street in Victoria, and a shout came across the street from a mod looking guy with blonde hair, backcombed. This would have been probably about 1966, early '67 – and it was David."
He continued, "He was with his then-wife Angie, and he shouted across the road, 'Really loved your demo of 'Join My Gang',' which was a song that I'd written for one of Robert Stigwood's artists. And I said to him, 'How did you hear that?'
"And he said: 'Well, I work at Essex and I've heard all your demos.' So what he'd done is – whenever I wrote a song, I would send a demo to Fabulous Music, which was my company hosted by Essex, and he'd been through my demos and listened to all my songs, the ones I'd recorded at home.
Love Classic Rock?
Get the latest Classic Rock news, features, updates and giveaways straight to your inbox Learn more
"And I didn't know anything about him. Anyway, I asked his name and he said then his name was David Jones. That was my first meeting."
When asked about what Bowie was like as a person, Townshend recalled: "He was always very, very, very charming to me."
The guitarist went on to detail a particularly delicious story that took place at a Japanese restaurant in New York.
"I think it was going to a Japanese restaurant with him in New York, and there was a table of businessmen from Japan, and David was very cautious. He said, 'This could get tricky.' And I said: 'What do you mean?'," Townsend recaleld.
"He said: 'Well, they've obviously recognized me.' And The Who hadn't performed in Japan but David had been there many times, and he was a big star there. And sure enough, this big table of businessmen decided to send us a special dish.
"And it came to the table, and he said it would be disrespectful not to at least try this, and he shouted over at the table to thank them in what sounded to me like fluent Japanese. He didn't say much but it was a sentence with a beginning a middle and an end.
"And they all said, 'Yes, go ahead, enjoy.' And when I looked down, it was a plate of crabs that were still alive! Anyway, I said, 'Listen, I'm gonna start.' I shove one in my mouth and of course, it tasted fantastic, whatever it was. It's the only time I've ever eaten anything of that sort."
He continued, "But I thought, 'I'm with David Bowie, he's with these old Japanese businessmen, this is like being shuttled from New York to Tokyo in a heartbeat.' I didn't know anything about Japanese traditions, I knew that he did.
"I'll always remember it, it was just extraordinary. It's just an example of his worldliness, and his grace, and his elegance. He just cruised through that kind of scenario."
Elsewhere in the interview, Townsend was asked whether he was surprised to learn of Bowie's death. To which he mused that it came as no great surprise to him, considering the reckless, debaucherous lifestyle Bowie lived.
"When I knew him in the early days, he was what I would call incredibly hard living! He really did live high and he lived hard, and he could have been another Jimi Hendrix, Keith Moon casualty – there's no question about it," Townsend shared.
"There's no point gilding the lily here or pulling back on the facts. He was a bit of a wild man; he just was so super cool, and so glamorous, and so sweet a man, so kind, and so hard-working too, so interested in the arts, and so intelligent that it disguised the fact that underneath it all he was a filthy rock star."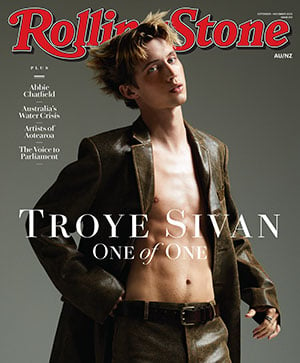 Get unlimited access to the coverage that shapes our culture.
Subscribe
to
Rolling Stone magazine
Subscribe
to
Rolling Stone magazine