Australia has a thriving music scene full of talented artists, great venues and passionate fans, but there's also a lot of genuinely exciting stuff happening in other parts of the industry that are making the country one of the best places to be a musician.
Plenty of talented people are working on new ways to make life easier for musicians and music lovers, with a range of apps that help people book gigs, collaborate with other musos, and change the way we all experience music.
These are a few of our favourite home-grown apps that are shaking up the music business, and music itself, in a big way.
Six8
It's easy to book an Uber, or even to rent a house on the other side of the world, so why not make it super simple to book live music? That's what the music-lovers behind Six8 are doing, building a community around their app and allowing people to link up and bring live music to new spaces with a few clicks.
The aim is to take the intimidation out of booking a band, allowing anyone who wants to host live music to search for the sort of artist they're after and book them directly through the app, with links to their music and info all in the one place. Artists can set their own performance fees so that, just like an Uber, you'll know exactly how much you'll be spending. Hosts and artists can also leave each other ratings that will vouch for you no matter where you go.
While some people might know how to go about booking bands already, Six8 opens it up to everyone and hopes to encourage more live music, whether it's finding a singer-songwriter to play a book launch or a band to play your house party. For emerging artists, it provides a new way to find paid gigs, without having to throw an ad on Gumtree and hope for the best.
The initiative of a small team of Aussies, its aim – to bring live music to new places and audiences, and make it as easy as a few clicks – is definitely something we can get on board with.
GiggedIn
Built on a pretty great concept, GiggedIn completely changes the way we look at concert tickets and engage with live music, in an effort to make attending a live gig just a part of every music fan's weekly routine.
It works by basically offering a subscription to live music, giving you all-you-can-eat gig tickets at a bargain price. If you attend a gig every week or two, you'll have already covered the monthly fee, and for keen gig-goers who want to catch multiple shows a week, it's a no brainer.
The company was founded in Sydney and has since expanded to Melbourne, offering up 50-100 gig options for members each week for less than a tenner. We tested it out for a month, and came away pretty impressed.
Nightlife Music
The team at Nightlife Music have a few irons in the fire, helping people and businesses find and license music for their promotions, matched to what their audience is definitely going to like. They also do the same for visuals, pairing the right imagery with the music and pretty much making sure that any ad you put together is going to look and sound on-point.
They also have you sorted if you're looking for music to play in a venue or a store, picking the right music for you and making sure it's all properly-licensed so you don't need to worry about being chased down for not paying the proper royalties.
Even better is a crowd DJ system that lets, say, members of a gym request the tracks they hear during their workout, with limits able to be put in place to make sure nobody spams the same song ten times in a row.
Muzeek
Aimed at artists, venues, promoters, agencies and festivals, Muzeek is a powerful set of tools to help run, organise and automate events. It encompasses everything from the technical stuff like contracts, settlements and rosters, streamlines the ticketing process, and helps out with analytics and reporting before, during and after an event.
You can put together a bunch of useful items like slick interactive embeds for your event, and it's fully integrated with ticketing companies like Eventbrite and Bandsintown too, so gig promo and ticket sales become one smooth and appealing process for punters.
It's currently invite only as they continue to roll it out, but you can request to get on board.
Vampr
Described as a sort of Tinder for musos, Vampr is an app that helps people connect with their fellow musicians or music lovers who have the same interests, so that they can collaborate wherever they are. Need a guitarist to help you finish off your new track? It'll help you find someone who's keen to jump on board.
Collabs can then be uploaded into the app, and shared across platforms like YouTube and Soundcloud directly, while the app can also be used for other purposes like linking up with graphic designers for an album cover.
Vampr has some legitimate music heritage behind it, too, backed by Hunters & Collectors guitarist Baz Palmer and Melbourne muso Josh Simons of Buchanan, who started the business when he was having trouble putting his touring band together, solving the problem for himself and every other muso in the process.
Weav
Music that can adapt to any context, that's what Weav is all about. Artists can create versions of their tracks that can change and develop as the tempo is adjusted, with the process as simple as putting together a remix in any music-making software.
The extra layer of interactivity gives listeners a new way of engaging with an artist's tracks, and the end result can then be used in a number of ways from within the app, helping your next single to stand out from the pack as much as possible.
Parlour Gigs
If you're looking to throw a killer house party with some live music in the mix, Parlour Gigs is a good place to start. You can get recommendations on local bands that might fit the bill, have them take care of ticketing and invitations, and have your own live music event booked with minimum fuss.
Their roster of artists is pretty impressive too, ranging from emerging local talent to names like Steve Kilbey of The Church, Holly Throsby, and Michael Spiby of The Badloves, and there's something on the list for just about every taste.
PopGun
Brisbane startup PopGun is a very clever one indeed, while also being a little bit scary. Formed by a pair of AI engineers, it's not only able to identify tracks that have the potential to become Top 40 hits, but can then feed those tracks into an algorithm that learns how to write more of them.
The company aims to "break the musical Turing test" by creating a fully AI-generated song that can pass as a real, human-made hit, and most of the work is going into the vocals at this point, as they're the hardest part to have sounding natural.
This one is still in the early stages and doesn't technically have an app just yet, but the possibility of being able to feed a bunch of pop tracks you like into its algorithm and have it make a library of new ones just for you is a very interesting prospect.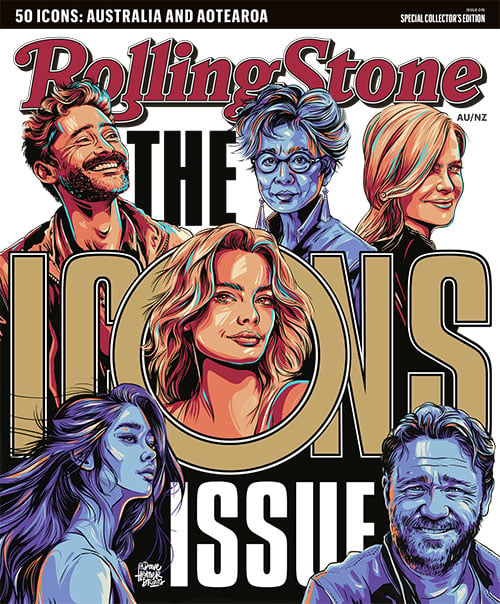 Get unlimited access to the coverage that shapes our culture.
Subscribe
to
Rolling Stone magazine
Subscribe
to
Rolling Stone magazine