If you're in the mood for some "heart-racing, gut-busting, roof crashing, piss-off rock n 'roll", then it's hard to look past Aussie band Avalanche who are dropping their new EP Second Hand Band tomorrow. 
The four-piece rock band has administrated us with a double dose of goodness, with the news that they will be heading off on a nationwide tour for the release of Second Hand Band in April through to August 2021.
"Our live shows are what we do all this stuff for and when people come they should expect a good time.  They should feel like they're at the craziest, wildest party they've ever been too, you know the one that ends up on the local news.  The ones you can't quite remember, but you'll never forget," lead vocalist Steven Campbell shares.
To celebrate the new tracks headed our way, Campbell and Avalanche's lead guitarist Veronica Campbell have given us the inside scoop on their latest music and have talked us through each track from Second Hand Band.
Though the EP isn't officially out until tomorrow, you can listen to an early release of Avalanche's new tracks here:
Killer Instinct
Steven: 'Killer Instinct' is our fast-paced, full-on energetic starter to the EP and it definitely turns things up to 11! It's written about a girl, with a fiery tenacity, driven for one goal: to get you! Inspired by true events of the past relationships of our beloved rhythm guitarist Arthur Divis. And funnily enough, the main riffs were actually written by our drummer Ryan. But musically it really captures the energy and ferocity of our live show so it was a perfect opener for us, and we often open our live shows with it too.
Love Classic Rock?
Get the latest Classic Rock news, features, updates and giveaways straight to your inbox Learn more
Second Hand Band
Steven: 'Second Hand Band' is very much about our experiences so far as a rock band in Australia, finding our way and finding our voice. It's kind of like our 'It's a long way to the top', it's just about rock n' roll, paying your dues.
Veronica: I came up with the main riff and then wrote most of the guitar parts in a matter of about 15 minutes, it's one of those songs that fell into place quite easily. I brought it into the guys to finish it, do their bits and add the lyrics, which Steven came up with. I think it came together so well because it's so simple, we really wanted to do something raw and simple but powerful and catchy. So it's got a very early 70s vibe, and guitar-wise it's all about the rhythm and the extra little embellishments with the lead guitar which I thought was cool. It's pretty minimal for what it is but that's what often rocks the hardest and what I tried to play around with when writing it.
Get Back (To Fuckwit City) 
Veronica: This track is really just a fun tongue-in-cheek ode to our home city of Sydney. It's very anthemic, and always a crowd favourite, everyone always loves singing along to it at shows and really gets into it. It's definitely become a staple of our set and even tho we wrote it about our experiences in Sydney, I think anyone in any city can relate to it as most people have some sort of love/hate relationship with their hometown.
Spit In My Mouth
Steven: 'Spit In My Mouth' is kind of like a rock n' roll take of a punk song, with quickfire lyrics and a melody and chorus that will burn into your brain and an outro solo that will get anyone's ears buzzing, all set to a blistering rhythm track. This is the only song that we were still finishing as we were recording it cos it was our newest track at the time.
V came up with the riffs and then I wrote the lyrics about how so many people follow trends, about the media and such trying to shove the latest thing down your throat all the time. How sometimes you look out and see a group of kids or dudes or women or whoever all wearing the same thing and doing the same shit and it almost feels like a glitch in the matrix or something.
So we wrote it about not giving a fuck about any of that like 'we ain't gonna spit inside your mouth' or shove anything down your throat, like don't follow us, be yourself, not the person next to you.
Down In The Gutter
Veronica: 'Down In The Gutter' is usually our live show finisher, a punchy song written about feeling sad, or down. It's got a twelve bar blues/rock a billy kinda feel to the verse but it's fast as fuck and turned up to 11, definitely our fastest song I think. We've had this in our set for ages, I love jumping out into the crowd during the extended breakdown solo, maybe popping into the toilet for fun as I have done before or running out of the venue, or basically going as far as my wireless can take me.
Also, I still don't know what the lyrics are cos Steve actually improvised all of the lyrics when we first started playing this live, and I think it's mostly gibberish but it sounds good! But yeah, don't ask us what it means cos we don't know! But it's a really good song to help let out your anger and energy too, cos isn't that what music is for at the end of the day?
Permanent Ink
Steven: 'Permanent Ink' is a really hard n' heavy track about not giving a shit about what other people think. It's also about tattoos. Metaphorically it's about people and society judging others by their 'Ink', the tattoos and scars experiences and such that we wear proudly on our sleeves, wrapped up in an uncompromising, riff-driven thrill ride crossing many borders of hard rock and heavy metal, as it has a lot of different and interesting sections musically that we don't usually do.
It's funny cos at the time I was the only person in the band who had a tattoo and I only had one at the time as well, but obviously, tattoo culture has been a massive part of the heavy music scene for ages, V came up with the title inspired by that and that's where it came from.
We also ended up filming the music video at our local tattoo studio Blacktown Tattoo who still play it in store to this day and use the track all the time on their socials to show off some of their work, so it's great to see professionals in the tattoo industry, who've become some great mates of ours, really get behind the song and identify with it.
Pre-order Second Hand Band EP by Avalanche here. You can also pre-save the EP here. 
For more on this topic follow the Rock Observer.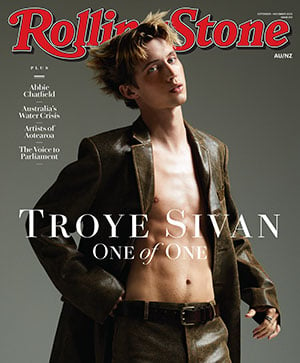 Get unlimited access to the coverage that shapes our culture.
Subscribe
to
Rolling Stone magazine
Subscribe
to
Rolling Stone magazine