Better start limbering up to hit all those mosh pits, because the lineup for the 2019 UNIFY Gathering is here, and it's a doozy.
Following weeks of teasing from UNIFY Gathering organisers about which acts might be on this year's bill (and plenty of speculation on our part, too), the festival has officially dropped its full lineup today, and as promised, it features some pretty huge acts, exclusive one-off shows, and mighty reunions.
Kicking things off for this year's fest is a couple of huge sets from our international visitors, with Underøath celebrating their first new album in eight years with an exclusive performance, and a legacy set from Taking Back Sunday, who will be performing their 2002 debut, Tell All Your Friends In Full.
We'll also be seeing the likes of two huge reformations, with Adelaide's I Killed The Prom Queen bringing back their classic 2005 lineup for the first time in ten years, while Sydney's Hand Of Mercy will also be getting back together for their first gig since 2016.
It doesn't stop there though, because we'll also be seeing some exclusive sets from the likes of Karnivool, Crossfaith, While She Sleeps, Dream State, State Champs, and The Plot In You, while some of Australia's biggest acts, including Trophy Eyes, In Hearts Wake, Ocean Grove, Dream on Dreamer, Endless Heights, WAAX, and Clowns will also be joining the party.
Of course, if that's not enough, then the addition of bands such as Turnstile, Citizen, Harms Way, Stand Atlantic, Thornhill, Pagan, Drown This City, Gravemind, After Touch, Ocean Sleeper, Better Half and Yours Truly will surely make this one of the most memorable heavy fests you've witnessed.
With a lineup of this magnitude, you can be sure this stunning festive will be selling out in no time. Tickets are on sale today from 12pm from the UNIFY Gathering store, so make sure you get in early to secure your ticket for one of the heaviest weekends in Aussie music you'll see for a very long time.
Check out Taking Back Sunday's 'Cute Without The 'E' (Cut From The Team)':
UNIFY Gathering 2019 Lineup
Friday, January 11th
Underøath (Exclusive Australian Performance)
Karnivool (First East Coast Show Since 2016)
In Hearts Wake
Ocean Grove
While She Sleeps (Exclusive Australian Performance)
Crossfaith (Exclusive Australian Performance)
Dream On Dreamer
The Plot In You (Exclusive Australian Performance)
Hand Of Mercy (Exclusive Reunion Show)
Dream State (Exclusive Australian Performance)
Ocean Sleeper
Better Half
Saturday, January 12th
Taking Back Sunday (Playing Tell All Your Friends In Full)
I Killed The Prom Queen (2005 Lineup Reunion)
Trophy Eyes
State Champs (Exclusive Australian Performance)
Turnstile
Citizen
WAAX
Clowns
Endless Heights
Harms Way
Stand Atlantic
Thornhill
Pagan
Gravemind
After Touch
Yours Truly
Friday, January 11th – Monday, January 13th, 2019
Tarwin Meadows, Gippsland, VIC
Tickets: UNIFY Gathering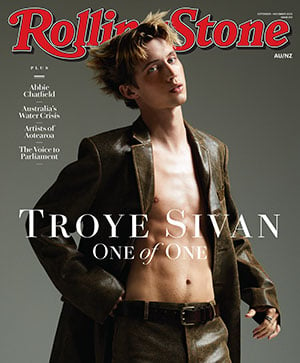 Get unlimited access to the coverage that shapes our culture.
Subscribe
to
Rolling Stone magazine
Subscribe
to
Rolling Stone magazine