They might have racked up millions of dollars in royalties, but mention of some albums and singles cause a glazed look in the eyes of musicians who made them.
Even worse however, is when they are forced to sing these hits every night because their audience expects them to.
U2 – Pop (1997)
Sales Clicks: Debuted at #1 in 27 countries including Australia. But didn't settle in for a long stay in the charts.
On their ninth album, U2 continued to re-invent themselves.
Pop used techniques new to them, including sampling, loops, programmed drum machines and sequencing.
Drummer Larry Mullen needed back surgery, and in his absence the other members tried new ways of writing songs.
Not only was this pointing to a disaster zone, but they rushed to finish it before the starting of the PopMart Tour, leaving it to pop out of the foxhole pretty much half-baked.
Some cuts like 'Discothèque' and 'If God Will Send His Angels' would be remixed for compilations and singles reissues.
Summing Up: Sighed Bono, "Pop never had the chance to be properly finished. It is really the most expensive demo session in the history of music."
Radiohead – 'Creep' (1992)
Sales Clicks: charted in 15 countries peaking at #6 in Australia and #7 in the UK where, as of April 2019, it was the most streamed song with 10.1 million streams.
'Even when Thom Yorke started writing 'Creep' while studying at Exeter University in the late 1980s – apparently about a girl who kept following him around – he took a dislike to it.
He nicknamed the song 'Crap'.
When their record company insisted it be recorded, guitarist Johnny Greenwood grumbled it "wimpy" and slapped on loud distorted guitar to sabotage it.
Instead that gave it a light/shade effect that made it a hit.
It was their signature song but they grew tired of it and pulled it off the live set for seven years.
It was reinstated in 2016 when touring A Moon Shaped Pool.
Summing Up: Yorke in 2017 admitted, "It can be cool sometimes, but other times I want to stop halfway through and be like, 'Nah, this isn't happening'."
Cold Chisel – Breakfast At Sweethearts (1979)
Sales Clicks: stayed in the Australian charts for 32 weeks and peaked at #4.
Cold Chisel were on an upward swing (shift) when they started work on their second album Breakfast At Sweethearts.
It included live drawcards as 'Conversations', 'Shipping Steel' and 'Goodbye (Astrid Goodbye)'.
However the recording was an ordeal – squashed over six months on weekends in between heavy touring, they wanted to make it in Studio One at Alberts Studios in Sydney, where AC/DC and The Angels were cutting killer tracks.
But they could only get the new Studio Three, which they found soulless.
They also had issues with their record producer Richard Batchens, whom their record company suggested after his great work on Richard Clapton's Goodbye Tiger.
However Batchens later admitted he was going through a personal issue, and the band complained he was overly-critical and didn't think their songs as good as Clapton's.
They hated the sound of the record, and made that clear when it came to promoting the album.
Summing Up: Jimmy Barnes would, in interviews use phrases as "absolutely disastrous" and "(It) stunk, and you can spell that f-u-c-k-e-d."
Madonna – 'Live A Virgin' (1984)
Sales Clicks: her first #1 in Australia, and quickly went 2 million in the US and 1 million in the UK
'Like A Virgin' summed up Madonna's sexually liberated image but it wasn't written about her.
In fact one of its two writers, Billy Steinberg, wrote about how he had just entered a new relationship and used the V word as "uncharted territory".
Her record company executive Mo Ostin had a few singers in mind when he chose the song.
He opted for La Ciccone recording it for her second album after she went wild for it when he played it to her the next day.
The track was produced by Nile Rogers who initially didn't think its hook was particularly strong.
The ensuing debate from family groups that the song's sentiments encouraged sex outside marriage cemented the singer's status as a cultural icon.
But with 50 Top 40 hits under her leather belt and still making riveting music, Madonna can be forgiven for dismissing some of her earlier stuff.
'Like A Virgin' and 'Holiday' were two of these that she incidentally declared she can't be bothered singing onstage any more.
Summing Up: In a 2008 interview she told New York radio station Z100 that she wouldn't sing either unless "somebody paid me, like, $30 million or something."
She however did them on her 2016 tour.
Lady Gaga ft Beyonce – 'Telephone' (2009)
Sales Clicks: #3 peak and triple platinum in Australia, #3 in the US where it sold 3.5 million units, and #1 in the UK and most of Europe.
The ditty about feeling suffocated was scribbled by Lady Gaga for Britney Spears' Circus album.
The Britster turned it down but her demo did mysteriously surface online in May 2010.
Gaga decided to do it herself and hurled herself towards Beyonce as the featured artist.
Summing Up: "I hate 'Telephone'. Is that terrible to say? It's the song I have the most difficult time listening to" adding that it's not because of the song itself.
"Ultimately the mix and the process of getting the production finished was very stressful for me.
"So when I say it's my worst song it has nothing to do with the song, just my emotional connection to it."
She clarified that it had nothing to do with the quality of the song.
"Ultimately the mix and the process of getting the production finished was very stressful for me," she said. "So when I say it's my worst song it has nothing to do with the song, just my emotional connection to it."
Lady Gaga – 'Telephone' ft. Beyoncé:
The Go-Betweens – Spring Hill Fair (1984)
Sales Clicks: One of the tracks, 'Bachelor Kisses' was voted in at #72 in triple j's Hottest 100 for 1989.
Reviews for the Brisbane band's third album ranged from "wonderfully eclectic" to "disjointed and disappointing" on release.
In a look-back on The Go-Betweens output in Uncut Robert Forster revealed that Spring Hill Fair had a difficult birth.
Their English label Rough Trade couldn't afford to pay for the recording, and hand-balled them to Seymour Stein at Sire Records.
According to Forster, Stein "was very hands-off: he'd just signed Madonna, so I think his attention was somewhere else."
The album was made during a rainy May ("isolated, and it was hard to get co-ordinates on what we were doing"), and their producer insisted on introducing drum machines to their pop sounds.
Summing Up: Forster said there were some good songs on Spring Hill Fair "and things I like about the album a great deal, but it starts a problem that runs all the way through our career, especially in the '80s; wrestling for control of our music."
The Rolling Stones – '(I Can't Get No) Satisfaction' (1965)
Sales Clicks: The track went to #1 in eight countries including the UK and US, in 2000 listed by VH1 as #1 in its "Top 100 Greatest Rock Songs".
The story goes that Keith Richards was asleep in the Fort Harrison Hotel in Florida during the Stones' second US tour in May 1965 (although he claimed in his memoirs it was his London apartment in St Johns Wood) when a riff flashed in his head.
He grabbed his guitar and cassette player.
The next morning he played the recording back to hear the riff, his guitar pick being sleepily dropped, and he entered 40 subsequent minutes of snoring.
Richards had envisaged it a Dylan-esque folk song and as an album filler, but his partner-in-rhyme Mick Jagger got excited about the riff and wrote lyrics to match.
Later in the studio Richards shifted the song to a Motown soul tribute with a brass section, and used a newly acquired fuzz box to denote where the horn section should come in.
That enthralled the rest of the Stones (the vocals were buried in the mix so lines like "trying to make some girl" wouldn't get radio off-side) and Keef was out-voted.
Summing Up: The Human Riff admitted, "If I'd had my way, 'Satisfaction' would never have been released.
"The song was as basic as the hills, and I thought the fuzz-guitar thing was a bit of a gimmick."
Lorde – 'Royals' (2013)
Sales Click: 'Royals' sold 10 million copies in the US where it reached #1 along with eight other countries, and generated 6 x Platinum in Australia for sales of 420,000 peaking at #2.
'Royals' was a breath of fresh air which signified the arrival of a new teen generation of music influencers, with David Bowie, Moby, Dizzee Rascal and Dave Grohl declaring themselves fans while Slant and Consequence of Sound anointed it the best song of the year.
But Lorde compared it to a ringtone from a 2006 Nokia and preferring to listen to its cover versions.
Summing Up: "It's disastrous. It sounds horrible … none of the melodies are cool or good."
Nirvana – 'Smells Like Teen Spirit' (1991)
Sales Clicks: single peaked at #5 in Australia, and the parent album Nevermind sold 30 million copies worldwide.
Forget that Kurt Cobain was "trying to write a pop song" by channelling The Pixies, or that the riff had more than a passing resemblance to Boston's 70s 'More Than A Feeling'.
It was the symbol of an era, a call to arms, an anthem that leaped over radio formats, with a smashing title and a riveting performance on record.
Fading video footage showed that first time they played it live, at a small Seattle club in April 1991 the crowd erupted.
However the song became so over-exposed that Cobain was soon over it.
Summing Up: "It's almost an embarrassment to play (it)," he confessed to Rolling Stone in 1993. "Everyone has focused on that song so much.
"The reason it gets a big reaction is people have seen it on MTV a million times," he added. "It's been pounded into their brains… I can barely, especially on a bad night, get through 'Teen Spirit.'
"I literally want to throw my guitar down and walk away."
R.E.M. – 'Shiny Happy People' (1991)
Sales Clicks: charted in 20 countries, peaking at #19 in Australia, #6 in the UK and #10 in the US. Its parent album Out of Time (their seventh) sold 18 million worldwide.
R.E.M. epitomised all that was cool, unsmiling and integrity-driven about '90s rock.
So when their record company Warner Bros wanted a nice smiley-faced pop track to include on Out Of Time to release as a single, they petulantly responded with a saccharine kiddies tune which they assumed the label would reject.
Alas, that backfired and it became a big fat smasheroonie.
They left it off their Greatest Hits set.
Summing Up: Michael Stipe said, "I wouldn't say I'm embarrassed by the song but it has limited appeal for me…
"I never bad-mouth. I try never to say anything bad about the songs that I don't particularly like.
"Because there might be someone out there who hears that to whom that song means everything, to whom that song represents something in their life which is essential and I don't want to take that from them."
Mental As Anything – Expresso Bongo (1980)
Sales Click: Top 40 in Australia and #1 in UK alternative charts.
Their first album Get Wet, its pop gems and laconic Aussie humour epitomised by 'The Nips Are Getting Bigger', broke Mental As Anything in Australia and the UK.
Expresso Bongo (titled after a goofy Cliff Richard teenploitation flick) was supposed to deliver a follow-up kapow.
But band members were expressing their dissatisfaction with it. Only one track 'Come Around' made a hiss as a single and their overseas label Virgin passed on releasing it.
Summing Up: "We'd like to get all the copies of Expresso Bongo and recall them and redo them and then send them back out – like you do with fault cars," Greedy Smith lamented later.
Hush – 'Bony Maronie' (1975)
Sales Clicks: #4 nationally, #1 in Melbourne, #2 in Brisbane and Adelaide, and #13 in Sydney.
Newly arrived from the UK which was in the midst of early '70s glam-rock, singer Keith Lamb formed Hush in Sydney as a local equivalent, complete with two photogenic Australian Chinese (an oddity in those days), silk and satin costumes.
Hush soon became a major live drawcard but needed some sure-fire hits to get on radio and on Countdown.
'Bony Moronie', written by American R&B performer Larry Williams, did the trick, and became their biggest hit.
The band split two years later, Lamb continued with the short lived New Hush.
He introduced the song at a gig as 'Phoney Baloney' and was roundly ticked off in a Juke review for disrespecting the fans who had bought it in droves.
Summing Up: Lamb explained in response to the review that he'd always hated the song.
"I hated it when I first heard it, I hated it when we recorded it because the record producer (Robie Porter) insisted, I still hated it when it became the top selling Australian song for 1975, and I still hate it!"
Hush – 'Bony Maronie':
Led Zeppelin – 'Stairway To Heaven' (1971)
Sales Clicks: 'Stairway To Heaven' was never officially released as a single (parent album Led Zeppelin IV sold over 23 million) but by year 2000 had been broadcast on US radio three million times and become the biggest-selling single piece of sheet music in rock history (1 million).
In every single way of analysing a piece of music, 'Stairway To Heaven' was a masterpiece.
But singer Robert Plant, who wrote the lyrics ("they just swept out of me like a wave" he told this writer) soon tired of its over-exposure – even at weddings and funerals.
He once pledged $10,000 to Radio KBOO in Portland, Oregon, during its donation drive on the proviso they never play the song again.
He's held out of a full-blown Zeppelin reunion and its multi-million-dollar brass ring for that reason, causing a rift between him and guitarist Jimmy Page.
Summing Up: Plant said in 1988: "I wrote those lyrics and found that song to be of some importance and consequence in 1971, but 17 years later, I don't know."
He added: "I'd break out in hives if I had to sing that song in every show."
Belle and Sebastian – If You're Feeling Sinister (1996)
Sales Clicks: The LP went gold in the UK, airplayed in Australia and was named by Spin as one of the 100 greatest albums between 1985 and 2005.
If You're Feeling Sinister, their second album, built up on the acclaim of their debut album Tigermilk.
Most of the songs were written while leader Stuart Murdoch was literally lying on his back in a sunny field as he recovered from chronic fatigue syndrome.
At the time of release he hailed the record as a collection of his best songs and some reviewers called it a masterpiece.'
It yielded a live album, a 2013 documentary by Pitchfork and a stage musical adaption at the 2019 Edinburgh Fringe.
But in July 2019, just before the band performed the album in its entirety at the invitation of the Pitchfork Music Festival in Chicago, Murdoch seemed a little less enthusiastic about its lustre in an interview with the BBC.
Looking back at it decades later, he admitted being "a little disappointed" with it.
The rushed recording (seven days) meant it missed his mission to capture the intimate warmth of Joni Mitchell's landmark Court and Spark album and also let down because it didn't have "that American voice or made-for-radio feel".
Summing Up: "I'm very fond of the songs (but) I don't go back and listen to the record, though," he told the BBC.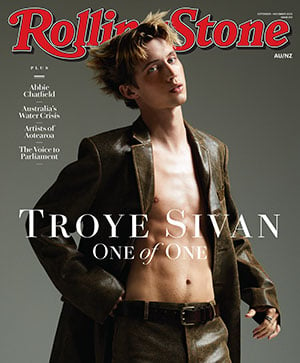 Get unlimited access to the coverage that shapes our culture.
Subscribe
to
Rolling Stone magazine
Subscribe
to
Rolling Stone magazine