As many would claim, the life of being a rock star is all about the pursuit of sex, drugs, and rock & roll. Naturally, some of the best stories involve all three.
With a special retro-themed edition of the steamy health, sexuality and lifestyle exhibition Sexpo heading to Melbourne's Exhibition Centre from November 16 to 19, we're taking a look back at a handful of the saucier moments in rock history.
Guns N' Roses' 'Rocket Queen'
Have you ever listened to Guns N' Roses' Appetite For Destruction and had the track 'Rocket Queen' pique your interest? Maybe it's due to those sexual noises during the break? Those aren't fake – that's Axl Rose and Adriana Smith deep within the throes of sexual pleasure.
As the story goes, Adriana Smith had been seeing drummer Steven Adler for some time, but after she made it clear that they weren't romantically involved, Axl Rose set his sights on her. When she came along to a recording session, Rose came up with the idea of the two of them being recorded while having sex so that the band's new song could be spiced up somewhat.
Rose asked Smith, and she said she'd do it "for the band, and a bottle of Jack Daniel's". The rest, as they say, is history.
Cynthia 'Plaster Caster' Abritton
We've all heard those stories of groupies – the women who find themselves more interested in a relationship with the rock star than the music itself. Well, one famous woman named Cynthia Abritton found a way to make being a groupie into an art form.
In the mid '60s, Cynthia Abritton found herself in an art class which was focusing on plaster casts – that is, encasing something in plaster so that it would retain its shape. Combining her love of art and rock music, Abritton combined the two by making plaster casts of the genitals of famous rock stars.
Plenty of famous musicians submitted to Cynthia Abritton's proposal, including legendary guitarist Jimi Hendrix, who was said to have been her first subject.
Let's spend the night together
While David Bowie's status as a sexual chameleon of sorts was well-established, recent decades saw the resurfacing of one of rock and roll's most persistent rumours – that David Bowie and Mick Jagger had a sexual affair.
While many had claimed that both Bowie and Jagger had previously experimented with their sexualities with each other, a biography of Bowie all but confirmed these rumours, when David's ex-wife Angie offered her take on the story.
Apparently, Angie came home early one day, and began to look around the house. Upon entering David's room, she found him in bed with Mick Jagger. While she quickly closed the door and left the room, Angie said she "felt absolutely dead certain that they'd been screwing."
"It was so obvious, in fact, that I never even considered the possibility that they hadn't been screwing," she said.
Mother lover
Somehow, these stories seem to come full circle, because we're revisiting both Guns N' Roses and David Bowie for this one. See, when Guns N' Roses guitarist Saul "Slash" Hudson was a youngster, his father was a famed album cover designer, while his mother was a costume designer, whose clients included the likes of David Bowie.
As Slash once recalled, as an eight-year-old, he happened to walk in on his mother and David Bowie, witnessing them both in a state of undress. "I caught them naked once," Slash said. "They had a lot of stuff going on, but my perspective at eight was limited. Looking back on it I knew exactly what was going on."
While David Bowie never really opened up about the incident, we'd like to think of an alternate reality where Bowie and Mrs. Hudson's fling resulted in him becoming a father figure, rather a target of resentment, for Slash. Just image the sort of avant-garde weirdness that would have gone into Guns N' Roses if that was the case.
Celebrity sex tapes
Oh yes, one of the most famous rock and roll stories is that of the celebrity sex tape. A common theme for celebrities for some inexplicable reason, it's almost harder to find a famous rocker who hasn't recorded and released their own amateur documentary of the deed.
Of course, the most famous celebrity sex tape belongs to that of Pamela Anderson and Mötley Crüe drummer Tommy Lee, whose sexual tryst became hugely popular due to its release coinciding with the advent of a little thing called the Internet.
Pam and Tommy weren't the only ones to have released sex tapes, however. Just some of the highlights of the famed recorded romps include tapes by Fred Durst, Gene Simmons, or even Brett Michaels and Pamela Anderson, who appears yet again.
One of the more infamous examples, though, belongs to Kid Rock and Creed singer Scott Stapp. Legend has it that the two appeared in a tape together while they were kept company by a number of women – the early '00s were weird, that's for sure.
For more X-rated fun, Sexpo goes retro next month, taking over the Melbourne Exhibition Centre from November 16 – 19 (were those dates intentional?). It'll be bringing all sorts of wild stage performers, demonstrations, stores, games and bars, this time with a throwback flair – check it all out here.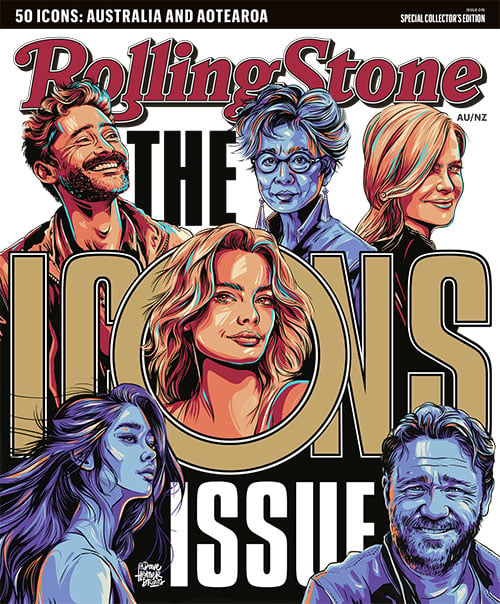 Get unlimited access to the coverage that shapes our culture.
Subscribe
to
Rolling Stone magazine
Subscribe
to
Rolling Stone magazine