Between the LA riots and the Columbine massacre, the '90s were for many, a confusing and scary time, made all the more frightening if you had the misfortune of being a teenager at the time, or even worse, a parent.
When mums and dads weren't busy worrying about the proliferation of the internet providing their kids with an easily opened gateway to pornography and internet predators, their fears were centred, personified even, by a makeup-clad rocker named Marilyn Manson.
Over a decade on, Manson is many things — a distant memory of a youth spent wearing black, a pop culture punchline, etc. — but no longer the man that we all fear. So who or what is Marilyn Manson in 2015 and what does he sound like? The Pale Emperor reveals all.
1. Manson May Have Solved His Personality Crisis
It was with 2003's The Golden Age of Grotesque that cracks first began to appear in Manson's seemingly flawless artistic acumen. For the first time ever, Manson had released an album that didn't get anyone talking. Following a lengthy bout of depression, during which Manson reportedly contemplated leaving the music industry entirely, and a parting of ways with longtime collaborator and primary songsmith Twiggy Ramirez, Manson released Eat Me, Drink Me, on which the artist finally turned that incisive gaze inwards.
While the resulting album was certainly not as comfortably predictable as The Golden Age of Grotesque, fans were left wanting from its lack of memorable hooks and often lethargic songwriting efforts. This was followed by an underwhelming return to his roots in 2009 titled The High End of Low and the similarly forgettable Born Villain in 2012. For a while there it seemed as though Manson was stuck, living in an age where Miley Cyrus generates more controversy with one interview than Marilyn Manson does during an entire tour.
On The Pale Emperor it seems as though Manson has finally reconciled both sides of his artistic persona – the tragic, Byronesque sleazeball we saw on Eat Me, Drink Me and the fiercely defiant hellion raging at guns, God, and government that marked releases like 2000's Holy Wood (In the Shadow of the Valley of Death). He's even introduced a new, bluesy element into his sonic palette that sounds surprisingly fresh and at home within Manson's established sound. For the first time in years, everything just seems to fit.
2. It's A Return To His Roots, His Real Roots
One can easily forgive Manson for effectively falling off following his Holy Wood peak, since the path he'd charted for himself with his 1994 debut, Portrait of an American Family, was not an easy one to take. In fact, it was more of a tightrope, leaving Manson to carefully balance his every movement and after a while, poise and skill succumb to sheer exhaustion. Manson was at his best when he was maintaining an even ratio of schtick and artistic merit. His decline began when the schtick took over at the expense of the music.
The Pale Emperor sees Manson finally regaining that balance and remembering that while fans came for the shock, they stayed for the tunes. From crawling dirges like 'Third Day Of A Seven Day Binge', to the stomping 'The Devil Beneath My Feet', Manson and new co-conspirator Tyler Bates, a screen composer who Manson met on the set of Californication, have managed to bring together ten tracks that sound just short of full-blown inspired. The octane has been turned down a few notches (which we'll get to in a moment), but overall The Pale Emperor is a satisfying listen.
3. The Pale Emperor Turns Down The Horse Power
With Manson finally reconciling with his own self, seemingly given a new lease on life with what may prove a fruitful and noteworthy acting career (Manson most recently had a recurring role on the acclaimed FX series Sons of Anarchy), and perhaps reinvigorating what may prove a similarly fruitful and noteworthy new collaborative partner (Bates' soundtracking resume includes video games and horror and action films so "ominous tones" are his bread and butter), the ferocity and even the vulgarity has been toned down for what is a more deliberate and ultimately classier album.
The injection of blues into the Manson sound has resulted in an album that sounds something like a cross between an infernal Serge Gainsbourg and some previously unheard of form of gothic, Bauhaus-influenced blues. There's no anthemic stomp-alongs like 'I Don't Like The Drugs (But The Drugs Like Me)' or raucous headbangers like 'Disposable Teens', nor are there many moments of wrought iron industrialism like 'The Nobodies' or his signature tune, 'The Beautiful People'. The Pale Emperor is a lot slower than previous Manson efforts, but never seems to drag.
4. But There's Plenty Of Hooks
For all of his rhetoric, one would think that by now, Manson would be something akin to a Scott Walker for Generation X, concocting abrasive, thought-provoking industrial noise-art pieces akin to Swans or Godflesh. But that will, of course, never happen, because despite what the perceptions that surround Manson may be, he has a compulsive need to be accessible. While Manson's reputation as a boundary-pusher is well earned, it's never been for his recorded output, which has always been relatively palatable. Manson is, at his core, a self-styled pop star.
That's why every track on The Pale Emperor follows a strict verse-chorus-verse structure, as if Manson and Bates had a mandate to do so. But for the first time in a long while, the songs are more than accessible, they're actually enjoyable, and in some cases even memorable. It remains to be seen how well the slower, quieter tunes will sit alongside the old-school rawkers in Manson's setlists, but the fact remains that The Pale Emperor is packed with catchy choruses that you find yourself singing along to by the second or third listen, which is truly refreshing.
5. The Lyrics Still Sound Like A 14-Year-Old's Emo Poetry
Despite a sonic and artistic progression and constraint that could well indicate a newfound maturity in Manson, the man's lyrics haven't quite caught up with the overall sophistication that's displayed on The Pale Emperor. While it's not quite at the level of sloppy sloganeering that marked his earlier releases, which gave us shoehorned Stalin quotes and shudder-inducing lines like, "You came to see the mobscene / I know it isn't your scene / It's better than a sex scene / And it's so fucking obscene, obscene yeah", the new album is littered with platitudes and attempted profundities.
"We're killing strangers so we don't kill the ones we love", Manson sings on 'Killing Strangers', and the rest of the album is littered with such teenage notebook scribblings. Overall the album deals with the same themes that Manson vivisected on previous albums, including drugs, sex, violence, religion, and the difficulties that arise with each. Lyrically, Manson is at his best here when he ditches lines that "sound" good or profound and instead tries to actively service the song, such as on 'Slave Only Dreams to Be King' and 'Cupid Carries a Gun'.
6. Manson Has A Future As An Artist
What's most impressive about The Pale Emperor is that it reaffirms Marilyn Manson's position in the cluttered and confused cultural and musical landscape of the 21st Century. It breathes new life into a pop culture mainstay that many had long left for dead. While we can argue for days about whether or not it makes him "relevant" again, what it does, perhaps more importantly, is points towards a future for Manson, something that he'd seemingly been fighting against since The Golden Age of Grotesque. Manson is back, and this time we want him to stay.
Marilyn Manson's 'The Pale Emperor' is out Friday, 23rd January. Marilyn Manson will soon tour Down Under as part of Soundwave 2015!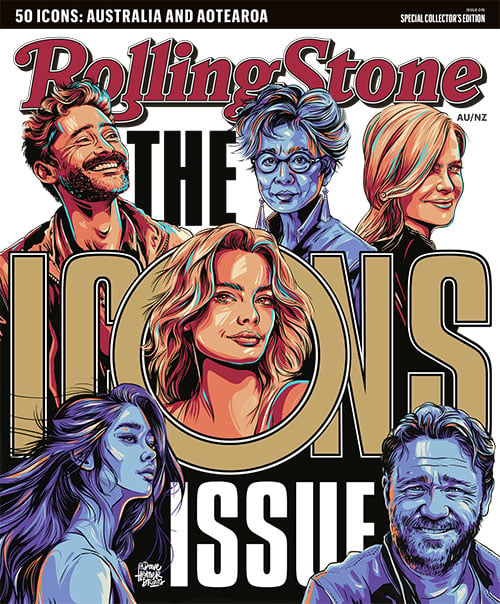 Get unlimited access to the coverage that shapes our culture.
Subscribe
to
Rolling Stone magazine
Subscribe
to
Rolling Stone magazine