It's no secret that Australia has a glut of music festivals for music fans to choose from, and despite the sad news that some major events are suffering from the competition, there's a growing trend of more tightly-focussed, unique boutique festivals that are capturing punters' collective attention.  
Taking a look beyond the well-trodden path of big blockbuster events like Big Day Out, Splendour, Bluesfest, and Stereosonic, we've once again handpicked a handful of festivals that might now draw the same huge crowds but are just as worthy of the attention and attendance (if not more so) than their commercial counterparts. 
Below you'll find a selection that ranges from the deserts of Queensland to the secluded forests of the Central Coast, to far-flung Perth and everything in-between, complete with an equally diverse array of lineups, themes, settings, and activities. So dig in to these six festivals and if you don't manage to snap up a ticket this year, keep them in mind for the next time you're hankering for a musical adventure. 
River Sessions 2014
Where? Mackay Showgrounds, Mackay, QLD 
When? Saturday 28th June
Why? If you're up the Sunshine State way this weekend, you won't find a better place to find a top-tier Aussie lineup than at the Mackay Showgrounds. No matter your music tastes, you'll find something to enjoy on this roster – spread over three stages in a sensible, easy to navigate layout.
If electro is your banger of choice there's the widescreen sounds of RÜFÜS and the party-starting Art Vs Science. The Amity Affliction and eco-warriors In Hearts Wake will bring their brutal brand of stagecraft while Megan Washington will alternatively soothe with a swag of new material. Rock fans won't be disappointed either (Dan Sultan and his mate Way of the Eagle, Sticky Fingers, Papa Vs Pretty) and hip hop is well and truly covered (Thundamentals, Horrorshow, Allday) as well as fans of emerging Aussie production (Hayden James, Safia, Indian Summer).

With six years' experience, River Sessions knows how to put on a good show, and this Saturday looks set to be no exception.
Who's Playing? The Amity Affliction, RÜFÜS, Illy, Megan Washington, Art Vs Science, Dan Sultan, Sticky Fingers, Allday, Thundamentals, and more
Tickets: From $86.70 (+b/f) more info at http://tickets.riversessions.com.au/Default.aspx?Event=42635
Leaps And Bounds 2014
Where? Multiple venues across the City of Yarra, Melbourne VIC
When? Friday 4th – Sunday 20th July
Why? A celebration of Melbourne's inner-north music scene and the live music venues that keep it thriving, Leaps And Bounds returns for a second year with a coalition of more than 30 iconic venues (Yah Yahs, The Old Bar, The Evelyn – we could go on) are all on board, and if you care about your local live music scene, you will be too.
If sheer passion alone won't convince you to get along, then how about a program stacked with more gigs than you've had cold brews (re: a tonne)! Stretching from the bandroom of Collingwood's Tote – paying tribute with a Living Legends live series – to an intimate gig from Hoy at Long Play's humble theatre in Fitzroy, there's a wealth of special events and live shows on offer (seriously take a look – it's epic)
There's old favourites (music-minded Bus Tours, Copacabana's Sunday arvo shows, Smith Street Dreaming, a Music Victoria workshop on metal and hardcore music) plus plenty of new surprises. How about Victoria's first all ages gig in more than 20 years at The Gasometer? Or an inside look at Bakehouse Studios? Plus, vinyl lovers can celebrate their local record store for 'Diggin In The Yarra'.
Who's Playing? Clare Bowditch & Adalita, Kim Salmon, Sakswatch, REMi, The Delta Riggs, The Preatures, Mikelangelo, Archie Roach, Drunk Mums, Beaches, Redcoats, Child, Hoy, Client Liaison, and heaps more.
Tickets: All individually priced per venue, full events listing at http://www.leapsandboundsmusicfestival.com/events/
Pigsty In July 2014
Where? 'Dashville' Belford, Hunter Valley NSW
When? Saturday 5th July
Why? Following on from its successful inaugural launch last year, this winter spin-off from the folks behind The Gum Ball will once again provide everything that's great about its long-running boutique festival counterpart. Hosted at the famed 'Dashville' site, a purpose built bushland venue in Belford's Hunter Valley, it's a full day of great food, better tunes, and fully licensed bars stocked with local brewers' best.
For just two crisp $20 bills, you'll get nearly 10 hours of live music from psych-garage surveyors Wolf & Cub (a highlight at this year's Gum Ball), the "unquestionable highlight of CherryRock 2014," King of the North, the lung-belting Mojo Juju, the funkified Gang Of Brothers, and plenty for modern day blues fans (Steve Smyth, The Walking Who, Matty Southon et al). The whole time you'll be slurping craft beers and delicious roast feeds with fellow festival-goers dressed in '2nd-hand-formal', the costume theme for the Pigsty In July; that means pre-loved suits for him and a restocked dress or frock for her.
There's only 500 tickets total for this year's event, and with tickets getting snapped up quick, you'll need to move fast. But trust us – the effort will provide more than its measure's worth of treasure festival memories.
Who's Playing? Wolf & Cub, King of the North, Mojo Juju, Steve Smyth, The Walking Who, Gang Of Brothers, The Stiffys, and more.
Tickets: From $40 (+b/f) more info at http://dashville.com.au/2014/pigsty/home/
Big Red Bash 2014
Where? The Big Red Dune, Birdsville QLD 
When? 9th & 10th July
Why? Ever been to a music festival in the desert? Well nows your chance. The Big Red Bash does exactly what it says on the tin, bringing a lineup of classic Aussie songsmiths to the musically-starved dunes of Aussie outback – specifically in the remote part of Queensland's Birdsville – over two days.
Nestled in a picturesque setting by a body of water, the event is literally staged out on the sandy slopes (no stages here) getting you back in touch with nature for a uniquely intimate experience. Bringing your own rugs, chairs, and picnic is encouraged – just be sure to remember to pack the sunscreen.
Once you've eked out your spot on the dunes you'll be lulled to a soundtrack provided by a who's who of Australian country and songwriting legends, and we'll sure you'll get a few crowd singalongs to classics like 'True Blue', 'The Horses', 'Not Pretty Enough', and 'Eagle Rock' (courtesy of John Williamson, Daryl Braithwaite, Kasey Chambers, and Ross Wilson respectively).
There's a range of travel and accommodation packages available to get you there and back, as well as a yummy selection of hampers provided by the Birdsville Hotel if you accidentally leave your tucker at home.
Who's Playing? John Williamson, Kasey Chambers, Daryl Braithwaite, James Reyne, Ross Wilson, Joe Camilleri, Harry Hookey, Aheleigh Dallas, and more
Tickets: Starting from $155(+b/f) more info at http://www.bigredbash.com.au/bigredbash/tickets-pricing
RTRFM Fremantle Winter Music Festival 2014
Where? The Railway Hotel, Mojo's, The Swan Hotel, The North Freo Bowls Club – North Fremantle, WA
When? Saturday 28th June
Why? How's this for a winter warmer? Taste making community broadcasters RTR FM are taking over four Fremantle venues this Saturday, presenting four genre-themed music nights over six stages with more than 30 local artists championed by the Port City.
Psychedelic and rock are the flavour at The Railway Hotel, with WA rock heroes The Love Junkies and emerging head-turners Aborted Tortoise. The Swan Hotel will split its lounge and basement to folk/alt-country sounds and a 'dub/reggae cave' respectively. Thee Gold Blooms, The Insinnerators, Tenderhooks and other psychobilly sonic surfers will dominate the North Freo Bowls Club. Mojo's will be given over to electronics and beats connoisseurs, featuring Diger Rockwell, Basic Mind, and more.
The best part? Your $20 ticket ($15 for RTR FM subscribers) gives you access to all shows at all venues, all night long. So as long as you can power through the doors, you'll be welcomed with open arms and a warm brew (even a free hot chocolate at Railway Hotel to sweeten the deal).
Who's Playing? The Love Junkies, Ben Witt, Thee Gold Blooms, Diger Rokwell, Basic Mind, Aborted Tortoise, Tenderhooks, The Boost Hero Man, SpaceManAntics, and more.
Tickets: From $20 (+b/f) more info at http://rtrfm.com.au/event/fwmf2014/
Gympie Music Muster 2014
Where? Gympie, QLD
When? Thursday 28th – Sunday 31st August
Why? Not so much a music festival as it is a live and local institution. Nearly any Australian country or blues artist worth their salt has passed through this flagship event, which has been running in the regional town of Gympie for more than three decades.
Regularly providing lineups fit to bursting at their 50-hectare home by the beautifully tranquil Amamoor Creek State Forest Park, the 'Muster has got the festival experience down to a fine art over the course of its history. There's plenty of camping facilities, hot showers, toilets, and eight on-site venues brimming with talent both established and emerging.
Among the names the festival have *ahem* mustered for this year's edition are bona fide Aussie veterans like Lee Kernaghan, Brian Cadd, Glenn Shorrock, John Williamson, and Russell Morris, as well as the newest breed of songwriting talent, like Bob Evans, Thelma Plum, Steve Smyth, Harry Hookey, The ReChords.
The 'Muster is more than just about music – and we're not just talking about the great selection of food and beverage available. Over 50 community groups and 2,000 volunteers help stage the festival each year, ensuring that the non-profit event raises huge funds and donations for charities and services Australia wide. Know your ticket and patronage will help boost the more than $14 million that's already been donated over its 33 year history.

Who's Playing? Lee Kernaghan, Brian Cadd & Glenn Shorrock, Kasey Chambers, John Williamson, The McClymonts, Bob Evans, Thelma Plum, Jon English, Adam Eckersley Band, Harry Hookey, and more.
Tickets: Starting from $100 (+b/f) more info at http://www.muster.com.au/pages/?ParentPageID=6&PageID=105
Wollombi Music Festival 2014
Where? Wollombi, NSW
When? Saturday 27th September
Why? If you've been anywhere near the winery region at the foothill of the Wollombi mountains, you'll know that there's been an event quietly achieving great things the last half-decade. One of Australia's best kept boutique secrets, Wollombi Music Festival is located just a few hours drive from Sydney and even less for travellers from Newcastle and the Central Coast, and there's plenty of reason to be flocking for the event's fifth edition this September.
As well as the breath-taking mountain setting and camping area and an impressive range of market stalls, the event boasts one of the most eclectic lineups you'll find on the East Coast.
Heading to either of the two grand stages this year will find your ear treated to live looping roots rock (Claude Hay & The Gentle Enemies), stomping gospel indie (Frank Sultana & The Sinister Kids), seven people playing 70s-fuelled pop (Holly Who), luchador approved reggae jams (King Tide), alt-bluegrass (The Morrisons), funk groove power plays (The 9th Chapter), frenetic rock (the Peep Tempel), and multicultural grooves (Travelaz). Plus much, more.
A colourful location, a friendly ambience. Wollombi is also family-friendly – with little tackers under 12 getting free entry to Kidsfest, a mini-festival with jumping castle, slide, puppet shows, and other activities to keep them happy while you stomp out at the music stages.
Who's Playing? Claude Hay & The Gentle Enemies, King Tide, The 9th Chapter, Holly Who, Benny Walker Band, The Peep Tempel, Shaun Kirk, Travelaz, and more.
Tickets: Starting from $90 (+b/f) more info at http://www.wollombimusicfestival.com.au/index.php/buy-2014-wollombi-festival-tickets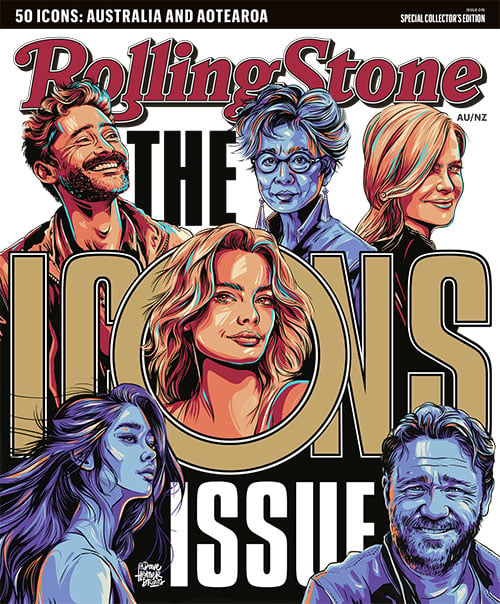 Get unlimited access to the coverage that shapes our culture.
Subscribe
to
Rolling Stone magazine
Subscribe
to
Rolling Stone magazine