Community radio music directors often have an encyclopedic knowledge of local music and an insatiable thirst to keep their ears ahead of the curve. So in this Tone Deaf series, the Australian Music Radio Airplay Project (Amrap) invites music directors to highlight new Aussie tunes that you might have missed.
In this edition, Will Backler from RTR FM in Perth contributes with a selection of tracks currently making their way to community radio through Amrap's music distribution service 'AirIt'.
Check out Will's selections below and if you're a musician you can apply here to have your music distributed for free to community radio on Amrap's AirIt.
Apricot Rail – 'Scarecrow'
Three years since their last release, Perth's premier purveyors of instrumental pop with post-rock sensibilities return with a short and sweet single of melancholic yet uplifting sounds.
Multiple melodies effortlessly thread in and out of each other, coming from an array of instruments including the melodica, glockenspiel and a traditional Chinese stringed instrument called guzheng. Almost nostalgic on first listen, 'Scarecrow' is an addictive piece, providing an ideal soundtrack to the changing seasons.
Craig Hallsworth – 'We're Too Far Away (My Other Future, My Other Youth)'
Despite being a fixture on the Perth music scene for over 30 years, playing in groups such as Tangled Star and The Slow Beings, Craig Hallsworth recently released his debut solo album, with 'We're Too Far Away (My Other Future, My Other Youth)' as the lead single.
The track is a melodic indie rock gem, featuring an interesting arrangement complimented by the tones Hallsworth extracts from his guitar – ranging from grungy to shimmering in a heartbeat, all topped off by Hallsworth's lamenting vocals.
Segue Safari – 'Colour TV'
Following their making the finals of Western Australia's The Big Splash competition, young alternative-pop group Segue Safari return with a new single of irresistibly catchy sounds.
Driven by psyched-out trebly guitars and singer-songwriter Jeremy Segal's reverb-soaked rhythmic vocals, 'Colour TV' is an absolute earworm, sure to be lodged deep in your mind for days after listening.
Feels – 'Pipedream'
Relative newcomers to the Perth electronic music scene are the duo Feels, comprised of percussionists and composers Elise Reitze and Rosie Taylor, who use their skills in both fields to craft interesting, fun, percussive-centric, dynamic electronic music, and 'Pipedream' is no exception.
Hyperactive chopped vocal samples meet a pounding 4/4 kick drum, eventually giving way to syncopated digital drums and big synth stabs.
Premiss – 'Let You Know (feat. Marksman Lloyd & Coin Banks)'
Opening with an A Tribe Called Quest reference from Marksman Lloyd & Coin Banks, this uplifting slice of hip-hop features all live instrumentation from an eight-piece band, led by Brendan Scott Grey.
Compared to many sample driven tracks of a similar ilk, the dynamics of the track jump out and make an instant impression, especially the horn section which is full of life and sure to have you humming along, while Lloyd & Bank's storytelling draws you in.
Zeahorse – 'Nature Strip'
Starting with a crushing, sludgy intro, the closing track from this Sydney four piece's new full-length is a stoner-rock, grunge fuelled garage affair, lyrically dealing with the concept of a Nature Strip as a representation of the concept of masculinity, providing a strip of grass to grow and be moulded into a form of living "trophy of pride".
Pounding bass-lines meet fuzzy psychedelic vocals, while distorted over-driven guitars battle pummelling, relentless drums.
Childsaint – 'Used Up'
Hot on the heels of the extremely well-received 'Hallelujah Heartache' comes Perth band Childsaint's new single 'Used Up'. Marking a decidedly darker and more sinister sound for the band, the track still maintains the slightly melancholic dreamy sound the group is known for.
Vocal melodies with a healthy dose of delay and reverb prove hypnotically haunting, with big trebly guitars and a hard-hitting rhythm section proving the perfect accompaniment.
Dave Graney & Clare Moore – 'Let's Kick This Mob Out'
The ninth single for the year (ninth!) from these two legends of the Australian music scene is a jaunty lounge influenced alt-pop number, full of sliding acoustic guitars, swinging understated drums and soft keys providing some nice pads sounds low in the mix.
Lyrically, the track is a slight at an infamous headline against the then-government by a right-leaning publication, while also referencing the offensive reference to "taking the sugar off the table", regarding dissuading asylum seekers travelling to Australia – a timely reminder indeed.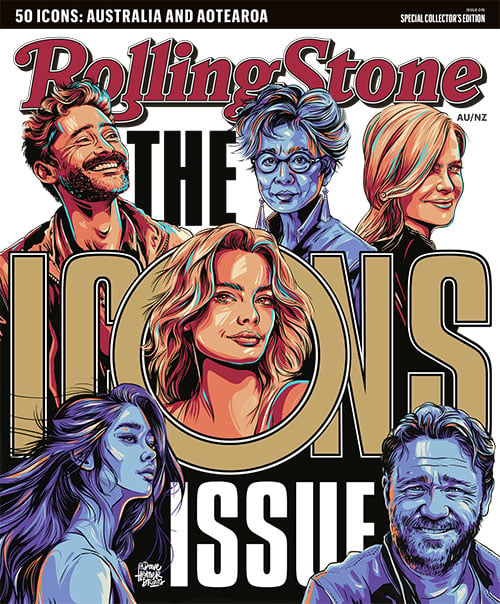 Get unlimited access to the coverage that shapes our culture.
Subscribe
to
Rolling Stone magazine
Subscribe
to
Rolling Stone magazine