Community radio music presenters and music directors often have an encyclopaedic knowledge of local music and an insatiable thirst to keep their ears ahead of the curve. So in this Tone Deaf series, the Australian Music Radio Airplay Project (Amrap) invites music directors to highlight new Aussie tunes that you might have missed.
In this edition, Steph Liong from Sydney's 2SER, contributes with a selection of tracks currently making their way to community radio through Amrap's music distribution service 'AirIt'.
Check out Steph's selections below and if you're a musician you can apply here to have your music distributed for free to community radio on Amrap's AirIt.
This week's 8 best Australian artists
If you missed the release of RVG's debut album A Quality of Mercy from a few years back, you really dropped the ball. Not to worry though, their new single is an excellent introduction to the Melbourne outfit fronted by Romy Vager.
'Alexandra' is at the sweet juncture of British post-punk, and chiming guitar pop of the erudite kind. There's a fiery anguish in Vager's vocal delivery as she chronicles oppression of a personal and political nature, and coming post-election, this may seem particularly fitting for a handful of readers.
Check out 'Alexandra' by RVG:
EWAH & The Vision Of Paradise – 'Cannibals'
Hobart's EWAH & The Vision of Paradise brings us barrelling, tough-as-nails rock on their latest. Though lyrically nihilistic, there's a great deal of measure here, with the group sounding more confident than ever.
It's a thrilling track with an indelibly slow burning start, and a blazing ending that will entice you back for repeat listens.
Check out 'Cannibals' by EWAH & The Vision of Paradise:
Sydney trio Julia Why? welcomed a new member in Le Pie earlier this year, and with that a dreamier direction on 'Starman'. It's an homage to David Bowie, underpinned by frontwoman Julia Wylie's personal recounting of a serious manic episode triggered by the artist's death.
It's slightly softer than their previously riot grrrl-influenced efforts, but still retaining a density with gloriously lush vocals and sparkling guitars.
Check out 'Starman' by Julia Why?:
Market – 'Everytime (feat. Tanaya Harper)'
Market is the new moniker of Melbourne artist Lee Hannah, who teams up here with Perth's Tanaya Harper on the crystalline 'Everytime'.
Both voices complement each other so beautifully here, and accompanying is an addictively woozy melody imbued with a bittersweet reverie that I'm all for. Look out for the self-titled EP, which is out June 27th.
Check out 'Everytime' by Market:
Romeo Moon's 'Let Love In' is a stirring affair built on playful electronic drums that pulsates amongst a krautrock-like guitar line, and vocals that reach for heady heights. There's loads of atmosphere throughout without unnecessary frills – something I really admire.
Check out 'Let Love In' by Romeo Moon:
BATTS – 'Overstayed Your Welcome'
BATTS is the moniker of Tanya Batt, a self-confessed space enthusiast who channels that fondness into her first full length, The Grand Tour.
Largely based around the 1977 Voyager 1 Mission, BATTS worked with NASA to procure audio samples from the spacecrafts, which she then worked into her music. It's fascinating source material, but BATTS' songwriting gives a unique truly sincere and fresh perspective to some of the major events of that mission.
Check out 'Overstayed Your Welcome' by BATTS:
Lucy Roleff – 'A Woman's Worth'
Blending contemporary and traditional shades of folk is singer songwriter Lucy Roleff on her song 'A Woman's Worth'. What's minimal in instrumentation is more than made up for by Roleff's soft yet guttural voice that's at the forefront here.
There's also some plaintive but lively fingerpicking on classical guitar, and the introduction of a 36-string Celtic harp adds a newly haunting but charming feel to it all.
Check out 'A Woman's Worth' by Lucy Roleff:
'Can You Knot?' is the debut groover from Tasmanians, The Stitch. It's well pressed (on 45), and well-dressed funk in foundation, but with a slightly rough around the edges appeal indebted to blues-tinged American rock from the '50s and '60s.
A steely coolness is also apparent, from what I hope is the beginning of many releases for the Hobart quartet.
Check out 'Can You Knot?' by The Stitch: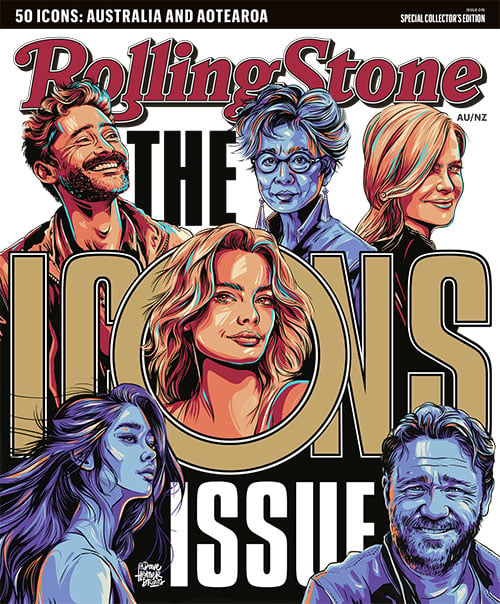 Get unlimited access to the coverage that shapes our culture.
Subscribe
to
Rolling Stone magazine
Subscribe
to
Rolling Stone magazine