4th of November @ ANZ Stadium, Sydney
Just over 20 months ago the prospect of a new AC/DC Tour seemed further away than ever when the news broke that rhythm guitarist Malcolm Young had to quit music due to health issues. Only months later Angus Young and his men proved their indestructibleness by announcing their new album Rock Or Bust and a subsequent stadium tour. Last night Australia's biggest rock legends returned home as they started the final leg of this tour.
Melburnian rockers Kingswood kicked off the night with 20 minutes of grooving retrorock. The band have crafted themselves a badass image with nine minute-videos that look like cultfilms, now they should just back it up with more tunes as killer as their price tracks 'Ohio' and 'Suckerpunch'. Kingswood are definitely rocking already, but this foursome has the potential to be great.
Leave it up to the Swedish hellraisers of The Hives to show you what a great band looks like. In a day and age where "giving a 110%" has become a hollow phrase thrown around by Biggest Loser-contestants, it is thrilling to see a band that actually gives a 110%. The Scandi's came, saw and conquered with a compact 40 minute greatest hits-set.
Frontman Howlin' Pelle Almqvist's banter was as hilarious as ever, especially when he picked on a disgruntled spectator in front of the whole stadium. The crowd's reaction to the performance was mixed as about half the audience was getting into it, while the other half just seemed to wonder who these guys were, that were playing all those tunes from the footy ads.
Although The Hives played as if they were headliners, the real top of the bill was of course AC/DC. Just like 2015 brought us the return of everyone's favourite movie-monsters with Jurassic World, it also brought us back Australia's favourite rock dinosaurs AC/DC.
Oddly enough the show started off with a video-animation where an Angus-shaped meteorite – traditionally not a dinosaur's best friend – is heading for earth. However as soon as Angus Young played the opening chords to 'Rock Or Bust' and started his first of many duckwalks, it became clear that the Angusaurus Rex is still light years away from facing his own meteorite.
As always his prowling went accompanied by the menacing shrieks of the Briantosaurus Johnsonnius, and together with the world's tightest rhythm section these Jurassic Giants once again delivered a deafening dose of Dino-mite.
This legendary rhythm section looked different than before of course, as Malcolm Young is no longer with the band. "The human metronome" is now respectfully replaced by Angus and Malcolm's nephew Stevie. Don't be fooled by the word nephew as if this new guy is some spring chicken; Stevie's only Young in surname and actually the most weathered looking band member.
Also no longer present is drummer Phil Rudd, whose position became untenable after "the Hugh Hefner of Tauranga" allegedly started to make death threats to people. Replacing him is former drummer Chris Slade, who got nixed in the nineties for the return of – wait for it – Phil Rudd.
But aside from the two new band members, was the show any different than before? Oh no. This is AC friggin' DC, the band that's proud of having made the exact same album more than a dozen times. AC/DC should not change.
Last time you got a Big Mac late on a Saturday night, was it different? Of course not, but was it good? You bet it was. And you went in all excited because you knew just what you were going to get, and how juicy it would be. The crowd at ANZ going in for their fix of Big Rock was no different; Accadecca's still just like Macca's, and we're lovin' it.
The continuous success of ACDC is not only due to their "same same not different"-approach, but seems also grounded in an audience treating rock almost like a religion: not unlike how Catholics want to see the pope, those who believe in rock want to witness Angus Young, he who is rumored to be the "Anti-Christ Devil's Child", in the flesh – regardless of how many times they've seen him before. If they're lucky they may even feel the presence of the Unholy Ghost of Bon Scott during 'Let There Be Rock'!
And just like the Catholic Church, AC/DC has figured out how to make a mint out of its followers. When it comes to merchandise, this band knows how to 'Play Ball'.
With thousands of pairs of $20 devil horns flickering throughout the stadium it is not unfair to assume AC/DC grosses more on those per tour than most bands make in their entire career. When it comes to sheer profitability, this is one of the top-earning acts in the world and that luckily makes it all the more likely that we'll see them again.
Whether AC/DC will indeed return remains to be seen, as Brian Johnson is struggling to reach his trademark high-pitched howls at 68 years of age, but Angus Young definitely shows no signs of slowing down. In the land of rock dinosaurs, the Angusaurus is still king. Long may he reign.
Setlist
Rock or Bust
Shoot to Thrill
Hell Ain't a Bad Place to Be
Back in Black
Play Ball
Dirty Deeds Done Dirt Cheap
Thunderstruck
High Voltage
Rock 'n' Roll Train
Hells Bells
Baptism by Fire
You Shook Me All Night Long
Sin City
Shot Down in Flames
Have a Drink on Me
T.N.T.
Whole Lotta Rosie
Let There Be Rock (with Angus Young guitar solo)
Encore:
Highway to Hell
For Those About to Rock (We Salute You)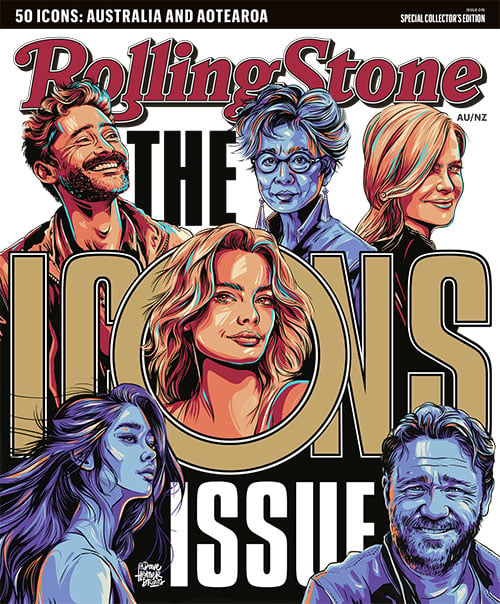 Get unlimited access to the coverage that shapes our culture.
Subscribe
to
Rolling Stone magazine
Subscribe
to
Rolling Stone magazine