To cap off a massive week in the digital world with the launch of the iPhone 5, Apple has announced an overhaul of its ever-popular range of music players.
Only days after it revealed plans for a music streaming service to compete with the likes of Spotify, the media giant has now unveiled a new, "dramatically simpler" version of iTunes and an makeover of the iPod.
According to The Huffington Post, iTunes 11 will now be integrated with the media storage service, iCloud. Apple says this means music, movies and TV purchases made on any iOS devices or computers will be available from your iTunes library. Other new functions are an "up next" playlist that shows you upcoming songs, and the ability to cue up a new song to play after the current track.
Meanwhile, the iPod Touch will now feature a 4-inch retina display and a 5-megapixel camera capable of 1080p video recording. The Nano is thinner than before, square rather than rectangular and has a 2.5-inch display. It also includes a built-in pedometer.
And the iPod's iconic earphones, which have been updated once in the last 11 years, are finally getting the boot. Apple says the EarPods will provide a punchier bass sound.
Users will also notice changes to Apple's digital music shop, the iTunes Store. It was recently rumoured Apple was to be the subject of a lawsuit by Hollywood actor, Bruce Willis. While this has since been denied by Willis' wife on Twitter, the story reaffirms digital media ownership as an issue that won't go away.
Speaking at the launch party in San Francisco, Apple CEO Tim Cook said music is deeply embedded in the company's DNA.
"This is the reason that we created iPod and iTunes, and these products have gone on to revolutionize the music industry," he said.
Dave Grohl was also in attendance at the launch, with the Foo Fighters playing a short unplugged set.
"One of the incredible things about being here is that you're meeting people who are shaping our future," the frontman said between songs.
The launch also served as the funeral for Apple's social network Ping, which is set to close September 30. iTunes 11 will be available as a free download late September, while the new range of iPods go on sale September 21.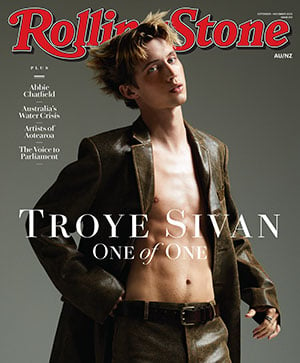 Get unlimited access to the coverage that shapes our culture.
Subscribe
to
Rolling Stone magazine
Subscribe
to
Rolling Stone magazine