The Arctic Monkeys might already have a name for themselves as noted fans of The Strokes, but the group decided to go the extra mile last night, covering the title track of their indie-rock heroes' debut record.
Back in May, the Arctic Monkeys released their long-awaited sixth album, Tranquility Base Hotel & Casino. Notably, the record's opening track, 'Star Treatment', begins with the somewhat confessional lyric of "I just wanted to be one of The Strokes." Now, the group have paid tribute to their idols while performing in the group's hometown.
Taking to the stage at the Forest Hills Tennis Stadium in New York last night, Alex Turner and his band of merry men performed a show which was by all accounts pretty amazing.
With a setlist that borrowed heavily from the group's last two albums, and only saw one track from their brilliant debut album being played, fans adored the group's performance, and welcomed Turner's new image, as he took to the stage with an uncharacteristic shaved head.
However, it was the set's encore that drew the most attention, which, after opening with the aforementioned 'Star Treatment', saw the Arctic Monkeys dipping into a cover of The Strokes' 'Is This It?'
he just wanted to be one of the damn strokes!!1! @ArcticMonkeys @thestrokes pic.twitter.com/yBbKCoWuji

— mon (@folkgoth) July 25, 2018
Performed with the sort of swagger and energy that would make The Strokes' Julian Casablancas jealous, the cover was arguably one of the evening's highlights
Of course, for diehard fans, they would undoubtedly be aware that this isn't the first time that the Arctic Monkeys have expressed their love of The Strokes, having covered 'Take It Or Leave It' previously, and taking part in an interview which saw the group explain the brilliance and influence of 2001's Is This It?
"I remember I used to play that first album in college all the time, when our band was first starting," Alex Turner explained to NME back in 2011. "Loads of people were into them, so loads of bands coming out sounded like them. And I remember consciously trying not to sound like The Strokes, deliberately taking bits out of songs that sounded too much like them, but I still loved that album."
"As much as they probably hate hearing this as well, they were the band that encouraged me to rip the knees of my jeans and write on them in marker pen. I wrote on them in red ink, 'I've got soul and I'm superbad!'.
Check out The Strokes' 'Is This It?':
Arctic Monkeys @ Forest Hills Tennis Stadium, New York, USA 24/07/1965 Setlist
'Four Out Of Five'
'Brianstorm'
'Don't Sit Down 'Cause I've Moved Your Chair'
'Crying Lightning'
'Teddy Picker'
'505'
'Tranquility Base Hotel + Casino'
'One Point Perspective'
'Do Me A Favour'
'Cornerstone'
'Why'd You Only Call Me When You're High?'
'The Ultracheese'
'Do I Wanna Know?'
'I Bet You Look Good On The Dancefloor'
'Play Video'
'Pretty Visitors'
'Arabella'
Encore:
'Star Treatment'
'Is This It' (The Strokes cover)
'R U Mine?'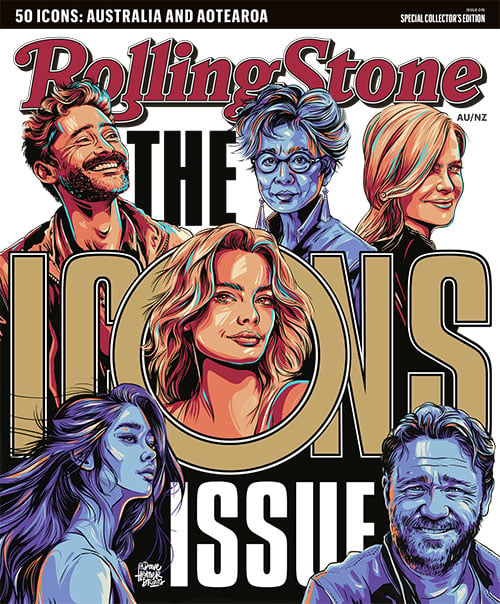 Get unlimited access to the coverage that shapes our culture.
Subscribe
to
Rolling Stone magazine
Subscribe
to
Rolling Stone magazine