Every musician has to start somewhere, that's just a fact. Whether it be picking up a guitar as a youngster and loving the sound, or years of wanting to follow in the footsteps of musical idols, musicians find inspiration in an array of different places.
However, for many musicians like Whitney Houston, John Legend, Katy Perry, and Justin Timberlake, the spark of inspiration actually came from their time in church. While some folks found themselves hearing a church band while serving as an altar boy, others found themselves as members of the local choir, kicking off some of the most amazing careers of all time.
With Allen Stone making his way down to Australia for Bluesfest next year (and with a few sideshows planned for his trip), we've decided to take a look back at some of the iconic artists that got their start in their local place of worship.
Allen Stone
Having released his first album back in 2010, many would have assumed that Allen Stone would have spent the last few years honing his craft as a musician, readying his material to be heard by the world. However, his musical career actually stretches all the way back to 1990, when he kicked off his love of music by singing in his church, where his father was a preacher.
A decade later, Allen Stone had picked up the guitar, leading worship at his church and finding a way to express himself musically. As the years passed, he began to realise that writing and recording his own music was his dream, and by 2010, he'd released the album Last to Speak.
Fast forward eight years, and Allen Stone has made a name for himself as one of the most amazing soul and R&B singers going around today. Make sure you don't miss your chance to catch Allen Stone when he visits Australia in 2019 for the 30th anniversary of Bluesfest.
Whitney Houston
Born in the early '60s, Whitney Houston was always set to be involved in music, with her cousins being none other than Dionne Warwick and Dee Dee Warwick. By the age of 11, she'd begun to learn to play the piano at her church, where she also began to perform as a soloist in their gospel choir.
Love Pierce Brothers?
Get the latest Pierce Brothers news, features, updates and giveaways straight to your inbox Learn more
Following these church performances, Houston soon found herself playing nightclubs with her mother, and before long had embarked on a solo career which would see her crowned as one of the best-selling music artists of all time
John Legend
Recently, John Legend became the second-youngest person to achieve EGOT status, winning an an Emmy, Grammy, Oscar and Tony Award in his career. However, his career would undoubtedly never reached the level it has if not for his humble beginnings in the church choir.
First singing with his church choir at the age of four, Legend soon found himself expanding his musician horizons, reaching out to piano a few a years later, and eventually joining various musical groups during college. By the time he was 26, he's released his debut album, a full two decades after he first started performing his church choir.
Justin Timberlake
Years before he was a pop superstar, years before he was in NSYNC, and years before he was in The All-New Mickey Mouse Club, Justin Timberlake was beginning his career as a gospel singer as a young child.
The son of a Baptist church choir director, Timberlake grew up listening to gospel and country, soon beginning to perform his own tunes for fun. By the time he was 11, he's appeared on Star Search, and had already set himself on the path to stardom, all thanks to the communal wonder of the church choir.
Katy Perry
Do you remember Katy Perry's debut album? No, not 2008's One Of The Boys, but rather her 2001 self-titled album under her birth name of Katy Hudson. Yes, having been born to Pentecostal pastors, Katy Perry was a rather devoted churchgoer, which eventually resulted in her first album of christian rock at the age of 17.
Following a few years of restructuring her sound and profile to lean more towards the pop genre, Katy Perry released her debut pop album, One Of The Boys, and has been an unstoppable hit machine ever since.
Evanescence
Cast your mind back to 2003 and you might recall how Evanescence were one of the hottest bands going around. However, their history actually stretched back almost a decade, where singer Amy Lee had met guitarist Ben Moody at a Christian youth camp.
Before long, the pair had become playing small shows in their hometown, and by the end of the century, they had begun to flesh out into a full band. Fast-forward a few years, and the group released debut album, Fallen, setting themselves apart as one of the most popular bands of the time.
Aretha Franklin
Aretha Franklin's music career can be traced back to her father, C. L. Franklin, who served as the pastor of the New Bethel Baptist Church in Detroit. Known as 'the man with the Million-Dollar Voice', Franklin was a beloved leader of his church, where his daughter soon became a member of the choir.
By the time Aretha Franklin had hit the age of 18, she'd managed to sign a recording contract with Columbia Records and embarked on one of the most iconic music careers of all time.
Jack White
"Wait a minute," we hear you asking. "Jack White was never in the church choir, was he?" Well, famously, Jack White actually started out his career with a much different career path, and had originally planned to be a priest.
Having grown up in a Catholic household, White spent time as an altar boy before being accepted into a seminary. However, he'd also just gotten a new guitar amplifier and was worried that he wouldn't be allowed to take it with him. Deciding instead to go to a public school, White found himself starting a few early bands, and as they say, the rest is history.
Allen Stone Bluesfest 2019 Sideshows
Saturday, April 13th, 2019
The Gov, Adelaide, SA
Tickets: Bluesfest Touring
Sunday, April 14th, 2019
The Corner Hotel, Melbourne, VIC
Tickets: Bluesfest Touring
Wednesday, April 17th, 2019
Factory Theatre, Sydney, NSW
Tickets: Bluesfest Touring
Thursday, April 18th, 2019
The Triffid, Brisbane, QLD
Tickets: Bluesfest Touring
Also performing at Bluesfest on Saturday, 30th April and Monday, 22nd April
Bluesfest 2019 Third Artist Announcement
Iggy Pop
Norah Jones
Nathaniel Rateliff & The Night Sweats
Imelda May
Melbourne Ska Orchestra
Archie Roach
Pierce Brothers
Backsliders
Fantastic Negrito
The Marcus King Band
Thando
Little Georgia
Benny Walker
Dallas Woods
Joining…
Jack Johnson
Ben Harper & The Innocent Criminals
Paul Kelly
Hozier
David Gray
Ray La Montagne
Julia Stone
Gary Clark Jr.
George Clinton And Parliament Funkadelic
Mavis Staples
Snarky Puppy
Kasey Chambers
Tommy Emmanuel
Meshell Ndegeocelle
Kurt Vile And The Violators
Keb' Mo'
Colin Hay
St. Paul And The Broken Bones
Shaky Graves
Arlo Guthrie
Nahko And Medicine For The People
Tex Perkins
Allen Stone
Ruthie Foster
Richard Clapton
Russell Morris
Flogging Molly
Lukas Nelson And The Promise Of The Real
Samantha Fish
The War And Treaty
I'M With Her
Larkin Poe
The Black Sorrows
Vintage Trouble
Mojo Juju
Trevor Hall
Irish Mythen
Anderson East
The California Honeydrops
Elephant Sessions
Deva Mahal
Melody Angle
Hussy Hicks
Caiti Baker
RocKwiz Live
With even more artists yet to be announced…
Thursday, April 18th – Monday, April 22nd, 2019
Tyagarah Tea Tree Farm, Byron Bay, NSW
Tickets: Bluesfest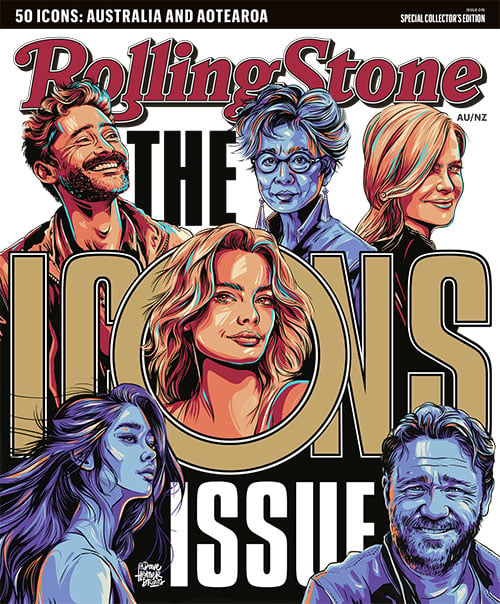 Get unlimited access to the coverage that shapes our culture.
Subscribe
to
Rolling Stone magazine
Subscribe
to
Rolling Stone magazine