Some music lovers spend thousands of dollars a year on buying up mountains of CDs and merchandise, other fans pour their bank accounts into keeping their calendar filled with live music.
But how many people have such a passion for music festivals that they end up buying their own? Well, you can add at least one name to that list.
Vickii Cotter is a Sunshine Coast resident and self-described music festival 'addict' who, after finishing her studies in law and music, spent most of her waking hours working on some of Australia's biggest events and festivals until she reached her end-goal of owning her very own.
Last August, Cotter claimed ownership of the Noosa Jazz Festival, relocating to the sunny Queensland region to commit to running the event with her very own company, Visabel; her tenure beginning with the 2014 edition of the festival, running from 4th to the 7th September next year.
"It's a 'scary-good' feeling purchasing the Noosa Jazz Festival. I've always wanted to own my own festival so I bit the bullet and this is where my journey has led me," the 34-year-old graduate explains to her former educators, Southern Cross University, in an interview.
Cotter worked her way into events management for some of the nation's most recognisable music gatherings, including Sydney's annual VIVID Live showcase and the Gympie Music Muster, where she helped secure country music icon Kenny Rogers for the 2012 lineup. "This has been a passion that I've grown into and the addiction came when I was working at other festivals," Ms Cotter said.
It was a five-year tenure with Byron Bay's long-running Bluesfest that helped cultivate Cotter's skills, progressing from artist contracts to commercial and business affair manager, "all of those great things that come with producing a festival," she says, including playing a key role in the festival's relocation to Belongil Fields to its permanent home at Tyagarah Tea Tree Farm.
But it's her university, "Southern Cross [that] definitely played a pivotal role in where I am today," Cotter tells local paper, Northern Star, "I was studying music and one day I met lecturer Sally McPherson who encouraged me to go into the business side of the industry and I haven't looked back."

(Image: Vickii Cotter. Source: Southern Cross University)
The new Jazz Festival owner says the SCU music business lecturer was a major mentor, who shifted her focus from performing jazz piano professionally into a behind the scenes role, "she helped me get my big break when she asked me to work at Bluesfest and do the artist contracts," Cotter explains.
Cotter's five-year plan for her very own Noosa Jazz Festival is to strengthen the event's 22 year legacy, with a festival hub of two main stages, to foster relationships with local community, and boost the lineups – which this year featured Katie Noonan's Elixir and the ARIA-winning The Idea Of North – with more overseas artists.
"I really want to evolve the festival to get international acts coming," says Cotter; her ambition being to snag Canadian crooner Michael Bublé for the top of the Noosa Jazz bill in the next half-decade. "I don't have the funds yet to pay for him but that's my goal. It's a massive goal but I think it's important to have a vision and something to strive for," she tells SCU.

Additionally, her plans for the event are "to grow and develop not only musically but in a workshop and master class capacity," in order to give back by nurturing musical talent in conjunction with the acts on the Noosa festival's lineup.
"The festival has the opportunity to focus on increasing the master classes and workshops so students, musicians and patrons alike are not only just able enjoying watching the talented performers but also have the opportunity to hear from the artists and learn from them about their craft."
But like the musicians she's helped secure for festival lineups, Cotter says "one of the most 'addictive' moments for me working in the festival space is the audience reaction."
"I remember when I was first starting out I was side of stage at Bluesfest and after all of the hard work and the hours you put in that no one sees and all of the lack of sleep you get to look out at the crowd and see the joy and happiness on people's faces," she recalls.
"It makes you feel part of something special. You don't get that in law. You don't look around and see a courtroom of happy people," says the law graduate. "It's such an amazing feeling. To be able to be a part of creating a moment in time where so many people are having a wonderful time, I think that's why I keep doing it."
Noosa Jazz Festival 2014
Thursday 4th September – Sunday 7th September, 2014
Noosa Heads, Sunshine Coast, QLD
Tickets & info at www.noosajazz.com.au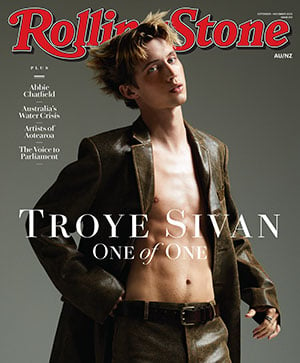 Get unlimited access to the coverage that shapes our culture.
Subscribe
to
Rolling Stone magazine
Subscribe
to
Rolling Stone magazine