There's an old saying: "good artists borrow, great artists steal." In this particular case, the practise of plagiarism has cut a little too close for comfort for Australian band Clubfeet who have only recently wrapped up their national tour for their Heirs And Graces album last month.
The Australian rockers were the first to call out this very personal case of plagiarism of their work through a Twitter posting two nights ago. Clubfeet labelling a video as a "Japanese rip-off" of their own clip for their single, "Everything You Wanted".
The offending video is for "Forever Young", the latest single from Champagne, a Japanese indie rock quartet who formed in 2007 who have only recently hit their stride having played at several of Japan's biggest festivals including Summer Sonic 2011.
Having spawned the original version, Clubfeet have also responded to Champagne's "Forever Young" video via their Facebook page sarcastically stating they were "flattered, but a little envious of their [Champagne's] hairdos."
With the Australian rock quintet having released their music video on the 23rd January earlier this year, the likeness of the recent Japanese video may arrive late, but the comparisons between the two are hard to ignore, as Clubfeet point out on their own Facebook page:


Similarities between the videos include the overall visual style, including the choreography of band members, the camera focusing on the the slow delayed movements of the lead singer who walks into future versions of himself.
Darcy Prendergast, an employee of Oh Yeah Wow, the production company who produced Clubfeet's "Everything You Wanted", wrote angrily on Champagne's "Forever Young Youtube page:
Champagne have blatantly ripped it [the Clubfeet video] off. Kindly watch the original and kindly dislike this horrible pop song to stop uncreative vampires sucking at the necks of those who truly strive to create innovative work to wow the world."
According to Kotaku Australia, the unsettling parallels between the two music videos hasn't gone unnoticed in the Japanese media either, with Japanese website Rocket News already debating the idea of whether Champagne's clip is in fact a copy.
In response to the controversy , Champagne's record company, RX-Records, have pulled the doppelganger video from Youtube and issued a press release apologising for the perceived rip, claiming the band had no plagiaristic intention and that "all production for [the] music video shall be responsible by us, UK Project Inc." writes the company's CEO, Koichi Endo.
Concluding the formal apology with, "again, we sincerely apologize to all fans supporting Clubfeet and [Champagne] for any worries and anxieties this matter may have caused."
Take a look at the two videos from Clubfeet and Champagne side-by-side below and make up your own mind.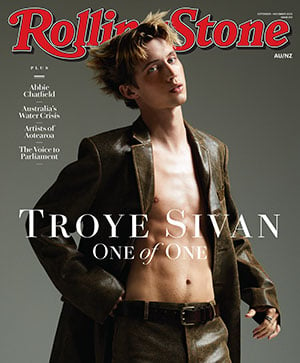 Get unlimited access to the coverage that shapes our culture.
Subscribe
to
Rolling Stone magazine
Subscribe
to
Rolling Stone magazine