This Easter long weekend marks Bluesfest's 25th anniversary, complete with a Silver Jubilee lineup of around 90 artists playing across six stages over five days at the festival's multi-award winning Byron Bay home at Tyagarah Tea Tree Farm.
It may have swelled in scale and esteem in the last quarter century, but Bluesfest 2014 isn't such a far cry from the festival's origins, first birthed in Australia in 1990 as the East Coast Blues & Roots Music Festival at the now defunct Byron Bay venue The Arts Factory to a crowd of 6,000.
To celebrate Bluesfest's 25th birthday and help detail some of the finer points of its long, storied history, there's no better man to talk to than Bluesfest director Peter Noble.
"I'm only running about an hour and half behind on my interviews so don't worry," intones the wily, gentle voice of the boss who ensures Bluesfest happens year in, year out when Tone Deaf first reaches him.
In conversation, Noble displays every inch of the wisdom that his decades of experience as a promoter has provided, as well as all the top-tier tales and rock mythology that go with it. He's not just an enthralling storyteller – rattling off anecdotes about music greats like Dylan and Van Morrison at each turn – but more importantly for a man who's seen countless Australian events fall into the music festival scrapheap, a well-grounded and optimistic spokesman for the music industry.
"Oh no, we're gonna cancel from a lack of ticket sales this year," he jokes early in the interview. "We want to stay in accord with the rest of Australian festivals right now." It's just one of the many golden nuggets Noble offers in reflecting upon 25 years of Bluesfest.
In all their woolly candour, here's the 17 other amazing insights we learned from the Bluesfest promoter. Consider them life lessons, insider tips for festival promoters, or simply good yarns.
Love The Beatles?
Get the latest The Beatles news, features, updates and giveaways straight to your inbox Learn more
Noble Wasn't There From The Beginning
"I didn't start Bluesfest, that started in 1990 out of the Arts Factory in Byron and that incredible night club we used to have here, but I did program the headliner for the first two years and in 1993 I was asked to come on as a partner, so it did go three years without my involvement as a partner… but it was kinda immediately successful even at that level in a club that held 1300 – 1400 people. It was sold out from the beginning but then again everyone liked to go to Byron and once they got [there] they liked to have something to do once they'd surfed in the morning so…
The Beatles & The Stones Started It All
"What made me wanna be a music promoter? Well, hmm I don't think I really ever did want to be one at the beginning. I mean I was a musician, like most kids who came up at that point in the 60s you know. There was that year were The Beatles and The Stones toured Australia within a few months of each other [June 1964 and Jan 1965 respectively] and I managed to see both acts. I was only 14/15 years old…
"It made everybody want to pick up a guitar and play. We all went down the local scout hall with mates and play in bands … that lead me to playing with other guys and I ended up moving to America to play music and I did that for a few years and then I fell into the business side of it."
A Quick Mouth Goes A Long Way
"I got fired out of the band [when] I was in Victoria in British Columbia and I managed to make it back to Portland, Oregon where I knew some people. I was walking down the street and I saw a sign that said 'American Entertainment'. So I walked inside and I said to the guy,'listen, I know how to book bands', because I was the band leader of the one I was fired from… I said, 'all you gotta do, I'll show you how to book your Oregon bands in the Mid-West and Canada but you've gotta do two things; you've gotta get me a hotel room and buy me breakfast and I'll work for a percentage.' And the guy said 'yeah ok!'
There's A Distinction Between Festivals & Events
"I actually don't call Big Day Out or Soundwave 'festivals', I call them events because an event is something that's a rolling show that happens once and then goes to the next town. A festival is a multi-day occurrence at one place and that is a distinction that has been used for many years.
"If you start looking at it like that there's quite a distinction between the destination festival that continues to do well and the one day festival that may be facing some challenges in what its audience wants and I actually don't know the answer but I do really support Big Day Out and Soundwave and all those other events because it's important to have a healthy music industry. It's not a good thing for us to all go 'look what just happened to that guy, haha'.  I think it's important to talk it up not down.
Music Promoters Should Stick Together
"You know I could easily say that maybe Soundwave's problem was that they had too good a bill last year and people still went 'well it's not as good so I'm not gonna go' [but] it would have been the best bill for that type of music on the planet.
"It's important that people like AJ Maddah continue because we don't have an industry without them. In the end it's the promoter who goes out and takes that punt at that level. He's the one that greases the whole wheel of our industry financially. We've really got to get behind them in hard times. [Bluesfest] might be doing a little better… but I don't think Australia would be a better place without Big Day Out and Soundwave. They're a rite of passage and they're a fact of life."
There's No Formula To Festival Lineups. And There Shouldn't Be
"I don't even try to top it [each year]. I just go in whatever direction I'm going… I know that last year we had a really top-heavy bill of heritage acts. This year – I'd be just as happy to be a bit more contemporary. Edward Sharpe and Jake Bugg, people like that are a really important part of Bluesfest, that we are always seen as a contemporary music festival and we're not kind of slipping into the sunset… I don't have a magic formula for booking Bluesfest I just go with what feels right.
Van Morrison "Ain't Coming Never" To Australia
"Van won't come because he won't fly this far, he won't do it and it doesn't matter how much money you offer him, he's not coming. It's that simple. I'm very, very friendly with his agent – he actually asked me to make a Van Morrison offer last year and I said 'I'm just wasting my time aren't I?' and he goes 'yeah but at least he'd take your offer…' So, I just think there's certain artists that Australians need to realise that you're probably going to have to go and see them play in the areas they play… when they do play."
Ditto Tom Waits
"Waits' [booking agent] Paul Charles was saying to me that a few years ago Tom said he was going to plays some shows in London and he asked Paul, 'how many do you think I should do?' and Paul said 'well honestly – I really think you should do about 20 shows'. Tom Waits turned around and said, 'well how about four then?' and they sold them out in like an hour or two.
"Yes, you're always asked about this talent and if you can provide certain artists or there are others who simply want a million dollars to play, well, if you buy [then] don't have a lot of money left [to pay] anyone else."
Biggest (& Strangest) Achievement? Dylan
"That just came out of the fact that I kept pestering Chuggy [Michael Chugg] about it. I mean Chugg had been my partner and we're still good mates, we still stir the shit out of each other at times… Bob Dylan was supposed to be playing Byron somewhere about 2004, earlier than that 2002-3 and because of the crazy rules environment of getting a development application approved to even do a one off event – it could take you six months, Chuggy who was touring the act went down to Ballina and got approval in a day . So Bob Dylan came to our region and played Ballina [on March 31st, 2001], no-one really remembers because that's the year Bob wanted to do a lot of rural shows and of course it was full, it filled up a football field but I always went 'One day I'm going to bring Bob Dylan to Byron' and that was the year and he actually played Byron twice in 2011
"I happened to go to dinner with his drummer [George G. Receli] two Mondays back and he said 'that's still one of our favourite shows ever and we want to come back and do it again' and I said 'well I'm ready, are you?'
You know the thing about Bob Dylan, there's so much mystique… [it's] just such an interesting thing as to how Bob Dylan just gets from an airport to a hotel room, there's certain things in there I can't really say but just levels of security and how you bring him into a hotel and what type of a hotel he will stay in… All that sort of stuff or the fact that apparently – you wont be the first person to print this – there's 50 people around the world who have threatened Bob Dylan and they are now on some sort of Interpol list.
You wouldn't want to have another John Lennon situation occur, but you know that's why Bob Dylan does distance himself greatly from his fans and their ability to meet him and from his promoters but I see Bob regularly hanging out with musicians, he's not a total recluse.
Keep It Personal Not Just Professional
Promoters don't necessarily hang out with a whole lot of artists [but] there's been Ben Harper … Kasey Chambers who comes and plays every second or third Bluesfest. Michael Franti there's another one I regularly hang out with. Some may not be big name artists but I love hanging out with [American zydeco musician] Terrance Simien because he's seventh generation from Creole from the swamps and I've been out [there] with him, sitting in a tinny while he lines up water moccasin snakes and cuts them in half with the propeller… They're [the kind of] guys that I just find to be amazing people.
Favourite Bluesfest Lineup? All Of Them
Let's go way back. What was on 1998? Robert Cray Band, Steve Earle, Spearhead, The Wailers, RL Burnside – who is pretty much an act that we discovered before anyone else did. It's not a bad year… 20 artists.
If you fast forward four or five years… let's go 2004 and it's James Brown [headlining] and a few more stages and there's actually so many more artists [75 in fact] it's incredible. Pharaoh Sanders was on that year and Taj Mahal too… Dr John, Femi Kuti, Jackson Brown, Steve Earle, Solomon Burke. I mean I just look at different years and they've all got their great points about them… how do I pick a favourite year?
Follow Great Examples
"Well I think being a good festival director is a creative process. Look back to people like [legendary American promoter] Bill Graham – those guys, they showed you what it was, or people like Claude Nobs putting on Montreux Jazz Festival, George Wein for Newport [Folk] or Jazz festival. These were creative people and I'd like to think that somewhere down the rung of the ladder I follow their lead, I really do. Creative music festivals are just really good for everybody and they're good for young people coming up, which is why we don't charge people under six, to come into Bluesfest. A bit like the Catholic Church, we get you under 7 and we've got you for life!"
Retiring Is Not On The Horizon
No! People in this day and age don't hand over the reigns at 64 or 65, people are working into their mid to late 70s. I don't see that at all. I think you get a feel for this, it doesn't matter how old you are. I mean Claude Nobs was 78 when he died in a skiing accident a year ago and he was still booking Montreux Jazz Festival. I don't think he had any idea of not doing it, but I'd certainly hope that within the next 5-10 years they (the Bluesfest team) all let me step back a little, but I got no real plans.
Get Ready For BardFest
"I'd love to see a Shakespearian festival to occur. I used to live in Oregon and the world's biggest Shakespearian festival happens there, down at Ashland. That's been going since the 1930s. You just see that Shakespeare is still the most widely read author on the planet, the only one that beats him is the Bible or maybe the Koran and it's amazing how many people love that and if you can bring that into some idea of a [festival], taking the whole feeling of turning it back to the 1500s or something like that you have an event on your hands, you truly do.
The obvious artistic director for that – who I'm trying to get – keeps running around the world and I can't pin her down. She's personally just been the director of the Ubud Writers Festival… Once I track her down and get her back to Byron we will get into it. You just get the right festival directors and we come in with our expertise behind it… I'll be launching a whole bunch of new things over the next few years.
Biggest Festival Lesson Learnt? Cost
"I was watching what's his name that puts on Jazz Fest in New Orleans [director, Quint Davis] on TV … this Good Morning America type interview, whatever the New Orleans version of that is … they asked exactly that question 'what is that one thing, that greatest achievement, that thing that you think is most important about Jazz Fest?' And the guy just looked at the interviewer straight in the eyes and said 'we know what it cost.'
"As a festival director, let me tell you, that is such a profound statement that you can actually bring all those disparate areas of costs and control it so that you're actually working toward, actually making a profit. Put on top of that, that we're doing 38 tours and we still know what it all costs – and making a profit at a time when, in our industry, this year Bruce Springsteen and Rolling Stones have sucked a lot of money out of the older demographic which is one reason maybe why I went a little lighter with the older demo this year 'cos I just wasn't sure how much would get sucked out.
"So that's the incredible thing in this industry, it's never one thing, it's never what you think it is, it's always changing and when you think you've got it, it goes and changes on you. You know two years ago [Frontier/Mushroom Boss, Michael] Gudinski used to say 'I don't tour any acts around Bluesfest time because Noble's got too much out in the market'. Well, last year he brought Springsteen and Neil Young in and this year he brought Springsteen back."
The Customer's Always Right
"I guess that's my other one is 'never forget who put you here' you know if it wasn't for that ticket buyer, who I will never call a punter. That customer, that person that made that decision to spend good money to come to your event: value that person – their experience, and make sure it's a good one if you possibly can… because that customer is the one person who puts you in that seat you're sitting in. Lose too many of them and you won't be there anymore."
Get Amongst It
"I'll be wandering around [the grounds at Bluesfest] this year. I mean that's another [lesson]: get out of the promoters room, stop hanging out with the dilettantes and the cognoscenti and get out there and see how the public deals with it. It's really important as a festival director. Walk your site during the event. See what's working, see what isn't. Don't sit in the promoter's room with someone offering you a line of cocaine or something. Get out there and be the director, maybe a few of the younger guys could learn that one."
Bluesfest 2014
25th Annual Byron Bay Bluesfest
Thursday 17th – Monday 21st April, 2014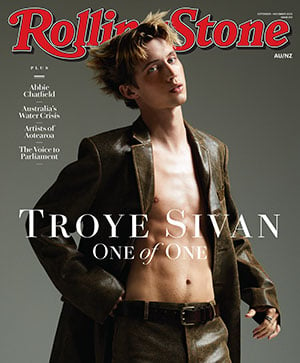 Get unlimited access to the coverage that shapes our culture.
Subscribe
to
Rolling Stone magazine
Subscribe
to
Rolling Stone magazine