Despite a tidal wave of criticism and even 7,000 requests for refunds, Axl Rose's first outing as the frontman of AC/DC has actually been met with more adulation than derision, with many critics even praising Axl's often maligned vocal delivery.
As Tone Deaf reported last week, after 7,000 Belgian fans who bought tickets to see AC/DC at Werchter Festivalpark this month requested refunds, the band released an awkward video greeting to fans in Portugal, where the debut of Axl/DC took place over the weekend.
Despite the bizarre nature of the clip, there was nothing awkward once the band hit the stage in Lisbon. Rose was reportedly welcomed by Portugese fans with open arms, despite still being confined to a throne due to a snapped metatarsal bone.
As Nine News reports, critics have been kind to the new lineup of AC/DC. The Guardian's Michael Hann praised the GNR frontman's voice as "brilliant" and was in fact critical of founding member Angus Young after he hit a bum note or two on the 'Thunderstruck' intro.
Rolling Stone, meanwhile, have called Axl's first outing as replacement for longtime frontman Brian Johnson a "triumph", whilst The Telegraph said "for two hours [Rose] hit every note and sent it to the heavens… he did a bang-up job".
According to Setlist.fm, the band played through an extensive 22-song setlist, opening with 'Rock or Bust', the title track from the band's latest album, and working through classics like 'Back in Black', 'High Voltage', and 'Whole Lotta Rosie'.
Speaking recently to BBC 6 Music, Axl said he would be open to joining AC/DC on a full-time basis, saying, "I'm in if they want me in, and we'll sort it out. But right now that's getting ahead of ourselves with everything else that's on the table."
[include_post id="477240″]
The veteran frontman also stated his intent to honour both Johnson and AC/DC's fans. "I can't take anything away from his singing at all," he told the BBC. "He's a great singer and it's really challenging to sing it. I'm just trying to do it justice for the fans."
Meanwhile, in another official band video, Angus Young had addressed rumours the band fired Johnson, insisting "that's not the case" and reiterating that Johnson was forced to leave the busy touring outfit due to a high risk of permanent hearing loss.
"I'm not dancing around about this because it's not like someone said they were going to do something else, it's because of a very unfortunate circumstance," Young said.
Check out footage from AC/DC's first performance with Axl Rose as frontman below.
AC/DC At Passeio Marítimo de Algés, Oeiras, Portugal Setlist
Rock or Bust
Shoot to Thrill
Hell Ain't a Bad Place to Be
Back in Black
Got Some Rock & Roll Thunder
Dirty Deeds Done Dirt Cheap
Rock 'n' Roll Damnation
Thunderstruck
High Voltage
Rock 'n' Roll Train
Hells Bells
Given the Dog a Bone
Sin City
You Shook Me All Night Long
Shot Down in Flames
Have a Drink on Me
T.N.T.
Whole Lotta Rosie
Let There Be Rock
Highway to Hell
Riff Raff
For Those About to Rock (We Salute You)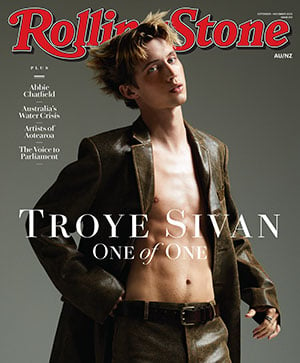 Get unlimited access to the coverage that shapes our culture.
Subscribe
to
Rolling Stone magazine
Subscribe
to
Rolling Stone magazine