Beloved Seattle outfit Band Of Horses have just released their new live acoustic album, Acoustic at The Ryman, which captures the band's two special performances at the legendary Nashville venue in April of last year.
The release coincides with troupe's 10-year anniversary, and in this context, playing through the album's 10-track setlist feels like listening to a best-of compilation from their stellar decade-spanning career.
Five Gigs That Changed Guitarist Ryan Monroe's Life
In honour of the new live album, we decided to pick the musical brains of keyboardist/guitarist Ryan Monroe to find out about the gigs that changed his life. The multi-instrumentalist reflects on shows that made his ears bleed, drifted him to sleep, and ultimately shaped him into the musician he is today.
David Byrne – Music Midtown Festival, Atlanta, Georgia, May 1998
"One of my friends said he would never forgive me if I didn't see David Byrne that afternoon. It took me a while but I finally gave in because I wanted to see Gov't Mule on that stage afterwards anyway. My friend had been talking about David Byrne all week but failed to mention that he was the guy from Talking Heads. Realizing this as David took the stage and becoming more stoned by the second laid the groundwork for a very memorable experience.
During the final song he came out in a skinless suit that covered his entire body, [then] he crouched into a ball in the middle of the stage and turned himself into a giant brain and seemed to stay there for days. So at 20 years old, being in bands myself, I learned that day, that you never know what the hell you're 'gonna stumble across at a festival. It also made me want to write scary, deep, sarcastic pop music and find the balls to perform it as a confident, mysterious, human creature."
SUBROSA (formerly For Squirrels) – The Covered Dish, Gainesville, Florida, June 1997
"The lead singer/guitarist Travis Tooke ended the show by demolishing one of his guitars in front of me. I mean, mercilessly destroying it until all that was left was a pile of bloody wood and mangled strings. Two of his bandmates, Jack Vigliatura and Bill White, along with their tour manager Tim Bender, were killed the previous year in a touring van accident, leaving the band a three-piece. On the brink of For Squirrels becoming recognized nationally, this tragedy happened and Travis changed the name of the band to Subrosa.
The crowds dwindled and guitars splintered faster than people could jump off the bandwagon. I always respected the decision to change the name and continue to play his heart out. I can't imagine what that they must he must've been going through but to see Travis take whatever emotions were inside of him at the time of his guitar destruction was moving to say the least.
I travelled around the southeast and saw a handful of Subrosa shows but that night made me want to look for other ways to express myself and dig through the darkness and see what I can find. If I come up short, I can always just break something and start over."
The Beach Boys & Three Dog Night – Carolina Coliseum, Columbia, South Carolina, October 10th, 1985
"This was my first concert ever. I remember our family having floor seats and standing up the whole time. I was more excited about Three Dog Night opening the show because I was obsessed with 'Joy To The World' which I knew as 'Jeremiah was a Bullfrog' from my parents wearing out The Big Chill Soundtrack. Three Dog Night played [it] to close their set and I was singing at the top of my lungs.
Then the Beach Boys came on stage and the last thing I remember before falling asleep on my Dad's shoulders in the middle of the set was a bunch of beach balls flying all over the place in the hazy lights."
King Hippo – Visulite Theatre, Charlotte, North Carolina, 2002
"One night in Charlotte, North Carolina, this wonderful band from Columbia, South Carolina turned into different creatures I'd never seen or imagined before, or since. [They] made sounds I'd never heard before in the universe. I've never been the same since. Life-changing gig, you ask? Hell yeah it was, but then it changed back, Jack!"
Gov't Mule – Elbow Room, Columbia, South Carolina, 1996
"My bandmate at the time and close friend to this day, Matt Train, and I were obsessed with Gov't Mule's record, Dose. When they came to our hometown we were front and center.
Warren Haynes, Allen Woody and Matt Abts played the loudest show I'd ever been too. It was life-changing because my ears were ringing after that show for at least a week and I realized if you turn your shit up to 10 and have the emotion to match it, you don't need more than three people on stage to sound like an army. My face was melted and brain rattled. What a band, man."
Acoustic at The Ryman was released February 7 on Brown Records via Kobalt Label Services.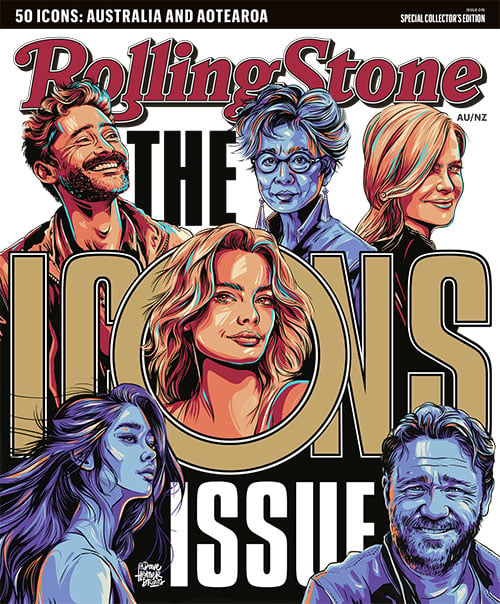 Get unlimited access to the coverage that shapes our culture.
Subscribe
to
Rolling Stone magazine
Subscribe
to
Rolling Stone magazine