The venue had been cut in half by large drapes, infront of them, chairs and lounges were set out before the stage. It was off-putting, as the venue rarely takes such a form, but as the night went on it turned out to be a perfect arrangement.
As Leisure Suit Lenny took to the stage, it was easy to mistake him for someone doing another band's soundcheck. Guitar across his lap, he sat down at the drum kit and surprised the majority of the audience when he introduced himself as the opening support. And yes – he was drumming and playing guitar at the same time, and it was astounding.
Heavier moments of his set brought forth a humour borne of pure absurdity. When there's an angry man playing two instruments and singing about eels, or Who Wants To Be A Millionaire contestants named Anthony, it's hard to take anything too seriously – which is precisely why it was so fun.
His lyrics sounded a bit unclear at times, not just due to his rough growling, but that aside he provided a hilarious and strangely absorbing performance. As long as he's aware that at some point his formula will have to be shaken up, Leisure Suit Lenny could be a winning act for some time.
Queanbeyan local Omar Musa took to the stage next to not only read his poetry, but to rap as well. Didactic odes to the human condition sounded more wistful and wise than condescending, and displayed confidence in front of the potentially uncivil university crowd.
Thankfully, those in attendance were stunned in the best way possible. The imagery that captured the crowd was vivid, bringing fireflies into what was quickly becoming nothing more than a dimly-lit lounge room.
Musa kept everyone holding on with his grasp of timing, drawing out silences that stretched across the whole room, and there's no doubt that an appreciation of local artists was instilled in those who witnessed his performance. His rapping was similarly entertaining, with a strong enough flow and clever wordplay, but it didn't quite have the clarity or impact of his spoken-word work.
An amusing scrolling LED news reader kept everyone entertained before The Bedroom Philosopher and his 'Awkwardstra' took to the stage to begin their set.
Compared to Justin Heazlewood's last show in Canberra, the sound was much clearer and his musicianship no longer took second place to his on-stage banter. Instead, he and the band equalled his on point remarks and, at times, well and truly surpassed them.
The University of Canberra graduate provided more than enough laughs throughout the night as he commented on Canberra, its surrounding suburbs, and its inhabitants.
"Canberra World", which wasn't on the setlist, turned out to be a particular highlight, as were "Cars 2" and a new version of "Northcote", adding lyrics taken from comments over the song's YouTube video.
At one point he brought up one of Ted Prior's Grug books and read it to the crowd with backing from his Awkwardstra. It seems only appropriate that after such a treat, Hazlewood's requests are granted with the mentioning of the narrative's pivotal quote: "Grug was dry".
At one point he broke  the fourth wall of media invisibility that so many musicians seem to uphold, and referenced the fact that a Tone Deaf reviewer was present in the audience. Such charmingly odd developments continued, with the (attempted) handing out of fresh sandwiches, and the start of a bogan-inspired strip tease
Of course, such things are to be expected at a Bedroom Philosopher gig. Laughs are brought forth from bluntly honest storytelling, deep insight – where appropriate, and an unrestrained silliness that will draw a grin without fail.
The Bedroom Philosopher and his Awkwardstra come to life when they perform, and their set was a reminder of the spontaneity and creativity many other musicians seem to have lost.
– Jeremy Stevens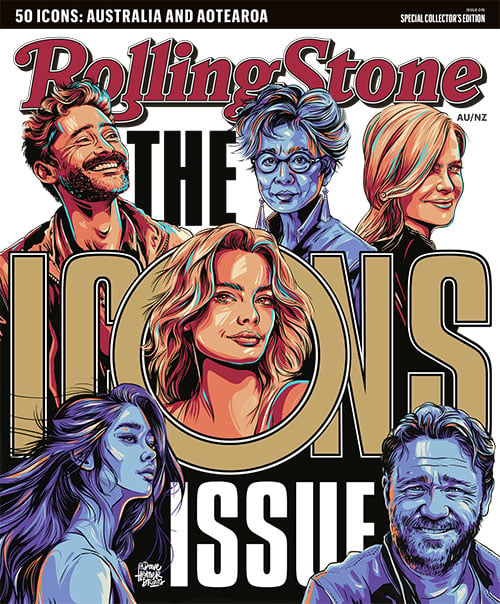 Get unlimited access to the coverage that shapes our culture.
Subscribe
to
Rolling Stone magazine
Subscribe
to
Rolling Stone magazine