Following on from our chat with Bluesfest promoter Peter Noble yesterday, and his colourful, cocky assurances that his 5-day event is the best in the Australian landscape ("it's not ego when you're telling the truth"), we also had their second (of four) big lineup announcements.
Today another major music festival boss has offered his no-holds-barred view on the state of the Australian music festival scene.
In a frank discussion with Scenestr, Big Day Out promoter Ken West has revealed that his iconic event is 6 weeks from selling out, an enormous turnaround for the festival following sluggish sales for its 2012 showing, with West saying "we're all pretty happy with it."
"We've passed last year's sales, in total," reveals West. "We're probably six weeks away from selling out Sydney. The Gold Coast may not sell out this year, but it's going to come pretty close. It's just a question of making sure the show delivers on the day, and to get us into a position where we've already got a lot of acts that are very excited about being involved with Big Day Out 2014."
After licking his wounds from the disastrous Big Day Out 2012, that saw the cancellation of stages and acts as it limped across the country, after which West's co-promoter and business partner Vivian Lees walked out; the promoter is now positive about the brand's pulling power and the new creative partnership with C3 – responsible for Lollapalooza and Austin City Limits.
"We felt the result of last year was that the brand was damaged, but not unrepairable. Otherwise I wouldn't be sitting here doing it and C3 wouldn't have foolishly gotten involved," says West.
Then there's the 2013 lineup, featuring headliners Red Hot Chili Peppers and The Killers, along with a strong indie bill that includes Yeah Yeah Yeahs, Animal Collective, Vampire Weekend, plus the likes of Bloody Beetroots, Death Grips, Band of Horses and many more. West says he's "proud of the acts" on the 2013 lineup.
We've passed last year's sales, in total… We're probably six weeks away from selling out Sydney
"I think the freshness with it is there," he says. "I know the dynamics of the day and the flow from the time sheets I've done…we want to make sure bands get to play their full sets this year. Animal Collective will play for an hour and a half. Chili Peppers will play for an hour and a half."
West also took a swipe at fellow touring Australian festival, Soundwave 2013, commenting that despite the hard and heavy rock festival completely selling out nationwide, the mammoth lineup and attitudes of Soundwave promoter AJ Maddah would do more harm than good.
"Bless his little heart, AJ, and his idea to use Australian acts as cannon fodder or not at all," says West, taking issue with the sheer number of international acts on the Soundwave 2013 bill. "The '73 international bands' thing does my head in. The ten stages don't make any sense for the same genre. You can do the same effect with half the bands, and people would have a lot more fun."
"There's not much curating going on when you take everything. If I took everything, we'd have 200 acts," says West of the Big Day Out lineup. "We wouldn't be able to stay in business very long, nobody would have a good time and the audience would just be confused."
West also questioned the festival's ability to compress its enormous lineup into a six-day touring event. "How are they going to Soundwave on Saturday in Brisbane and Sunday in Sydney? With Metallica, for fuck's sake! I've toured Metallica, and I can tell you, that ain't easy," stressed West.
BIG DAY OUT 2013 // FULL LINEUP & TICKET DETAILS
Tickets are one sale now at www.bigdayout.com for the all-inclusive price of $165 or $265 for the Like A Boss ticket. Until September 23 Big Day Out is offering Pay Over Time Ticketing where you can pay for your ticket (GA & Like A Boss) in 4 instalments, with the final instalment happening just in time for the Christmas stocking. Visit www.bigdayout.com and follow the ticket links for your city. Then choose the Pay Over Time option.
RED HOT CHILI PEPPERS (Exclusive Australian Shows) / THE KILLERS / YEAH YEAH YEAHS / VAMPIRE WEEKEND / BAND OF HORSES / THE BLOODY BEETROOTS (LIVE) / KASKADE / ANIMAL COLLECTIVE / B.o.B / SLEIGH BELLS / FOALS / ALABAMA SHAKES / 360 / CRYSTAL CASTLES / PRETTY LIGHTS / OFF! / GRINSPOON / AGAINST ME! / GARY CLARK JR / NICKY ROMERO / MORGAN PAGE / LOGO EVERY TIME I DIE / DELTA SPIRIT / CHILDISH GAMBINO / ME / HUNTING GROUNDS / JEFF THE BROTHERHOOD / DEATH GRIPS / ADVENTURE CLUB / JAGWAR MA / HOUSE VS HURRICANE / AVALANCHE CITY TOUCAN / HELENA / NINA LAS VEGAS / SAMPOLOGY (AV / DJ SHOW)
Friday 18 January – SYDNEY – Showground
Sunday 20 January – GOLD COAST – Parklands
Friday 25 January – ADELAIDE – Showground
Saturday 26 January – MELBOURNE – Flemington Racecourse
Monday 28 January – PERTH – Claremont Showgrounds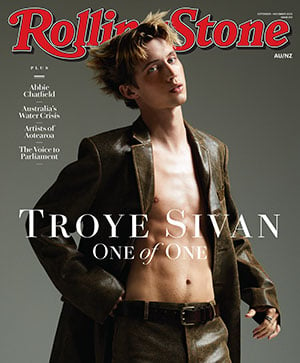 Get unlimited access to the coverage that shapes our culture.
Subscribe
to
Rolling Stone magazine
Subscribe
to
Rolling Stone magazine