It seems Blink 182 have been rumoured so often to return to Australia now that it's become a bit of a running industry gag, but overnight, drummer Travis Barker added his own punchline – confirmation that Blink 182 would be heading to Australia in 2013; most likely for Soundwave 2013.
Don't go start your celebrations just yet though, unfortunately, there's a slight hitch to what will be the trio's first visit to Australian soil in nearly a decade.
Travis Barker first posted a photo to Instagram, taken from the band's performance at UK's The Eden Project, and an enterprising soul over at Press Record captured an exchange between Barker and an Australian fan.
A commenter wrote, "Hey, there's this place called Australia that would love to see you too…" to which the Blink drummer replied, "Mark and Tom will be there in Feb of next year but with a fill in drummer cause I don't fly. Sorry brotha."
Barker has had a severe fear of flying ever since his incredible 2008 escape from a burning plane that claimed the life of everyone on board bar him and DJ Adam Goldstein, a catastrophic event that eventually led to the reformation of the punk group and the release of the pop punks' sixth studio album, Neighbourhoods last year and their first since their 2005 split.
The heavily-tattooed sticksman has previously admitted that his flying phobia has been an obstacle to the band's touring schedule. Last year he was quoted as saying "I'm working on it though. I'm trying to get hypnotized, trying to talk to a doctor who retrains your brain. Maybe he'll help me fly again one day."
It's also been suggested that he just sail around on tour, to which Barker replied, "Yeah, but I want to go to Australia. But that would take me 31 days on a boat. I don't know if I can do it… but I want to go there so fucking bad."
Makes two of us Barker. Fans have been pining for a return appearance from Blink since 2004, and given the combination of their first "indefinite hiatus" in 2005 and Barker's tragic plane incident, most had given up hope of ever seeing the pop punksters on our shores again.
But the confirmation that 2/3 of Blink 182 will be heading to Australia in February puts them in strong contention for the Soundwave 2013 lineup, which has already had its fair share of confirmations. Concert promoter and twitter addict AJ Maddah managed to start some of the leaks and rumours himself, but has yet to confirm on the possibility of a Mark, Tom and 'fill-in drummer' appearance down-under.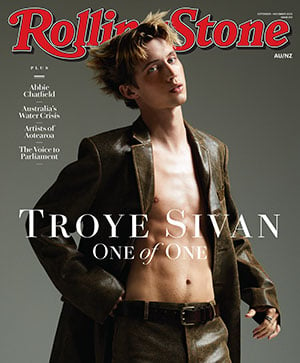 Get unlimited access to the coverage that shapes our culture.
Subscribe
to
Rolling Stone magazine
Subscribe
to
Rolling Stone magazine