Review: Bloc Party at Margaret Court Arena, Melbourne, November 27th, 2018
When Bloc Party announced earlier this year that they were bringing their Silent Alarm tour to Australia, fans could hardly contain their excitement.
With their debut record having received critical acclaim and launching the career of one of the most exciting indie-rock bands of all time, this was a rare chance for fans to rock out like it was 2005 all over again.
As the doors to the Margaret Court Arena opened on Tuesday night, it seemed as though it was set to be a rather sparse crowd, with very limited amount of people in the venue as the evening's first band took to the stage.
Kicking things off for the night was Sydney collective Haiku Hands, who absolutely stunned those in attendance with their opening set.
Mixing elements of electronica, hip-hop, and punk, Haiku Hands were a immensely refreshing opener, with their choreographed movements and eclectic style making them look and sound like a mash-up of Kraftwerk and Chicks On Speed.
Performing with a crystal clear sound, the quartet's self-aware dance music was well-received by the steadily growing crowd, though it seemed almost criminal that there were countless of audience members on the way who missed out on this set.
As they ripped through tracks like 'Not About You' and 'Squat', the group's infectious tunes proved to be both an aural and visual spectacle, with their eye-catching costumes and intriguing dance moves making them the focus of everyone's attention.
After a brief intermission – and a slightly late start – Bloc Party took to the stage, with the familiar face of Kele Okereke standing front and centre. Without wasting a single moment of time, the roof of the Margaret Court Arena opened up, and Bloc Party dove into a stunning rendition of album closer, 'Compliments'.
One of the most brilliant things about seeing an almost 20-year-old band perform a set comprising mainly of their early material is that it makes everyone feel almost united. There's little fear of hearing songs you're unfamiliar with, and with an influential album like Silent Alarm on the table, almost every song was met with an arena-wide singalong.
As the album continued – in reverse order, which undoubtedly helped to increase anticipation for each track – the excitement of fans grew.
While tracks such as 'Plans' and 'Luno' saw the audience get lost in the effect-laden guitars of Russell Lissack, tunes like 'So Here We Are', 'She's Hearing Voices', and 'This Modern Love' saw everyone continue to ramp up the energy.
As blue lights fittingly flooded the audience for a rendition of 'Blue Light', emotions were clearly high, with one audience member seemingly unable to wipe tears of joy from her face while atop a friend's shoulders. Soon though, it became clear we were nearing the pointy end of the record, and things were about to get wild.
Kicking things up a gear with a stunning rendition of 'Banquet', almost everyone in the audience found themselves jumping up and down to the iconic track's exceptional chorus, and marvelling at the supreme drumming skills of Louise Bartle.
While 'Positive Tension' was met with a cathartic cry of "so fucking useless" near its end, 'Helicopter' saw everyone relive their indie-rock days, and album opener 'Like Eating Glass' served as a fitting way for the band to take their leave from the stage.
Following a few brief moments, Bloc Party returned to perform what was equal parts an encore and second set for the night.
Jumping right into things with a performance of 'Two More Years', the band showcased a couple of "golden oldies", as Kele Okereke put it, as well as dipping into fan favourites from 2016's Hymns, and 2007's A Weekend In The City.
Polishing off the night with a rousing rendition of 'Flux', Bloc Party proved that almost 14 years after Silent Alarm was released – and even after a lineup reshuffle throughout the years – they're still the ferocious, indie-rock extraordinaires that they always have been.
Bloc Party's Silent Alarm tour is set to continue in Sydney on Thursday and Friday, before wrapping up in Brisbane on Saturday.
Check out Bloc Party's 'Banquet':
Bloc Party @ Margaret Cout Arena, Melbourne 27/11/18 Setlist
'Compliments'
'Plans'
'Luno'
'So Here We Are'
'Price Of Gas'
'Pioneers'
'This Modern Love'
'She's Hearing Voices'
'Blue Light'
'Banquet'
'Positive Tension'
'Helicopter'
'Like Eating Glass'
Encore:
'Two More Years'
'Skeleton'
'Little Thoughts'
'The Prayer'
'The Love Within'
'Flux'
Bloc Party Performing Silent Alarm – Australian Tour 2018
Supported by Haiku Hands
Thursday, November 29th
Hordern Pavilion, Sydney, NSW
Tickets: Secret Sounds
Friday, November 30th (Sold Out)
Hordern Pavilion, Sydney, NSW
Saturday, December 1st
Riverstage, Brisbane, QLD
Tickets: Secret Sounds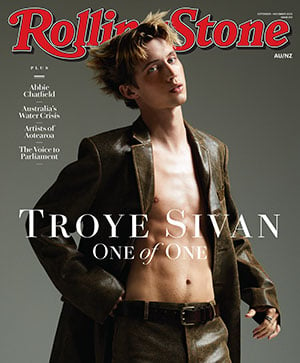 Get unlimited access to the coverage that shapes our culture.
Subscribe
to
Rolling Stone magazine
Subscribe
to
Rolling Stone magazine