"It's just like friends hanging out and playing music. It's this same relationship that's been there since we were 15 years old."
Born Ruffians is much more than just a band for the three Canadians. It's been part of their lives since high school. Singer and guitarist Luke Lalonde says that these long-term relationships have helped to mould the band and its development.
"One of the hardest things I think for a lot of bands is finding those people that you can connect with in a way – to make music with together, to stay together long enough to do anything," he says from a Toronto Starbucks.
Lalonde is still recovering from a hometown Toronto show that he declared to be "maybe the best show ever". Adding to the special nature of the night, the band also introduced a unique way to begin the show, with members of the audience braving the stage to perform karaoke in place of the traditional first opening act.
"I just thought it'd be cool to instead of having a band open the show, have the crowd open the show. Everyone likes karaoke, even when it's a train wreck. It actually worked out really well."
In saying that, Australian fans shouldn't start practicing their Celine Dion anytime soon.  Lalonde said it was a "logistical nightmare" and may not be brought Down Under. As for his own karaoke, the young musician has a penchant for a certain New York piano man.
"I just thought it'd be cool to instead of having a band open the show, have the crowd open the show"
"My go-to karaoke usually revolves around Billy Joel," Lalonde reveals. "I like doing 'We Didn't Start The Fire'."
On their third tour of Australia, the band will be appearing at Falls Festival as well as two intimate sideshows in Melbourne and Sydney.
"It's been a while. It's a shame we're not doing more shows, but we're excited to come and play at all," he eagerly says.
Fans who saw the enthusiastic youths three years ago should expect a substantially different show this time around, with Lalonde revealing the band has undergone a few line-up changes along with a slightly transformed sound.
"Our drummer Steve [Hamelin], who's played with us since we've started, has gone back to school, so he's not playing with us anymore," Lalonde reveals. "He's going into a new phase in his life. He's going back to do an undergraduate, so we're playing with a new drummer who we've also known forever."
Lalonde also reveals that the new sound heard on their 2013 record Birthmarks led to the recruitment of a fourth touring member Andy Lloyd, who adds guitar and keyboard parts.
"The record dictated the fact that we needed the fourth member," he explains. "We brought Andy in to help us perform parts of the songs that were on the record that we can't do as a three piece."
The album, released in April this year, had a heavier focus on production and a more expansive sound that moved away from the raw, unbridled indie rock of past releases.
While its predecessor, Say It, was recorded in the space of two weeks, Birthmarks was a longer process.
"We spent a lot more time on it in general," Lalonde reveals. "We spent a couple of years at least writing it and we spent almost a year in the studio on and off recording, whereas the first two records we recorded in a week or two."
"That was really something I wanted to avoid this time around. I wanted to be able to focus on each song in detail until it was done and we felt comfortable – instead of saying 'oh okay we're done with that one cause we're out of money or out of time'."
Despite significant changes in production and sound, Lalonde's intimate, passionate, and highly relatable lyrics have remained consistent across all three records.
"I think all the songs are personal, sometimes a reflection of myself, sometimes just a reflection of the world that I'm seeing. They always end up being really personal. You get really close to what you're working on."
"When you spend that much time on it, there comes a point where you forget that you're doing something that a bunch of people will hear or even anyone else is gonna hear. It just becomes your baby."
On Birthmarks the lyrics have matured, as has the sounds as a whole. While their debut saw Lalonde lamenting over being forced to grow up and the pressures of losing youth, Birthmarks sees him actually grown-up.
"We were coming out with something entirely new, and I think a lot of the thoughts revolved around that – as far as it being this really slow, frustratingly slow process, to create it, and also as a bit of a rebirth or transition into something, a step, a diagonal step, moving sideways and forwards at the same time to a new sound."
"The record dictated the fact that we needed the fourth member"
2013 has been a huge year for the now four-piece, with the release of their third album in April as well as touring. But according to Lalonde, it was largely stress-free.
"It's been a really relaxed year. We've done quite a bit, but at the same time we've had enough time off so that it's never exhausting or grueling or anything."
Lalonde also found time to release his first solo effort. Rhythymnals was released in October last year and shows a very different side to the versatile Canadian.
"That was an interesting process for me. It was different from Birthmarks," he says. "The way I did it was just with demos and recordings from my computer that I brought into the studio with Roger [Leavens]. We started with just a few songs, then ended up doing an entire record."
"I ended up producing this record and going, 'Wow, my songs that I recorded at home are on vinyl, and I can do this. A song that I made entirely on my own is now on a record', and that was confidence building."
The experience proved to strongly influence the method employed on Birthmarks, especially in terms of production.
"When we started Birthmarks, we went back to Roger. I was already really comfortable with him, so it was a similar process."
After the three-year wait to hear Birthmarks, fans might not have to wait as long for its follow-up. Lalonde revealed that they're already planning another album for next year.
"After we come play some shows for you guys, I hope to just get working on another record," he says with an infectious excitement that will no doubt please their loyal fans.
"My goal right now is to release another album in 2014, so we'll see how that goes."
Born Ruffians Australian Tour
Monday 30th December 2013 – Northcote Social Club, Melbourne VIC
Tickets: Northcote Social Club | 1300 724 867 or Corner Box Office 57 Swan St Richmond 10-8 Mon-Sat
Friday 3rd January 2014 – Oxford Art Factory, Sydney NSW
Tickets: Moshtix | 1300 438 849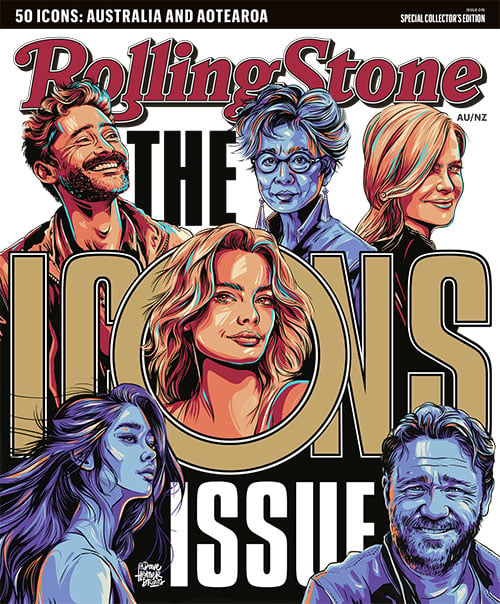 Get unlimited access to the coverage that shapes our culture.
Subscribe
to
Rolling Stone magazine
Subscribe
to
Rolling Stone magazine