It's the unavoidable cliché – a musician gets sick, real sick, and writes songs about it. But in the case of Boy & Bear, the story goes a little different. And the songs around it are beautiful, perhaps even their best yet.
Chatting on the other side of the planet, bunkered down in a rehearsal studio in Pennsylvania, all in good spirits, you'd never know Boy & Bear's Dave Hosking is living with a debilitating illness.
About to hit the ground running on a trek across the globe, this year marks eight years since Hosking's first signs of illness, but also, the release of the band's best work yet: a full-length record dubbed Suck On Light.
2011 saw Boy & Bear living the great Australian music dream, countless ARIA Awards and nominations, multiple tracks in the Hottest 100, and a Platinum-certified debut album. Little did we know though, Hosking was becoming increasingly ill.
Hosking would struggle with lethargy on tour. Daily activities like surfing, running and even sending emails were too much.
"It was subtle, at first – these physical anomalies. I used to run and surf a lot. I'd get these acute episodes of fatigue, where I'd be on a run, and my legs would just give way. Sometimes I couldn't get off the ground. It passed, most of the time," he explains.
The continued cycle of pain and tiredness begun to wear Hosking thin
"I went through a whole heap of specialists to try and work out what was going on. No one could find out what was happening. I just sort of managed it [the pain]. Eventually, it started to catch up with my playing. I was feeling quite agitated, confused and exhausted."
Three years later, those small physical anomalies wore the musician thin. His vision started to become affected, as did his brain function.
"By 2015, I had ringing in my ears, and blurred vision, and some pretty gnarly cognitive disfunction," he says. "You just feel horrid; you feel this constant state of claustrophobia. I was put in touch with Professor Kerryn Phelps in Sydney. We decided to investigate my gut, more specifically my gut biome. It took us a while, around six months.
"New developments in technology allowed us to see that there was a significant problem – something known as dysbiosis."
Dysbiosis, AKA a microbial imbalance
Common symptoms include Hosking's fatigue, blurred vision and a foggy brain. It doesn't stop there. Further to this, dysbiosis can cause depression, anxiety and insomnia, among many more.
"I got sent to the gastroenterologist, and eventually we began to peel it back. I had a whole heap of tests done and they introduced me to Chronic Fatigue Syndrome, which essentially is a very useless diagnosis. My symptom profile was consistent with patients that had been to the same place that looked after me," explains Hosking.
"If you ask my gastroenterologist, he thinks it's a specific pathogen that poisons the nervous system – a specific bacteria in my gut – that proliferates and then poisons the nervous system."
All of this made making, and playing music really difficult for Hosking and the rest of the band. An ill Hosking was forced to write song lyrics on his hands and sleep all day until showtime while they toured in 2015.
"We did tours in 2015 after I got sick. The shows for that record were really uncomfortable. I'd stay in the hotel room all day, and get up on stage for an hour or whatever it was. I was writing lyrics on my arm, and forgetting everything. It was fucked. I'm glad we did it, but I wouldn't do that again under those circumstances."
"It was a real test on me and the boys," Hosking admits.
"It got down to just surviving day to day – I had to keep finding solutions and finding a way forward."
Things are now much better for Boy & Bear
"I couldn't make music. I couldn't do anything – I couldn't send emails or do the shopping. That got put on the back-burner, really. I'm not at full capacity or full health, but because I understand what's going on, I can work with it and work around it. When I was on the way down, getting sick, it was quite confusing. I just couldn't push through, and I got stressed."
"This time round, obviously things will improve. I'll be able to function enough to be creative and feel confident that I'm doing decent work.
Interestingly, Hosking confesses that of the hardest tracks to write was 'Suck On Light'.
"It was really hard to write. I kind of wrote it as this plucking acoustic thing and messing with time signatures. It took a long time to get it together, and we literally ended up changing tempos. It actually took Collin [Dupuis] in pre-production to help us sort out the structure and sound of the song."
"You get to that point of a song, where you're so deep in the rabbit hole you just have no idea how to get out. In pre-production, Collin brought us ideas to solve what we'd been trying to solve for a year and a half, but in 20 minutes."
The relationship with Dupuis began after the band heard his previous work with Lana Del Rey, and Ray LeMontagne. Particular sounds and tones were plucked and noted in a memo. The memo, written by Boy & Bear, helped name exactly what they wanted on the album.
"It just became a starting point – to help decide what we wanted to achieve. It helped us make decisions around who we worked with. I think for the most part you've gotta have an idea of what you're trying to achieve, or else you can get a bit distracted.
"I think this time round we kind of went, 'what is it? What are we trying to create?' It was important for us to find someone who would be able to accentuate that."
"We discovered a Ray LaMontagne record called Supernova. Collin has this amazing ability to make music where you can hear the human in the room," which was something the band wanted with Suck On Light. "That was the main reason we ended up going with Collin – he's a really talented guy."
The bulk of the record was made over two years
"There were little demos that popped up on the touring cycle at the time. The guys started working without me initially. I didn't have it in me to join the sessions. Four or five months later I felt like I could contribute. It's been quite a cathartic process for me – being with them writing. It was 18 months of Jon [Hart – vocals, banjo, mandolin, keyboards] flying from Paris, and Tim [Hart – drums, vocals] from Brisbane.
"We'd do these four-to-five-week sessions, and then the guys would go away. I was living at a place in Newport, and we set up a little space there. That's where we started to write and record until the end."
Watch: 'Hold Your Nerve' – Boy & Bear:
Hosking aims to get his health back "to back to full functionality"
"I'd like to go back to writing more fully-fledged songs from my end. I'd love to have what we've been doing, which is writing more collectively, and writing myself, having those two things come together."
After that, he and the boys are keen to be back on the road, touring in Australia.
"We're keen to do another tour in the first half of next year, but after that, I have no idea. When you've been out of it for a little while you just don't know how it's gonna go but the crowds make everything easy – it just feels so good."
Boy & Bear's new album Suck On Light is out now via Island Records Australia.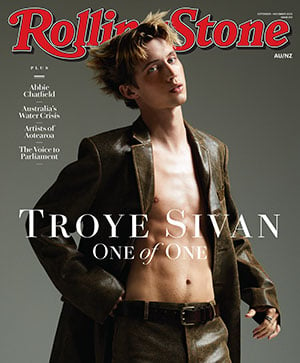 Get unlimited access to the coverage that shapes our culture.
Subscribe
to
Rolling Stone magazine
Subscribe
to
Rolling Stone magazine