Musicians' sweet dreams are often made of fees, and who would have a mind to disagree? Former Eurythmics star David Stewart as it turns out.
Since putting the 80s pop band he famously ran with Annie Lennox to rest, Stewart has exercised many of his creative interests as a writer, producer, scriptwriter, promoter, and entrepreneur, but the musician's latest venture is entering a realm that one wouldn't usually associate with music-making: banking.
The former Eurythmic is getting into the money lending business with the First Artist Bank (FAB), a global bank which specifically tailors its services to musicians and young bands to ensure they "don't sign stupid deals," sick of seeing musicians and artists getting ripped off by fees and poor financial decisions in their career.
As the owner of one of pop music's more enviable back catalogues, Stewart understands that long-term value is in artist rights and intellectual property, the very things that some young musos sign away to record labels in the rush for fame and glory. Now musos can (ac)count their lucky stars, as FAB is "going to supply funding and management of digital assets and intellectual property, as well as advice – so people don't sign stupid deals," the 61-year-old explains to The Guardian.
Stewart first revealed his FAB plans (pun intended) at Hamburg's recent Reeperbahn music festival; in an event titled 'Where Is The Money', Stewart pronounced that his music bank "invests in and lends money to our members to enable their creative projects. FAB helps artists manage their creative projects," describing the venture as a "global creative community bank."
The artist, who will act as co-chairman, said the inspiration was the nearly century old model of the United States Farmers Bank. "Farmers used to have problems such as droughts or their tractor breaking. They all had different banks that would lend them $1,000 but take a thousand acres – sort of like the music business, where they lend you money but take the rights [to music]. So the farmers created a farmers' bank about a hundred years ago, and it's still one of the most successful banks today," explains Stewart. "[It's] going to supply funding and management of digital assets and intellectual property, as well as advice – so people don't sign stupid deals."
Although tailored for musicians – as well as creatives in film, TV, and theatre adds Stewart – FAB isn't just for artists alone, with a credit system designed to entice fans with a 'frequent flyers' style model. "The bank's credit cards will have an 'art miles' points scheme, with rewards including tickets to Glastonbury, albums and theatre tickets," explains Stewart.
To help actualise his vision for a fairer, artist-friendly finance service, Stewart has enlisted Michael Philipp as his co-chairman. Together they have been working on the project for years. A bank executive whose CV includes powerful roles at Credit Suisse Europe, Middle East and Africa as well as the Deutsche Bank, Philipp is – according to Stewart – driven by the desire to "change the face of banking."
The seachange is scheduled to begin in early 2014, with one of three initial First Artist Bank branches set to open as part of a facility co-owned by David Stewart under construction in London's East End called the Hospital Club; a members-only creative community that's the physical embodiment of Stewart's own Weapons Of Mass Entertainment 'ideas factory'-come-company.
The musicians' bank is also part of a broader umbrella initiative called First Artist Ventures (FAV), which is the media banner for a series of partnerships and branding associated to Weapons Of Mass Entertainment.
The news of the Eurythmics-founded musicians' bank to better manage artist rights and contents will – assuming its as idealistically fair and transparent as Stewart is touting – is likely to draw the support of fellow musicians fed up wit the proverbial shifting sands of rights and content ownership in the digital era. Such as Thom Yorke and Nigel Godrich of Radiohead/Atoms For Peace fame, who took streaming service Spotify to taks over being "bad for new music," in an abusive business model that pays artists "fuck all."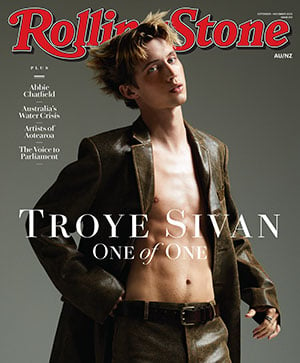 Get unlimited access to the coverage that shapes our culture.
Subscribe
to
Rolling Stone magazine
Subscribe
to
Rolling Stone magazine