Civil Civic has been going for about three years now. In that time we've managed to achieve a lot more than we initially thought was possible, including being number one on the Hype Machine chart, headlining the side-stage at La Route Du Rock and circumnavigating western Europe several times.
We've got a whole lot more Euro-tour action to get through this year before we can seriously knuckle down to writing the next album, but we're hoping to get a single out in June, just so people know we care.
Tone Deaf: What's your earliest memory of performing and who inspired you to start?
Ben Green: When I was 5 years old my parents gave me a plastic, ½ size steel string acoustic for Christmas. I pretty much ignored it until school started, when I decided I wanted to play "Never Smile At A Crocodile" at a school assembly, attended by all students and teachers. I got about ten seconds in and abandoned. I was way out of my depth and I knew it.
You must answer this question honestly or we steal your rider. What and where was the first gig you went to?
This is a tough question, because the truth is pretty cool, but it will tell you how old I am, and that's supposed to be a secret. Iron Maiden – World Slavery Tour – Canberra Theatre.
It was unbelievably awesome. 
You're both originally from Australia, but began working together overseas. Talk us through how you first start collaborating?
Our "collabo" kicked off with an email from Aaron (Cupples), asking me if I was interested in joining forces on an unlikely project and directing me to a MySpace page where he'd posted a bunch of demo recordings. One of those demos was "Less Unless" and I got hooked on it.
About two months later, after a bit of file-swapping via email, Aaron came and lived in my flat in Barcelona for a month and we formed the band and played our first gig (in a community centre behind the Chocolate Museum).
Do you think it's easier to develop a music career overseas than in Australia?
It's certainly a lot easier to develop a touring circuit in Europe than it is in Australia. Coming from a Melbourne perspective, there's lots of venues and an active audience base, but it's very finite. There's also the grand opportunity to drive for hours and hours to lose money in Adelaide or Sydney or Brisvegas, which you end up doing just to get the fuck out of Melbourne.
Europe has dozens upon dozens of cities, large and small, to play in. There's always a meal and mattress in it for you, and if your band doesn't suck and you don't behave like an arse, you'll be invited back. As far as "Industry" goes, it's just as screwed up as Australia.
Tell us a little bit more about 'The Box', your de-facto third touring member?
Well, Aaron met The Box in Berlin in 2006 at Maria, which was a big club down on the Spree. It was deejaying hard-minimal in one of the back-rooms and Aaron was really impressed with its selections and technique, and its no-nonsense attitude.
So he asked The Box if it was interested in a different kind of project, playing drums in a post-punk instrumental band. It blew him off for a while, but eventually it came around and has been our drummer ever since.
Civil Civic is strictly an instrumental affair, is there a philosophy behind the lack of vocals? Would you consider guest vocalists or singers for future material?
Guest vocals is an idea that we've been throwing around for a while now, and we're already pursuing a few people (no names!), but initially I think the no-vocal policy developed from the idea that this music isn't about stuff. No messages, no bad poetry, no personalities getting shoved in your face.
It's just dark party music to rock your dark party. Anyway, we've had gigs where the whole front row starts singing the melodies, even though there's no words. That's awesome to us.
Your music tends to stick to a strict palette of sounds, but manages to cover a lot of territory within that set of sounds and styles. Is there a strict maxim or bedrock you use when crafting a new composition?
There's definitely a sound-set to what we do and we discard a huge, huge amount of potential songs because they just don't sound enough like Civil Civic. It would be tough to articulate what the actual criteria are, but to the ear it's kind of obvious.
You recently played as part of a pretty impressive ATP bill for their return to Australia. How did you get involved with that? 
We've been hassling ATP for a while, trying to sneak onto a bill somewhere, so maybe they just figured it was time. I'm sure the fact that Aaron produced one of the early Drones records didn't hurt [Cupples produced 2006's Gala Mill with the band's own Gareth Liddiard].
It was an awesome weekend. I mean just look at the lineup! All killer, no filler.
If you could curate your own festival, where would it be, who would be on the bill, how many people would you let in and what features would it have (attractions/food/bars etc)?
Ummm, that's a pretty in depth question which would require more than 5 minutes of thought. It would definitely be outdoors, not that big (maybe 6-7000 people) and the lineup would be distressingly eclectic.
What's on heavy rotation on your iPod right now?
Diamond Rugs, TNGHT, Elvis Costello, Wild Nothing, and Death Grips
How do you find new music?
Blogs, friends, etc. I go for long periods of settling into a batch of stuff and just ignoring new releases. Then I get paranoid that I'm being left hopelessly behind and go on a downloading frenzy. But you can only listen to and form an opinion about so much stuff in a set time. So really I am always being left behind, but there's no way around it. There's just too much going on.
Because it's more fun to do things together, which living Australian artist would you most like to collaborate with? Tell us why?
Shit, I dunno. Maybe Harry Vanda [Dutch-born Australian singer-songwriter, best known for working John Paul Young]. Just sit in a room and listen to him talk about music in the hope of maybe learning how to write a song.
What is your band's music the best soundtrack for?
Being dumped by your girl/boyfriend at an edgy party where everyone is pushing everyone elses buttons and violence seems just around the corner, but never quite happens.
Where we can see you play next, what releases do you have available and where can we get them? 
We're hoping to be back in Australia around this time next year.
Rules is out now via Remote Control. Check out our review of the record here.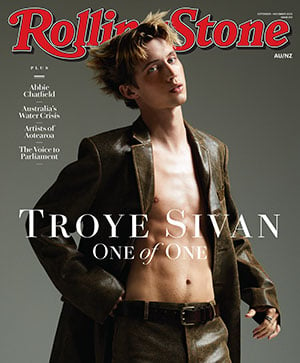 Get unlimited access to the coverage that shapes our culture.
Subscribe
to
Rolling Stone magazine
Subscribe
to
Rolling Stone magazine