With musicians and their labels increasingly struggling to find a way to squeeze a dollar out of their blood, sweat, and tears, the issue of royalties and their collection has never been more prominent, recently brought into the headlines with the ongoing back-and-forth between Taylor Swift and Spotify.
As the music industry shifts towards a new paradigm dominated by streaming services, many artists and songwriters are finding it more difficult and complicated to not only collect royalties for their work but to figure out where their royalty payments ought to be coming from.
In order to help musicians and songwriters better understand royalties, the collection process, the important role of collection societies and music publishers, as well as what part they can play in ensuring their work is properly compensated we spoke to industry pros Sophie Camilleri, former Member Services Representative at PRS for Music, and David Nash, Copyright & Royalties manager at Native Tongue Music Publishing.
Sophie Camilleri has over seven years of experience in the music industry, having worked at PRS for Music, the UK's premier music royalty collection society and performance rights organisation, for over two years at their London office. Working as a Member Services Representative, Sophie participated in the investigation of missing and incorrect royalty payments for writer and publisher members, in addition to discussing copyright law with all members, which includes all of the major publishers such as Sony, Warner, and Universal, and non-members. Part of Sophie's role also included attending festivals such as Glastonbury to discuss royalty collection and payment processes with artists.
David Nash is Copyright & Royalties manager at Native Tongue Music Publishing, an independent music publisher with offices in Melbourne, Auckland, London, and Los Angeles. Forging a reputation as one of the most proactive publishers in Australasia, Native Tongue have developed an impressive local roster that includes Cut Copy, The Waifs, The Amity Affliction, Courtney Barnett, Oh Mercy, and more. David has been with Native Tongue for five years. During this time David has been in charge of royalty accounting and copyright administration for all Native Tongue administered works, including local signings and international catalogues.
Start With The Basics
David: "In basic terms music publishing royalties can be divided into 3 different pools: mechanicals, performance, and synchronisation. Firstly, mechanical royalties are the grandfather of the family who has seen and done it all and still lives to tell the tale. These royalties stem from the sale or reproduction of the work. This can be in many formats these days with digital downloads and streaming taking over from the more traditional physical sales, which long took over from print sales that still exist but remain a small portion of the pie. Whenever a transaction like this takes place, the writer of the work sold is entitled to publishing royalties from that sale.
"The ever reliant mother of the family are performance royalties as they form the backbone of a published writer's income. This is a royalty paid out for whenever a work of theirs is 'performed'. That performance could be broadcast on TV or radio, played live by the original artist or someone else, heard at a restaurant, in a cinema and all the way through to being played at a sporting event. Basically, if your work is being played you should be getting paid.
"Finally, synchronisation royalties are very well known these days as the more popular and attractive cousin in the publishing family. This is due to their more instant nature and chance to be a larger sum of money. These can be earned whenever an audio work is matched up with visuals, for example TV shows, films, video games and advertising campaigns to name a few."
All Royalties Are Not Made Equal
David: "In very simple terms, any mechanical sales of your work will be paid out a royalty in line with the statutory rate for that release. Performance income on the other hand is paid out on a 'slice of the pie' dividend, which is calculated by adding all the license fees collected from music users and paying out each work based on their slice. As with everything, there are further exceptions and I encourage people to read the FAQ sheets available at APRA."
Know When To Start
David: "If you are in a band or performing solo and write your own songs, you should look into collecting royalties NOW. Every artist deserves the right to earn income from their work if it is in the public arena."
Sophie: "Even if you are earning thousands of dollars from music royalties, a collecting society can't do anything for you until you join. The catch is, many societies can only hold non-member royalties for a certain period of time, after which you can no longer claim them. For that reason alone it's always best to join a collecting society as soon as you're making original music with the intent that it will one day be broadcast to the general public."
Know Where To Go
Sophie: "In order to collect your performing and/or mechanical royalties, you first need to join a collecting society, for example, APRA/AMCOS in Australia, PRS for Music in the United Kingdom, ASCAP in America etc."
David: "If you haven't already done so, I would encourage you to join APRA/AMCOS."
Understand The Process
David: "In Australia & New Zealand, we are very lucky to have one of the best performance and mechanical rights societies in APRA/AMCOS. We are also very lucky to have a legal framework that spells out what each use of a piece of music is worth.
"For an unpublished writer, APRA/AMCOS can help collect royalties owed through its relationships with everyone using music locally and internationally. APRA/AMCOS licenses direct with all TV stations, radio stations, live venues, cafes, restaurants, streaming companies, iTunes, major and independent record labels, plus many many more. Therefore, in most cases, they will be responsible for accounting and collecting royalties from music users and making sure the correct royalty is then passed onto the writer of the work.
Get Involved
Sophie: Broadcasters such as radio and television stations are meant to report all the music they broadcast to the collecting society in their country. Given the sheer volume of music though it is only realistic to expect that some things 'slip through the net'. It is therefore vital that makers of music track their music usage (i.e. when their music is being played) to the best of their ability and then compare what's been played to what's been paid out in their royalty statements. Anything that hasn't been paid should be followed up with your society.
Build Your Team
Sophie: "If this doesn't sound like something you have the time or capacity to do, taking on a music publisher could be a good idea – just keep in mind you're also forfeiting up to 50% of your royalties for the privilege. A good music publisher will do more than just track your royalties though so there are other benefits but do your research about which music publisher might be right for you and always have a qualified music lawyer go over any contract or legal document before you sign."
David: "A music publisher's principle role is to protect and promote its composers copyrighted works. That copyright lies in the lyrics and music of the song and therefore opens up many doors for its use, both authorised and unauthorised. It is our job to not only seek out those opportunities for our writers but also protect them against any uses that are being exploited without their permission.
"A general day in a publisher's office will include registering composers works, collecting royalties, seeking out songwriting opportunities or cuts for existing songs, pitching music to briefs for advertising or screen jobs, as well as putting out any fires in relation to unauthorised use and answering composers' queries."
Understand Your Team
David: "As a music publisher, we help the royalty collection process both locally and overseas. It is very hard to expect APRA/AMCOS to do everything it can for the thousands of writers it represents. We therefore come on board as part of the team when a writer is at a point that warrants needing a publisher.
"Locally, a music publisher will be able to work with APRA/AMCOS to register all a writers works and make sure all uses of the works are being picked up for collection. This includes registering works, submitting cue sheets and developing direct relationships with music users to enable the flow of information to be as fluent as possible."
Think Global
David: "Internationally, a music publisher has its own extensive network of sub-publishers that are on the ground in all major territories around the world. This is especially important as not every country is as lucky as we are in having very helpful societies. Therefore, it is increasingly important to have people who are able to get in touch direct with both the societies and third party companies to make sure all accountings are paid through as they should be. The role of a music publisher is also to increase opportunities for our writers and their songs. We love to serve our writers by bringing new life to their work and extending the life of those songs."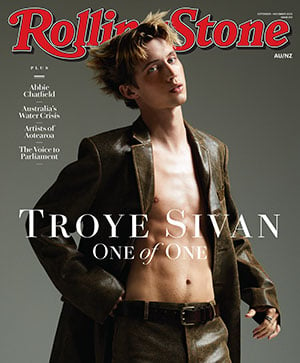 Get unlimited access to the coverage that shapes our culture.
Subscribe
to
Rolling Stone magazine
Subscribe
to
Rolling Stone magazine