With incredible success in the UK and more recently the USA, monthly music night, Communion, celebrated its inaugural Melbourne show this July. Thanks largely to Sideshow Alley's music director, Ty Johnson, a fervent mass gathered at The Toff to pay worship to five fantastic acts.
It's hard not to gravitate towards Melbourne's cheeky songstress, Al Parkinson. Alone on a stool in jeans and a t-shirt, this fresh-faced artist seemed in her element on The Toff's intimate stage as she beckoned the newly arrived crowd to come and fill the empty space in front of her.
She had them immediately on side as they sat cross-legged on the floor, like children ready for story-time. It's appropriate, then, that she opened with gospel-like "Story Song". Accompanied only by her clicking fingers, it was soon clear that this soulful singer is comfortable for a reason. Encompassing folk, blues and roots,Parkinson's music is even better than her banter, as she introduced "Kissing at Night" by telling the audience, "I like making out with people."
Commenting on how many "babes are here tonight", you'd be forgiven for feeling as though you were watching an old mate on stage (although with frequent greetings to people in the crowd, that may have actually been the case). Though the night is young, there is a feeling of disappointment as she announces her last song – a cover of Destiny's Child's "Bills, Bills, Bills". Joined on stage by fellow babe, Emi Day, her enjoyment was infectious. If they weren't already, Ms. Parkinson had no trouble getting the crowd pumped for the night ahead, no doubt gaining many new fans in the process.
Despite starting on such a high, the audience's enthusiasm dwindled throughout an unimpressive set from Sam Lawrence. A relative unknown, he launched into his set without introduction or addressing the crowd. There is no denying his great musical ability – his voice at times reminiscent of the late Jeff Buckley – but this tortured soul only appeared increasingly agitated at the admittedly chatty punters. Like a vicious cycle, the angrier he got, the less interested they were; and one of the few interactions he had was to tell them to 'shut up.' Unsurprisingly, after an abrupt exit, nobody called for an encore.
No stranger to the Melbourne music scene, Liz Stringer was a breath of fresh air as she walked on stage with a glass of red and said "I'm gonna play you some songs." Her unmistakable husky tones resonated across the room, telling stories of love and loss in the way for which she has become known. She dedicated the emotive "City Colours" to her partner on the other side of the country, stating that after getting used to being 'in each other's pockets,' she missed him.
Stringer's passion is obvious, and she beams when saying "now I have a job that I love" before playing "It's A Long Way Down" – written about working in Melbourne hospitality. It's hard not to be moved by the beautiful "High Open Hills", with her uniquely powerful yet raspy voice piercing even the highest notes. Spinning yarns both in – and in-between songs – Liz Stringer is a pleasure to watch, if for nothing other than the fact that she seems to love it too.
The red curtain opened a fourth time to reveal the always-dapper The Tiger and Me. In their trademark cabaret get-up, the Melbourne 6-piece opened with a never-performed-before track, having just finished recording their second album. Charismatic lead, Ade Vincent, classified another newie – "Dance with the Devil" – as a song about "the fine line between love and stalking."
There is never a dull moment for this accomplished act, whose high-energy gypsy-folk has been winning fans across Melbourne since 2010. That's not to say that they don't have a dark side; Tobias Selkirk's bitter break-up ballad, "Til Sunrise," has the room still and attentive as his signature growl sends shivers down spines. Last year's "So, Let it Go" picks things up again with an epic solo from drummer Sarah Galdes, with Vincent remarking, "that's the most I've ever seen [her] go off."
Thrilled to be back on stage, they tell the enthusiastic crowd that they're a band "who records so we get to play live, not the other way around," and their prowess in performance is testament to that. After showing off her vocal range in "Tango", Jane Hendry was chuffed "to see all your shiny faces," (assuring them that 'shiny' is a good thing).  Some familiar faces were welcomed back for the show stopping "Oh My Darlin'", creating nothing short of a party both on and off the stage.
It's hard to believe the Communion crowd could want more, but it goes to show that good things come to those who wait; enter, Matt Corby. Remaining a surprise special guest, the bearded beauty entered to rapturous applause from the eclectic audience.
For the first time all night, there was quiet on the floor as he weaved his magic on guitar, his bellowing, jaw-dropping vocals rendering moments of stunned silence after each song. Corby's raw, at times haunting voice, is made for a live audience; it sends vibrations through the feet and into the souls of those who are lucky enough to pay witness.
Every song in his set is nothing short of captivating, and as he humbly thanked his fans "for being lovely" before finishing with "Souls A'fire", there wasn't a soul in the room who didn't give thanks at this, their first Communion.
– Monique Sebire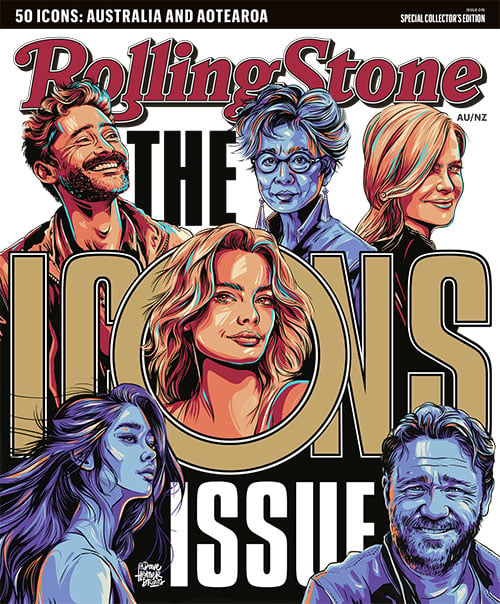 Get unlimited access to the coverage that shapes our culture.
Subscribe
to
Rolling Stone magazine
Subscribe
to
Rolling Stone magazine