D.C Cross has returned with Terabithian, an unexpected new record that serves as quiet comfort to the global pandemic it has been released alongside.
It was just eight months ago that the world welcomed Ecstatic Racquet, the new solo record from Darren Cross' D.C Cross project. A far cry from the exuberant sounds made while a member of acclaimed outfits such as Gerling or The E.L.F., it was a remarkable record, and one that showcased his mesmerising skills as an instrumental performer.
"Even in the indie days of Gerling, we were always playing around with open tunings, from bands like Sonic Youth, and Polvo, and Truman's Water, and stuff like that," Cross explained at the time. "Then, by reading what they were influenced by, I'm kind of getting influenced by what they're getting influenced by."
Fast forward to 2020, and while most fans of Cross' work were likely expecting a new album to – maybe – follow towards the end of the year, the current COVID-19 pandemic sped things up somewhat, with cross announcing the release of his latest album, Terabithian.
Recorded, produced, and mastered by Cross between February and April at his Bernstein Studio, the record mixes ambient music with instrumental folk guitar compositions, taking influence from American primitive guitarists, British folk revivalist, and '90s new-age ambient music.
"Lots of weird stuff has happened to me and everyone so far this year," Cross said in a statement. "The pandemic, we got evicted from our home, no income… a few weird personal things.
"I wanted to write an album not at all concerned with the current social and political state. Total escapism through music: a new world created… But in listening back to the completed album yesterday, it feels ominously Utopian within a tide of nostalgic longing.
Love Indie?
Get the latest Indie news, features, updates and giveaways straight to your inbox Learn more
Describing the album as consisting of "escapist pieces for the guitar", it more than lives up to its title, with the record serving as one of the most mesmerising instrumental releases you'll hear for some time.

As anyone could attest to, the release of an instrumental album could be something of a divisive move. Why, the lack of instrumental compositions in the pop charts indicate it's not something the mainstream audiences are after, and even then, those who do seek out music of this nature might only on the lookout for a certain type of instrumental record. Needless to say, it's important to know your audience.
However, the most impressive type of instrumental record is one that crosses boundaries, one that is accessible and enjoyable to anyone who gives it a shot, and one that requires no contextual explanation. D.C Cross' Terabithian is just that – a perfect example of what an album of guitar-based instrumentals can and should be.
From the opening notes of 'Giant Wave Of Instant Coffee Crushes Capitalism' (no, not the Donald Trump sample, the guitar), it's clear that this is a record nothing short of majestic. These finger-picked notes slowly trickle in before a sleek melody follows, with Cross' deft sense of rhythm and harmony combining to create a magical beast that is as equally comforting as it is unsettling.
The theme follows in tracks like 'Night Pill For McGill', which could easily serve as a folky lullaby if you're unable to track down old mate Brahms. While the bright nature of 'Further Below And Beyond That Endone River' helps provide a bit of aural optimism, the likes of 'Rainer 20/20' serves as an example of a track the late John Fahey would've been proud to compose himself.
More of the brilliance of Terabithian comes by way of its second half. In fact, while the first half of the record feels much more folky, upbeat, and easily digestible with shorter compositions, the latter half feels almost like an entirely different record, with longer, atmospheric, and contemplative tracks allowing you to get lost in the mix.
Check out 'Internat.Folk Cell Tower Ping' by D.C Cross:
While 'Internat.Folk Cell Tower Ping' feels like a gorgeous mixture of Sigur Rós and Explosions In The Sky, 'Black Horse, Friend.' is a majestic example of sparse instrumentation and atmospheric soundscapes coming together in perfect harmony to showcase Cross' apparent venture into the post-rock genre.
Though the very nature of an instrumental may make the listener feel as though there's a sense of repetition in some tracks, these compositions ultimately work together to serve the same purpose of providing an insight into the exquisite instrumental folk guitar stylings of D.C Cross.
To put it simply though, if you're a fan of instrumental music, or you enjoy seeing just what a musician like Darren Cross is capable of when a guitar is put in his hands, Terabithian is not only an album you should experience, it's a record you must experience.
Solely available on Bandcamp ("Digital release only at the moment, I'm sorry, as I have no income due to COVID-19 enforced government isolation laws," Cross explains), if you're enjoying the sound of the album, be sure to grab a copy on Friday, May 1st, when Bandcamp waives their fees and ensures all proceeds from sales go directly to artists.
[star rating="5″]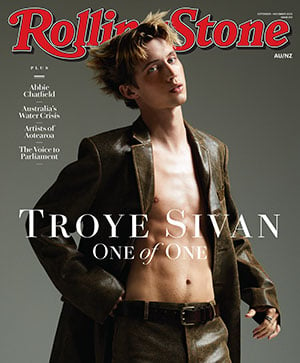 Get unlimited access to the coverage that shapes our culture.
Subscribe
to
Rolling Stone magazine
Subscribe
to
Rolling Stone magazine