The Smashing Pumpkins reunion, although only being an idea in the ether up until December last year, has already erupted in enough drama to rival that of anything that's permeated their career thus far.
As reported weeks ago, it was confirmed that original bassist, D'Arcy Wretzky was omitted from the upcoming reformation with a drip feed of details surrounding the reunion leaking via social media, including photos of the band's recording studio and Billy's claims that he played bass on the band's most iconic tracks.
Yesterday, the band sent hype into full swing with the reveal of a countdown on their official website, hinting that we could be seeing something later this week.
In a new interview, Wretzky has revealed that Corgan had originally sent her a contract offer to be part of the expected reunion, before allegedly later saying that it "wasn't a real offer".
Wretzky shared a series of text messages allegedly sent between her and Corgan regarding the reunion, with the first messages dating back to mid-January, around when Corgan began teasing the recording of new music with Chamberlin. Corgan initially told her "not to worry", noting that Iha "isn't here either".
In a Facebook post, D'Arcy has shared private messages exchanged between Billy and her,
"I am truly and deeply sorry. I think one other quote needs to be added to that.
It's a text from Billy to me. I will cut/paste.
"Yes, there will always be a crowd but without real backing in an unbelievably tough environment to win in I will walk away so it doesn't matter that there will always be a club full of people wanting to hear old songs"
So that's what Billy thinks about what fans do or don't want."
In the comments, Wretzky responded to fans who were claiming the reunion seemed like a "mess", saying "Billy's ship … which keeps sinking every time he tries pulls this ship. I abandoned it in 1999 cause I knew it was sinking. He was beyond helping. His ego & insecurities spun out of control and I could no longer reel him in, which had been a very large part of my role for many years, but it was hopeless." She also added that "people might be getting sick and tired of being manipulated by Billy."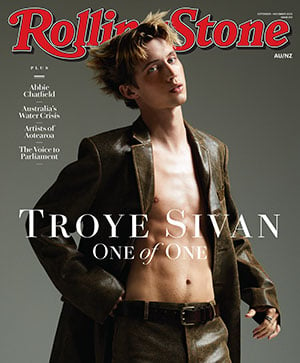 Get unlimited access to the coverage that shapes our culture.
Subscribe
to
Rolling Stone magazine
Subscribe
to
Rolling Stone magazine