Jimmy Kimmel has some pretty big spiritual pull, it seems.
Two nights ago Kimmel was riffing with a new kind of anti-Christmas story. In Illinois the Satanic Temple had been getting into the Xmas spirit, setting up their own statue next to a nativity scene.
Dubbed 'Knowledge Is The Greatest Gift', the statue depicted the arm of a woman (presumably eve) holding an apple with a snake coiled around her, a reference to the entrance of sin into the world in the biblical book of Genesis, chapter 3.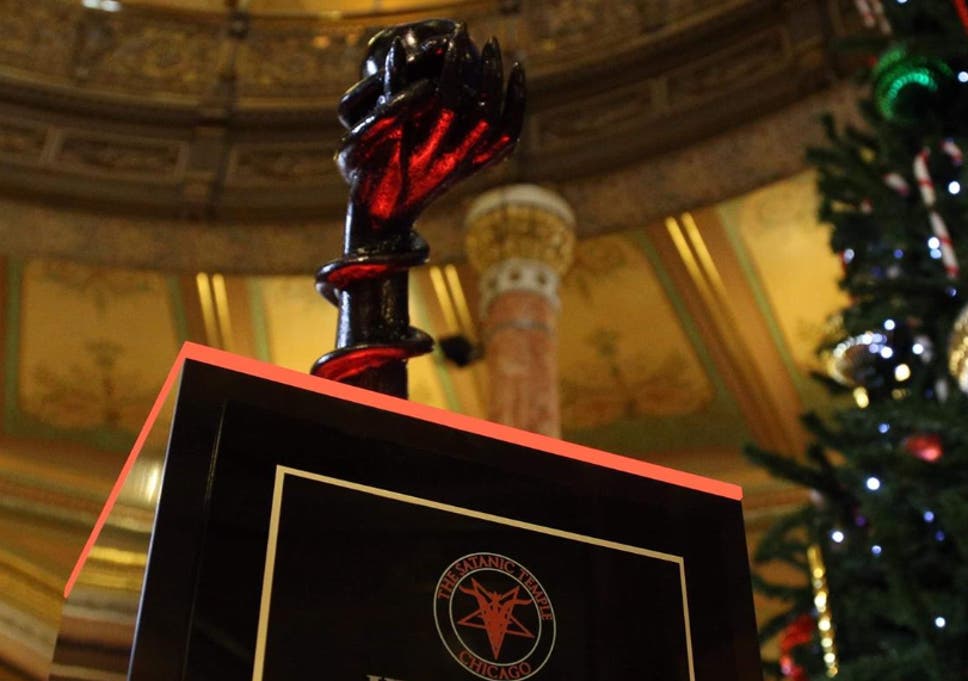 The statue has caused huge problems for Illinois people trying to hold onto the festive spirit
Ever the pop-culture satirist, it was only fair to bring God and Satan into the skit fold for a story of such caliber on Kimmel.
Enter comedian Billy Crystal (God) and Nirvana drummer lookalike Dave Grohl (Satan) to play out 3 minutes of Christmas gifting.
Looking ever the devilish rock & roll icon that your grandparents are convinced would possess you if you listened to that Sex Pistols vinyl, Grohl and Crystal proceeded to enact God and Satan hanging out together in heaven, basking in the honeymoon stage of a made up friendship.
"We figure out who goes where…which one of us is gonna get Ted Cruz" (controversial American politician) said Crystal, with Grohl giving the occasional guitar strum and self-deprecating snarl. Watch below.
Grohl was, of course, resurrecting (keeping the theme biblical here) his role as Lucifer in the Tenacious D film The Pick Of Destiny.
While it sure brought a certain "cringe" factor to the screens, it was a reminder that Grohl will always bring a smile to the faces of the masses (albeit a tad forced from time to time)…when he's not cooking BBQ's for firefighters.
Given that Grohl is rumored to have had a key part in the history of the band Ghost, who have never shied away from their satanic image ,  one wonders if this character is becoming a staple for rocks "nice guy."
 Reacquaint yourself with the hellish Grohl below