It looks like King Gizzard & The Lizard Wizard are shaping up to release a new album next month, with news of the record seemingly leaked by an online webstore.
In case you've not been paying attention, it's currently been almost 15 months since we last received an album from King Gizzard & The Lizard Wizard.
Now, for most bands, that's just business as usual. However, when you consider that King Gizzard's average turnaround for a new EP or record is five-and-a-half months, then alarm bells start to ring.
Back in January, King Gizzard took to Facebook to reveal that new music was on the way, seemingly confirming the involvement of The Drones and Tropical Fuck Storm's Gareth Liddiard in the process.
Not long after, the band unleashed their latest single, 'Cyboogie', a groovy number that showcases a bit of a space-rock feel. While the single was well-received by fans and critics, it also seemed to prove that a new record was indeed on the way.
However, while no official announcement has been made yet, it appears that the group will be unleashing a new record next month, at least according to a listing on a Canadian music site.
As a poster on Reddit recently pointed out, the music website 7digital recently posted a pre-order listing for Fishing For Fishies, a new record by King Gizzard & The Lizard Wizard.
Boasting nine tracks (and with three of them featuring the word 'boogie'), the website also provides samples of the new tunes, making it seem as though this is a rather legitimate leak.
According to the details listed on the site, Fishing For Fishies is slated to be released on April 26th, and will also feature 'Cyboogie' and 'Acarine', the tunes from the band's recent single.
Although no further details have been released as yet, it seems as though we might need to keep an eye on the folks over at Flightless Records to see when this new album is actually officially announced. Until then, it's looking as though the King Gizz album drought will be over next month.
Check out King Gizzard & The Lizard Wizard's 'Cyboogie':
King Gizzard & The Lizard Wizard's Fishing For Fishies:
1. 'Fishing For Fishies'
2. 'Boogieman Sam'
3. 'The Bird Song'
4. 'Plastic Boogie'
5. 'The Cruel Millennial'
6. 'Real's Not Real'
7. 'This Thing'
8. 'Acarine'
9. 'Cyboogie'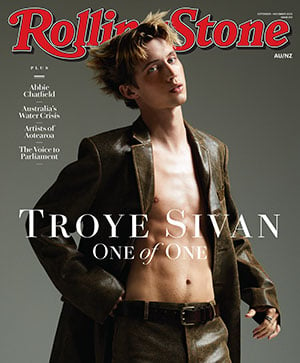 Get unlimited access to the coverage that shapes our culture.
Subscribe
to
Rolling Stone magazine
Subscribe
to
Rolling Stone magazine