A 25-year-old track by alt-rockers Dinosaur Jr. has become something of a sensation in Japan, appearing on the charts for a seemingly-unknown reason.
We've heard about plenty of artists who receive fame well after it was first deserved. Why, there's the classic story about Rodriguez becoming a superstar in South Africa decades after he called it quits. Likewise, there's the fact that Queen's 'Bohemian Rhapsody' didn't hit #1 in some countries until its 1992 reissue for Wayne's World.
However, a bunch of music industry insiders are scratching their heads right now, trying to work out how a Dinosaur Jr. track has hit the Japanese charts.
Back in 1994, Dinosaur Jr. released their sixth album, Without A Sound. A moderate success, the record reached #44 on the US charts, while lead single 'Feel The Pain' not only hit the Hottest 100 for that year, but also hit #4 on the charts.
While 'I Don't Think So' was also released as a single, album closer 'Over Your Shoulder' went by almost unnoticed by fans, with the tune receiving very little of the spotlight over the years.
However, as Billboard now reports, 'Over Your Shoulder' has not only managed to hit #18 on the Japanese charts, but it has managed to beat out the likes of Ariana Grande.
Although Billboard mused that the reason for the track's success might have been due to an impromptu YouTube video containing the track receiving widespread popularity, Pitchfork have noted that the reason might be a little bit more simple.
According to one Japanese Twitter user, 'Over Your Shoulder' once featured in the TV show Gachinko Fight Club, which aired its last episode back in 2003.
However, representatives from Dinosaur Jr. have claimed that episodes of the show had been uploaded to YouTube, complete with linked music and copyright credits, which in turn resulted in a spike in the tune's popularity.
Although it's not clear what sort of royalties Dinosaur Jr. are seeing because of this popularity, it will undoubtedly be putting frontman J Mascis in a good mood, weeks ahead of his Aussie solo tour.
Check out all the details below, and who knows, maybe a request for 'Over Your Shoulder' might be worth it?
Check out Dinosaur Jr.'s 'Over Your Shoulder':
J Mascis Australian Tour 2019
Friday, March 1st, 2019
The Factory Theatre, Sydney, NSW
Saturday, March 2nd, 2019
The Farmer & The Owl Festival
McCabe Park, Wollongong, NSW

Sunday, March 3rd, 2019
Lizottes, Newcastle, NSW
Wednesday, March 6th, 2019
The Northern, Byron Bay, NSW
Thursday, March 7th, 2019
The Triffid, Brisbane, QLD
Friday, March 8th, 2019
Miami Marketta, Miami, QLD
Saturday, March 9th, 2019
Sol Bar, Maroochydore, QLD
Monday, March 11th, 2019
Adelaide Festival
The Palais, Adelaide, SA
Wednesday, March 13th, 2019
Brunswick Music Festival
Howler, Melbourne, VIC
Thursday, March 14th, 2019
Brunswick Music Festival
Howler, Melbourne, VIC
Friday, March 15th, 2019
Brunswick Music Festival
Howler, Melbourne, VIC
Saturday, March 16th, 2019
Theatre Royal, Castlemaine, VIC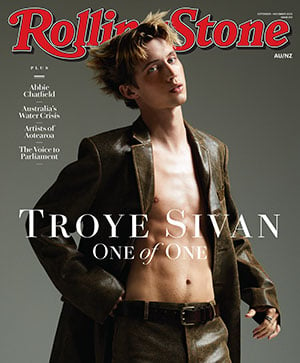 Get unlimited access to the coverage that shapes our culture.
Subscribe
to
Rolling Stone magazine
Subscribe
to
Rolling Stone magazine