With last weekend's Splendour In The Grass now fading into the memories of its some 25,000 punters, Police have issued their arrest reports from the four day festival while organisers have responded to punters criticisms over planning failures.
Despite the teething problems the four-day winter music festival faced – such as traffic, RFID wristbands, and camping facilities – for its first run at its new permanent home at North Byron Parklands in Yelgun, Splendour organisers have described the problems were "nothing out of the ordinary."
NSW Police had a strong presence at Splendour, with sniffer dogs, general officers, mounted units, transport police, and public order and riot squad on site at the event, who conducted a total of 353 person searches and 50 vehicle searches.
But Police made a major drug bust on the Thursday before a single band had taken to the stage. A 21-year-old man in a van approached the festival gates at 11.35 am. When officers conducted a search of the vehicle they found 102 tablets of ecstasy and 0.5 grams of MDMA powder. The man was arrested and charged with supply of prohibited drugs and faces court in September.
Over 500 grams of drugs were seized on the first day of the festival with sniffer dogs on site resulted in 282 people found in possession of drugs, including marijuana and MDMA, from 389 detections while issuing 118 cannabis cautions and 130 court attendance notices; 84 motorists were charged for drink driving offences. Police made a major drug bust on the Thursday before a single band had taken to the stage.
Tweed/Byron Local Area Police Superintendant Stuart Wilkins said that the arrests were merely a fraction of the 25,000 strong crowd who was mostly well behaved. "We were happy with crowd behaviour and only responded to minor issues of unacceptable behaviour and property theft," said Superintendant Wilkins. "Overall it was a great weekend with the crowd enjoying themselves."
Some Splendour-goers however weren't as happy with Splendour organiser's efforts. Despite praising the lineup, featuring the likes of headlining exclusives TV On The Radio, The National, Mumford & Sons along with over 70+ acts, many had mixed reviews about the new Yelgun site, as The Age reports.
Many complaints came from the long delays of getting into the festival site, with congested traffic both on the wet, bottlenecked roads in and long delays of up to five hours due to a lack of shuttle buses and queues at the site. The new RFID electronic wristbands – an Aussie festival first – which were designed to speed up queues with wireless 'swiping' in fact reportedly proved difficult to use.
Others vented their frustration at Splendour organisers over changes made to the camping grounds, including having to lug equipment from a separate car park to the grounds, poor toilet and shower facilities, and problems with the VIP Country Club camping area.
"We regret that there have been difficulties for both our Country Club patrons and with bus services," read a post on the Splendour Facebook at the conclusion of the first day. "We hear you loud and clear and are in the midst of rectifying the issues as best we can. It is our first year at our new home and we feel we laid the best plans, however they have not been executed to the standard Splendour has always prided itself on." "It is our first year at our new home and we feel we laid the best plans, however they have not been executed to the (best) standard."
The news of Frank Ocean cancelling his headline Supertop performance, following tearing a vocal chord on the opening performance of his Australian tour at Melbourne's Festival Hall, also marred punters festival experience. Though the last-minute addition of Lorde to the Splendour bill, fulfilling a gap left by Ocean's cancellation, saw 10,000 turning out for her afternoon slot.
A press release from organisers also acknowledged that "there were a few teething problems with the new site including some external issues with the bus services. After six months of continual wet weather in the lead up to the show, on Thursday night the heavens opened again just as a surge of campers arrived to enter the site," they wrote.
"The meeting of these two events resulted in traffic and an uncomfortable set up for some of our campers. However! Once everyone was in the site it was one hell of an awesome time! 25,000 music and arts fans truly made the most of all that was on offer."
As our Tone Deaf reviewer wrote in their three-day report of the festival, "considering the obstacles faced and conquered, this year's Splendour may go down as one of the most important… no matter what happens, punters will always be guaranteed a remarkable Splendour experience."
(Image: Adrian Dennett. Source: Splendour In The Grass)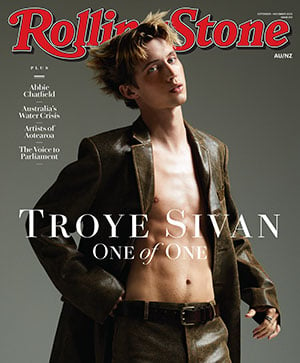 Get unlimited access to the coverage that shapes our culture.
Subscribe
to
Rolling Stone magazine
Subscribe
to
Rolling Stone magazine