Birmingham band Editors have always moved with the turn of the earth. Spawned in 2002 as The Pride while at Stafford University, the group gigged incessantly before a string of support slots provided the momentum they needed.
In 2005, their sail caught wind when BBC Radio 1 wideboy Zane Lowe made it a personal mission to flog their single "Bullets" into the public consciousness.  From there it was full speed ahead.
Having broken through at a time when dark and brooding sounds floating from across the Atlantic ruled the airwaves, Editors resisted being pigeonholed as a product of their time, as drummer Ed Lay explains.
"Interpol released a masterpiece of an album in Turn On The Bright Lights when we were just starting as a band. It's still one that I listen to regularly, and no doubt it did influence our tastes in music.
"The comparisons certainly came, but only from a press side of things," he continues. "When people come and watch us play, there are so many differences. We are growing still as a live and recording band, so I don't think we carried any burden with us."
While rising rapidly to worldwide acclaim from a slow start, there was still a measured plan to Editors' quest. Provided they could avoid burning out too quickly.
"Initial excitement gave way to a feeling of self consciousness toward the end of the first album campaign," admits Lay. "We pushed ourselves hard in touring and tried to record the second album as soon as we could, and if none of us had that desire to improve as a group, then I don't think we would have lasted too long."
"We are growing still as a live and recording band, so I don't think we carried any burden with us."
From their time in dank band rooms to the successes of their subsequent albums, Editors have retained an unmistakable sound while continuing to evolve. Sometimes that evolution has been quite personal, with Justin Lockey (guitars) and Elliot Williams (keys) stepping in for founding member Chris Urbanowicz.
This would have broken some acts, unsettled to the point of mutiny. But not Editors. "We still have the same songwriter – Tom has always been the person to bring the initial songs to the band," Lay states.
"Chris' style and thoughts about music were absolutely essential on the old Editors records, but this fourth album is the most collaborative we have ever written – with the new boys; Russell and I getting more involved in the whole process."
Having decamped to a Nashville bunker to immerse themselves in the grip of the band again, a new producer was pulled in – Jacquire King. With a telling list of credentials to his name (Kings Of Leon, Modest Mouse), it perhaps surprisingly wasn't he who reigned in Editors' full-bodied sound.
Lay explains, "We had already decided that guitar would be the prominent instrument on this record, actually before Chris left the band. [We] wanted to get a sound on the record that was more 'alt rock' than the last record, with the bare bones of a rock song really prominent rather than layers of synths.
"Jacquire was made producer because we all believed he could get the best recordings of a rock band playing together in a room."
The outcomes have been splendid, if a little safe. Stepping away from the beaten path can often end up as fumbling in the dark. But as always with Editors, there was a well-schooled methodology behind it.
The first single off the album, "Tone Of Love" made for an easy transition.
"We feel that getting our band playing live is the thing that makes our band successful, so that is always the plan."
"It's the first new song for some years, so obviously we are interested in how it has been received," explains Lay.
"It's as straight down the line rock 'n' roll song as we have ever written, with a huge guitar riff and a big sing-along chorus. We chose it as a first single because it is our most direct tune, to make people pay attention and declare that we have come back with a new record that we want people to explore."
Breaking away only slightly in a musical sense is one thing, but fighting a natural songwriting rhythm is another. Singer Tom Smith's lyrics have become more sparse, certainly a progression from first album The Back Room. Lay gives his perspective from behind the kit.
"I have been aware that Tom feels more comfortable writing about themes and feelings now, more so than the ambiguous nature of those on The Back Room," says Lay.
"Almost ten years have gone by since then, and life has changed in the band and personally for him on so many levels, that his style was bound to change as a result, but I'm not sure he would be too specific about why."
The band has definitely shifted gears, with certain sounds mellowing out. Given these changes, are other influences making it through into the mix?
"We rehearsed really hard before we got into the studio, almost all of the songs were ready to put to tape as we went into the studio," relates Lay.
"However, its always good to have a couple of tracks that need to be formed properly in the studio, so that we could draw influences from our producer, the environment we were working in and our relationship as a band, so I hope all of that comes across in the recordings.
"We have always been a band that works hard, we feel that getting our band playing live is the thing that makes our band successful, so that is always the plan."
With all these renewed energies, is there much hope of seeing them Down Under again any time soon? Lay is confident just such a trip is on the cards, although maybe not this year.
"The band loves touring Australia and we will try our best to get over there in 2014."
The Weight Of Your Life is out now.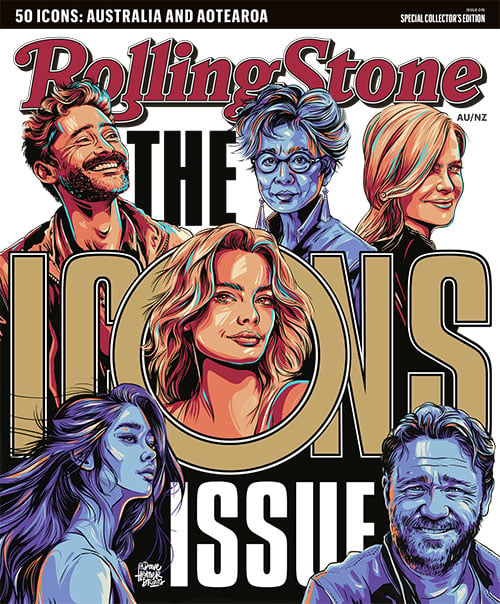 Get unlimited access to the coverage that shapes our culture.
Subscribe
to
Rolling Stone magazine
Subscribe
to
Rolling Stone magazine